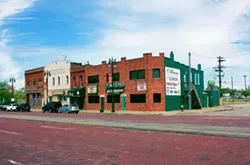 Gone are the dropped ceilings, old-school Irish green trim and greasy pub food offerings of the shuttered O'Blivion's on Michigan Avenue in Corktown. When the new Bobcat Bonnie's opens its doors Aug. 10, Corktownians will be given more veggie-friendly options in a cooler, sleeker environment. That's what founder Matt Buskard and chef Beren Ekine-Hewitt told us this week at the close of a hiring fair. Once they get a crew formed, they plan to offer bar food, but made with a healthful, veggie-friendly twist, per the specifications of Ekine-Hewitt, who grew up vegetarian.
For every meaty menu item, Ekine-Hewitt wants there to be a veggie equivalent, so she's come up with several such options, including a mushroom ceviche, an LA-style French Dip during the fall and winter months and her specialty, a Cap'n Crunch chicken tender (a riff on an unapologetically gimmicky recipe from Planet Hollywood) - both in poultry and tofu form. The key to the menu, says the Portland native, is accessibility to a mix of vegetarian cuisine, without the the high price.
"There have been a lot of restaurants in the past couple of years or so that have started like Selden Standard and Gold, Cash Gold, where maybe the average person can go to maybe a couple of times a month, if that. We want do a fun place that the family can come to during the day and then more bar vibe at night," she tells us.
When Ekine-Hewitt moved to the Motor City four years ago from Portland - a foodie mecca with no shortage of veggie-forward menus - she was taken aback by the lack of options in bars (though she loves the menu at places like pub neighbor, P.J.'s Lager House, which has long offered veg items). "As far as like a gastro-pub like this, like a bar, where you can hang out with friends and get good vegetarian, there wasn't a lot, and that's changed a lot but I want a place where the only option isn't like a hummus wrap and a Portobello burger, which is kinda what it was and still can be."
Buskard is still looking to hire servers, and fill spots for other positions. Those interested in applying are asked to visit the spot between 10 a.m. and 6 p.m. Friday and Saturday.