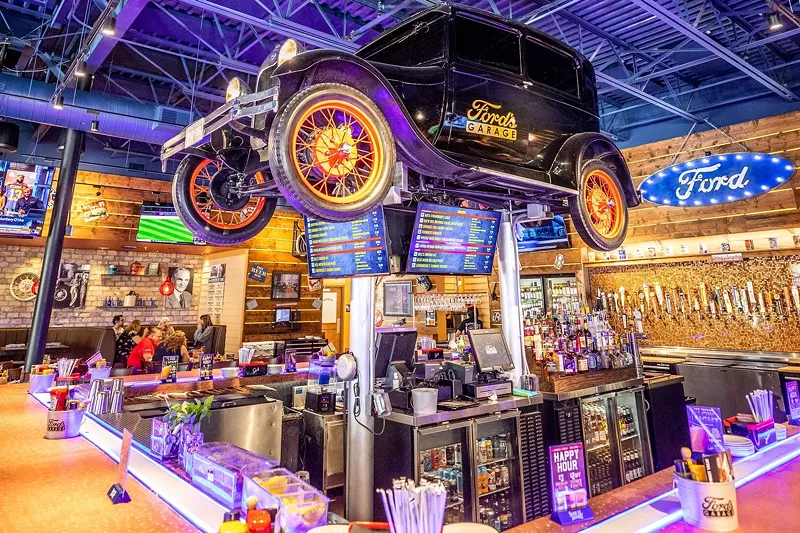 Classic American diner franchise Ford's Garage has opened the doors to its Novi location.
This is the chain's second Detroit-area location, located in the Twelve Mile Crossing at Fountain Walk complex at 44175 W. 12 Mile Rd.
Ford's Garage is known for its 1920s service station decor, vintage memorabilia, and a Model A car suspended above the center bar.
Downs Management owns and operates the new Novi location along with the Ford's Garage Dearborn location.
"I'm excited to share this fun, family-friendly concept with the Novi-area," Downs Management owner Billy Downs said in a press release. "The Novi-area has a rich history with Ford Motor Company. This concept gives us a unique opportunity to celebrate an important part of our local heritage."
The restaurant boasts a menu of burgers made of black angus beef, bison, and vegetarian options on buns branded with the Ford's Garage logo. Its "Burgers of Fame" menu includes burgers named for local figures like Mayor of Novi Bob Gatt (The Mushroom Swiss); Novi High School Principal Nicole Carter (The Patty Melt), and 99.5 WYCD's Josh, Rachael, and Grunwald (The Black-N-Bleu).
Other menu items include comfort food like homemade meatloaf, chicken wings and tenders, onion rings, and macaroni and cheese. Over 100 types of beer are available, including more than 30 drafts on tap with an emphasis on local breweries.
Ford's Garage was founded in 2012 in Fort Myers, Florida, where Henry Ford had a winter home. It has since grown to 23 locations across six states and is an official licensee of the Ford Motor Company, which allows the restaurant to use the company's iconic logo.
Hours for the Novi Ford's Garage are 11 a.m.-10 p.m. Monday- Thursday, 11 a.m.-10:30 p.m. Friday-Saturday, and 10:30 a.m.-9 p.m. Sunday.
For more info, see fordsgarageusa.com.
Coming soon: Metro Times Daily newsletter. We'll send you a handful of interesting Detroit stories every morning. Subscribe now to not miss a thing.

Follow us: Google News | NewsBreak | Reddit | Instagram | Facebook | Twitter