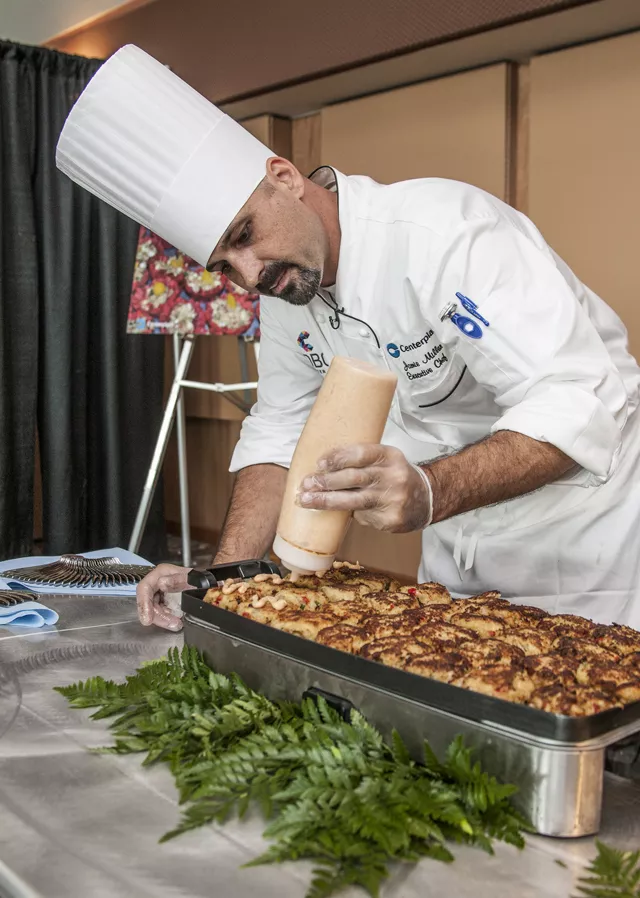 Cobo sources locally Centerplate, the company responsible for catering events at Detroit's Cobo Center, wanted to get the word out that it's upgraded its menu to provide convention-goers with fare that's, well, more unconventional. So, to spread the news, they invited a bunch of media types — including the MT — for a tasting last week. The verdict: exceptional. With chef Jamie Miller at the helm, the center is offering the kind of dining more often found at exclusive country clubs. Served up for a sampling were appetizers, salads, entrées and desserts, with most receiving vigorous nods of approval. As Miller noted, one goal is to provide as much local and regional food as possible, with a reliance on Eastern Market for fresh fruits and vegetables. Fittingly, a potato-crusted walleye fillet from Lake Superior was truly superior. We're not sure where the beef short ribs were from, but slow-cooked for hours with carrots, onions and cherries, and served with a demi-glace, the meat was melt-in-your-mouth tender and oh-so-tasty. The appetizers we tried included a "tropical tuna tartar" served in a green-tea waffle cone and plump crab cakes with a spicy remoulade sauce. Like we said, this is unconventional convention food, and that's a very good thing.
Midtown amenity An important piece of the puzzle for Detroit's burgeoning Midtown area snapped into place last weekend with the opening of Ye Olde Butcher Shoppe on Woodward, just south of Mack in the spot last occupied by Zaccaro's Market. Despite the name, this shop's offerings include cooking wares, cleaning products, a salad and olive bar, the obvious meats and a patio for casual dining. Sundays will feature fresh bagels, smoked fish and Sunday newspapers, including The New York Times. (Finally!) It's a project of Michael and Peter Solaka, whose father had a shop by the same name in Lafayette Park in the 1970s-1980s, and whose grandfather opened Wayne Market on Third Avenue back in the 1950s.
"Although we have added many new components such as a salad and olive bar, full coffee service and patio seating, we are keeping true to the spirit of our original store, which was inspired by quality urban groceries in New York," says Michael, comparing the two shops of the same name.
Know of any upcoming food or drink events? Let us know! Call 313-202-8043 or email [email protected].
FOOD THOUGHT
Home Made Winter
Yvette van Boven and photographer Oof Verschuren
Stewart, Tabori & Chang $35.00
With autumn now upon us and winter fast approaching, it's time to give thought to some heartwarming foods that will surely satisfy your cravings for warmth and comfort. Yvette van Boven and photographer Oof Verschuren in Home Made Winter (Stewart, Tabori & Chang $35 ) offer dozens of recipes with stunning images and useful illustrations. The recipe for cardamom cake with whole pears and white chocolate, pictured on the cover, will tempt you to start with dessert, but leek and chestnut soup followed by chicken stuffed with pork, veal and sage dressing might be a better choice before savoring the sweet cake.
THE WORKS
Slicing fruits and vegetables to uniform thickness with a sharp knife (a dull one just won't cut it) can be a daunting task, especially for an inexperienced cook. The Zyliss 4-in-1 slicer and grater provides a solution for neophytes and seasoned chefs alike. The two slicing blades and the two graters are easily switched, allowing slices of different thicknesses and grated cheese in two sizes. The serrated slicing blades are sharp enough to cut through onions and tomatoes or hard carrots. A guide holds the food in place while protecting your fingers. Use it! A bargain for about $20.