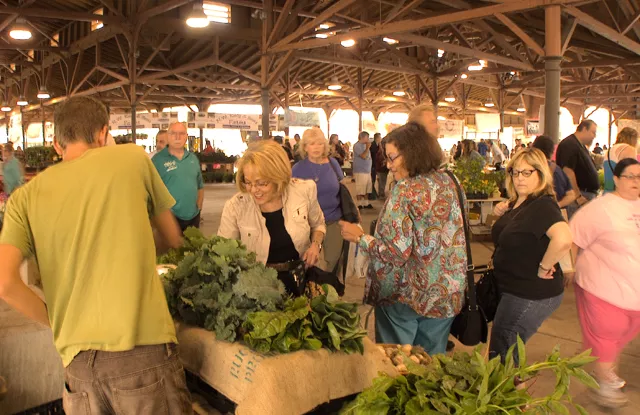 Weekday wonder For the second year in a row, Detroit's Eastern Market is open two days a week. In addition to the traditionally busy Saturday, you'll find the market open this summer and fall on Tuesdays, with farmers, flowers, produce dealers, specialty products and prepared-food vendors. The market calls it a "weekly community celebration through the inclusion of special events highlighting the agricultural, social, culinary, and artistic treasures of our city, region and state." We call it a fun thing to do on a weekday. Shed 2 is open 11 a.m.-6 p.m. through Oct. 30.
Sugary succor The good folks at Hard Luck Candy Vodka have come up with a fun contest. It's called "Enjoy the Sweet Life," and it asks those who enjoy their candy-flavored vodkas (Red Fish, Root Beer Barrel, Lemon Drop and Orange Dream) to submit images showing how they've enjoyed their summer with the beverage of choice. Submissions could be photos of fans posing with a bottle, drawings of the bottles or logo, or any creative imagery that somehow depicts the brand. You must be 21 years or older to enter. Deadline for submission is Sept. 10. First prize will be $500. To submit a photo, "like" Hard Luck Candy on Facebook and submit your photo there.
Coney time The Second Annual American Coney Island Coney Dog Eating Challenge has been announced, and registration is open for competitors who are hungry to earn the title of American Coney Island Coney Dog Eating Champion. Individuals and teams of four will compete to consume the most coney dogs — that's "with everything," i.e. hot dog, bun, chili, mustard and onions — in 10 minutes and possibly beat the current record of 10 coneys. This year's winner will receive a newly created coney championship belt, as well as prizes from a variety of local retailers, restaurants and other supporters, including a year of free meals at American Coney Island. This celebration of Detroit appetites takes place 5-7 p.m. Wednesday, Sept. 5, with the big chow-down at 5:30 p.m., at American Coney Island, 114 W. Lafayette Blvd., Detroit; event will be open to the public with a suggested $5 donation for admission; $10 registration fee for individual competitors in advance, $15 day of the event; $300 for team competitors in advance, $350 day of the event; registration fees will go to the Keros Family Scholarship Fund; to register, call 586-219-0995. See americanconeyisland.com to register.
Know of any upcoming food events? Let us know! Call 313-202-8043 or e-mail [email protected]
food/thought
Simply . . . Gluten-free Quick Meals: More Than 100 Great-Tasting Recipes for Good Food Fast
by Carol Kicinski
Thomas Dunne Books, $29.99
If the idea of cooking gluten-free foods conjures up thoughts of dishes with hard-to-find ingredients that are required to create substitutes for the protein that gives foods elasticity, Carol Kicinski's Simply . . . Gluten-free Quick Meals: More Than 100 Great-Tasting Recipes for Good Food Fast dispels the notion. The recipes will have you preparing dishes that are not only delicious, but easy and quick as well. With whole-grain mixes for bread, muffins, pancakes and biscuits, and such entrées as enchilada lasagna, salads, sides and desserts, you'll enjoy meals that don't require compromising dining delight.
the works Everyone knows that breakfast is the most important meal, providing fuel for the day. Show it you care by investing in a smart way to put it together. Prepare a hearty meal with a 3-in-1 breakfast station: a 2-cup coffee maker with built-in filter, a toaster oven and a frying pan for bacon and eggs. There are timers for upper and lower heating elements and a warming plate to keep your coffee carafe hot. Be the envy of your friends while eliminating kitchen clutter at thinkgeek.com for $39.99 — a lot less than all three appliances.