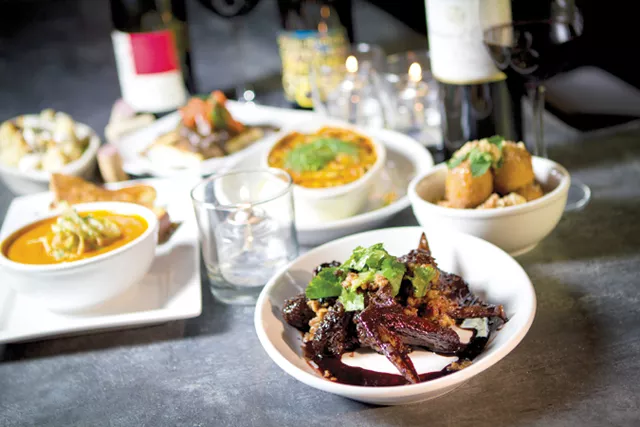 Food for thought It's true: Torya Blanchard — of Good Girls Go to Paris fame — has opened her stylish new bar and restaurant (a spread from which is pictured) in the Park Shelton. It's called Rodin, an allusion to "The Thinker" just down the street in front of the DIA, and it serves French-inspired small plates in a sophisticated environment. Drop in for a taste at 15 E. Kirby, Detroit; rodindetroit.com.
Popping up  You gotta love the pop-up phenomenon. It has given rise to so many unusual food efforts, including the latest, a "soup cooperative and catering company." It's called Farm to Ladle, and they've been serving soup at Rust Belt Market for months now, using only the freshest produce for seasonal flavors, and sourcing ingredients locally. They even offer jars of soup to go. (They're so fussy about their foods' origins, their menu boards list the ingredients and the farms they came from!) Have a bowl or two, at Rust Belt Market, 22801 Woodward Ave., Ferndale; 617-470-8811; farmtoladledetroit.com; [email protected].
Grand holiday meals  If you're planning on going out for the holidays, now is the time to make those reservations. And if you really want to put on the feedbag, there's no better place to go than MGM Grand Detroit Casino. The casino never closes, right? So you can dine in style Christmas Eve, Christmas Day and New Year's Eve —  a few are even open New Year's Day. You can dine at Tap, the sports bar we reviewed last week, the recently opened Wolfgang Puck Pizzeria & Cucina or the brand-new Wolfgang Puck Steak. And that's not to mention the grand spreads available at Palette Dining Studio, which will be open 7 a.m.-2 a.m. Christmas Eve, 7 a.m.-10 p.m. Christmas Day, and 11 a.m.-2 a.m. New Year's Eve. At Palette, the Christmas Day feast will run $32 for all you can eat, including ham and white bean soup, Waldorf salad, carved leg of lamb, osso buco, chicken cordon bleu, whitefish with Dijon, beef short rib in Asian bean sauce and more. It's all at 1777 Third St., Detroit; call 866-990-9491 for details and reservations.
Dinner and a show  The good folks at Benihana want you to give the gift of teppanyaki: that theatrical cooking style where a chef puts on a show while he makes your meal. Benihana gift cards reward you too, as you'll get a $10 promotional gift card with every $50 of gift cards you buy until Dec. 31. They can be purchased in-store or online at benihana.com.
Know of any upcoming food-related events? Beer tastings? Wine dinners? Pop-ups? New products? Let us know! Call 313-202-8043 or email [email protected].