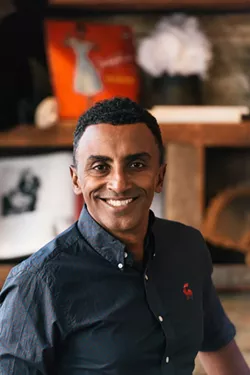 Chef Marcus Samuelsson has a career that just about any cook would envy. His cuisine has racked up a number of awards (James Beard Foundation,
New York Times
), he runs a number of popular restaurants in New York, Sweden (where he was raised), and Chicago, and he even prepared the first State Dinner for President Barack Obama for the Prime Minister of India in 2009.
Now, the Ethiopian-born chef is trotting the country to promote his latest book,
The Red Rooster Cookbook
, based off the internationally-inspired menu at his Red Rooster restaurant in Harlem. One of his stops, Detroit's Central Kitchen + Bar on Dec. 2.
Samuelsson will be on hand for book signing and Central Kitchen executive chef Christina Stanco and team will prepare food and drink recipes from the cookbook.
Says Central Kitchen co-owner Dennis Archer Jr. in a written reply to us of Samuelsson's appearance: "It's an honor and privilege to have one of the world's leading and most innovative chefs partner with us for what will assuredly be a magical evening. The fact that Marcus, like the Central team, is so involved in the communities in which he serves makes it that much more meaningful."
On the menu, a beluga lentil soup, cornmeal encrusted catfish, deviled eggs, and more. To drink, a cocktail known as the Savoy, made with vodka, grapes, agave syrup, and fresh lemon juice.
We routinely are asked to promote all manner of culinary events, but this book signing sounds especially appealing. The book, like the Harlem restaurant, seeks to tell the stories of unsung neighborhood heroes in NYC dining, with recipes ranging from chicken and waffles, jerk bacon and baked beans, to Latin pork and platanos.
Praises of Red Rooster come from the likes of
Jet
,
Fodor's Travel
, and
Times
food editor, Sam Sifton, who says: "Here at last are the faces of the city we live in, sitting together in a large restaurant serving top-quality food and wine."
With Detroit enjoying a similar diversity in its dining scene, it seems only natural that Samuelsson would be drawn here.
The book signing is a non-ticketed event, everyone is invited, and goes from 7 p.m.-9 p.m. Central Kitchen is at 660 Woodward Ave. #4a.

See also:
Central Kitchen and Bar is downtown's new gathering place