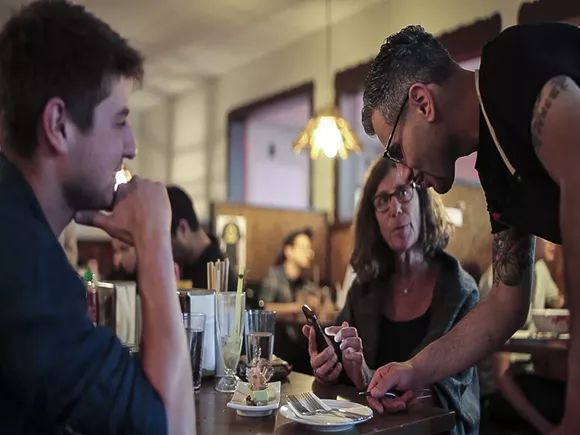 Chef George Azar recently shuttered Flowers of Vietnam, his popular twice-a-week eatery, to undergo a months-long renovation project for its current Vernor Coney Island location.
But as is common in rebuilding a restaurant, delays in construction prolonged the process so the Vietnamese-inspired eatery will reopen at 6 p.m. this Saturday as-is and continue dinner service Friday-Sunday through the summer.
The resumed service comes at an interesting time.
Last week news broke of yet another series of deadly police interactions, including the shooting deaths of two black men at the hands of law enforcement in Minnesota and Louisiana, followed by the July 7 sniper attack in Dallas that killed five police officers and injured eight others.
For Azar, sitting back and watching idly while tensions unfold was not an option and the restaurateur wants to do what he can to help.
"A major problem with policing in our country is that there are people policing a community they do not understand and are out of tune with as well. This leads to overreactions during police-civilian encounters or traffic stops and allows the negative rhetoric on the matter prevail. Reconnecting civilians and law enforcement could start humbly at the dinner table," Azar tells us.
Starting this Saturday, Flowers is inviting uniformed officers from any police department to a prix fixe meal on the house if they're willing to sit down and engage with members of the community. A similar display of solidarity with police took shape
last week
when several Dallas-area restaurants fed officers at a number of substations.
"Food sensations and gestures of hospitality are things that without a doubt connect us as humans on this planet. What better way to connect two parties than providing a platform that they both recognize and is also delicious," Azar tells us.
"This might lead to dialogue that was once non existent. Anyone who has the means to bring about change should, to not do so would be negligent at this point in our society."
Azar tells us growing up he had loved ones who worked in law enforcement. In fact, the Vernor Coney Island had at one point served as an unofficial outpost for officers on meal breaks as there was a police substation next door. The chef also says that he's been the target of harassment by police.
"I understand the dynamic of each side," he says.
The effort could serve to further Detroit's ranking as a role model for non-violent civil discourse.
Last week,
hundreds of peaceful protesters, with the support of Detroit Police, took to the streets of downtown to condemn police brutality - both at the hands of police officers against unarmed African Americans and by those who've targeted law enforcement.
DPD Chief James Craig displayed his support for his force and the public they serve during a
Monday news conference
. He announced the demotion of a 17-year veteran police detective who made deriding comments about the Black Lives Matter movement and also of the arrests of four men over the weekend who are accused of making threats against officers on social media.
Any law enforcement official who would like to participate in the Flowers of Vietnam project is asked to show up to the restaurant in uniform (or department appropriate equivalent). Their meal will be comped by the restaurant so long as they agree to dine with a civilian.
Flowers of Vietnam will resume its 6 p.m.-10 p.m. Saturday and Sunday service beginning July 16. Friday service is expected to be added July 22. Flowers of Vietnam is at 4430 Vernor Highway.