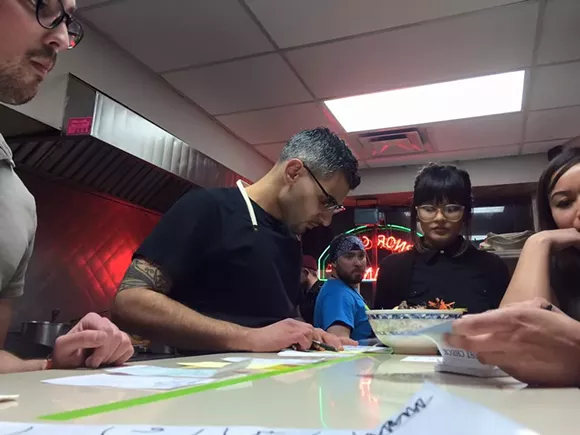 Fans of chef George Azar's Flowers of Vietnam Sunday dinner series inside the walls of Vernor Coney Island in southwest Detroit now have Saturdays to look forward to as well.
Azar's take on pho, fried snapper, and Korean-fried caramel chicken wings can now be had from 6-10 p.m. Saturdays. What's more, Azar tells us he's developing a menu for the diner's daylight hours, which he says will "highlight metro Detroit's Coney Island culture."
"Coney culture has a very utilitarian vibe within metro Detroit. That isn't a bad thing, but I feel like if someone focuses on a Coney just like any other serious restaurant and still keeps the sense of approachable utility, it could be dope," Azar tells us via text.
Just three months into the once-a-week eatery (which operates only after the Coney has closed for the day), Azar's cuisine inspired by the southeast Asian nation has gained popularity via word-of-mouth, social media and the press — a phenomenon that has the southwest Detroiter a bit nervous.
Though stories written by the likes of the
Freep
,
Thrillist
, and
yours truly
have helped to pack the spot each week, he doesn't want the buzz to come too quickly.
"All I can do is still provide a dope product," he says.
Indeed, he's taking the slow and steady approach to build on the initial success of Flowers, conceptualizing what to do to update the diner during breakfast and lunch later this year, and constructing the space that will eventually be a stand-alone Vietnamese restaurant next door to Vernor Coney Island (at 4430 Vernor Highway).