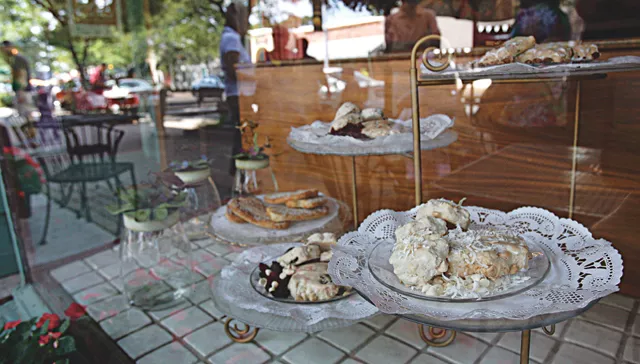 Fou d'Amour
15110 Kercheval Ave., Grosse Pointe Park
313-823-8425
Handicap accessible
Dinners: $11.50
Sandwiches: $6.50-$6.95
Scones: $1-$2
Somewhere between the thriftiness-but-toil of eating in and the expense-but-ease of eating out lies carryout. More and more, it won't surprise you to know, people are opting for the latter. According to a survey by the scary-sounding Institute of Food Technologists, in 2006 less than a third of Americans were cooking their evening meals from scratch, and their numbers were falling. Although 75 percent were indeed eating supper at home, nearly half those meals were fast food, delivered or takeout.
Up to the plate steps Fou d'Amour, serving not only comfort-food casseroles to take home and warm up but whole dinners, from salad to meat. You can eat said dinner inside the sweet little shop, on a real plate, seated on a pillow-strewn, coral-colored banquette, but most customers opt to take away.
Complete dinners are just on Wednesdays, though. Here's the drill: On Monday, receive an e-mail from co-owner Darcy Towns announcing the Wednesday dinner and the Tuesday through Saturday casseroles, a meat one and a meatless each week. Call or e-mail back to reserve yours.
When you come to pick it up, decide whether to add dessert in the form of cookies, cupcakes, scones, croissants, palmiers, brownies or raspberry bars baked that day on the premises.
The 800-square-foot place began as a bakery, but Towns says she got tired of the impersonality of simply shipping scones to wholesale customers. "I like to make food for people and see them pick it up," she said. Though Fou d'Amour means "madly in love," Towns points out that the French phrase sounds like "food amour" — food love.
So she dropped the wholesale and added the Wednesday night dinners and, just this year, the casseroles. Her e-mail list numbers more than 1,300.
But sugar-glazed scones are still among the most popular items sold by Towns and fellow owner Michele Makowski. They include lemon currant, chocolate toffee, white chocolate coconut, cranberry apricot (the most popular) and, in the fall, pumpkin pecan and orange walnut.
I happen to like my scones unglazed, in the traditional British fashion, but I have to admit there is something appealingly over-the-top about chicken salad on a frosted scone, one of the more popular lunch sandwiches. (I've heard that humans have actually eaten hamburgers where the bread is two doughnuts. ...)
The unglazed lemon scone is less sweet — and my favorite, followed by raspberry, which contains a house-made sauce of fresh fruit. The scones are thick and bready and come in happy shapes: flowers, hearts, stars, circles, butterflies.
Dinner costs $11.50 for a generous portion. Examples are eggplant Parmesan, beef stew, pork tenderloin stuffed with apple and sage, orange-glazed chicken, seafood crêpes, seafood po' boy, shish kebabs and chicken Rockefeller, all served with either a salad or a dessert and with appropriate side dishes, such as cranberry rice, roasted zucchini chips, honey-glazed carrots, mashed potatoes or tomatoes stuffed with broccoli soufflé. The dinners repeat only three or four times a year, with such seasonal standards as corned beef for St. Patrick's Day and standing rib roast at Christmas.
The Wednesday I went, the dinner was chicken Marsala with egg noodles, peas and a salad dressed with a terrific vinaigrette. Every element was well-executed (especially considering it had to be driven across town before eating), the peas fresh and firm, the noodles just coated, the chicken not the least bit syrupy but creamy and mild.
That same week, casserole choices were taco pie and roasted vegetable lasagna. It would take some unusual circumstances to get me to order tacos from a gringo, let alone taco pie. So I took home an aluminum pan of lasagna, which needed a half-hour in the oven to heat up. It was more cheese than tomato sauce, and I liked the basil leaves and fresh tomato slices on top. Inside were thin-sliced zucchini, spinach and tiny bursts of sweetness from kernels of corn.
Other casseroles in the rotation are chicken pot pie (the crowd-pleaser), tuna-noodle, chicken strudel (which includes leeks in sherry cream sauce and puff pastry), mac and cheese, zucchini frittata and spaghetti-and-meatball pie, with a crust made of pasta.
A changing list of quiches is available by the slice or as a whole pie. A bacon-mushroom version was tall and fluffy, one slice enough for two.
Soups also vary day to day, depending on what's in the fridge. Cream of mushroom, tomato basil, gazpacho, chicken tortilla and chicken noodle are on the list; $4.95 for a bowl and a scone.
Fou d'Amour offers several panini, including a turkey-pesto I found unsatisfying — ordinary bread, and the heat had morphed the taste of the basil pesto rather bitter. A buttery croissant filled with spinach and feta was properly tangy.
What about the pastries that started it all? I can remember when crisp was a desired attribute in a cookie, but for a while now everyone's wanted them soft and floppy. Fou d'Amour's peanut butter cookies are huge and crisp, the kind that taste as buttery as nutty. Dark chocolate cupcakes are fancied up with swirled buttercream frosting. Perhaps the most flamboyant creation is a brownie with chocolate cheesecake batter swirled in and topped with ganache.
To get on the Fou d'Amour e-mailing list, call the store. It's open 9 a.m.-5 p.m. Tuesday, Thursday and Friday, till 7 p.m. Wednesday, and till 4 p.m. Saturday.