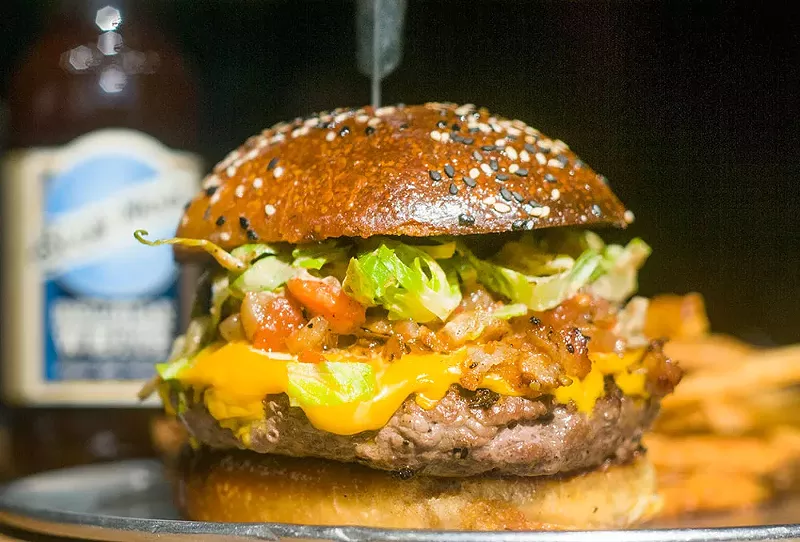 Ballpark fare is what it is: stadium food, mostly made by the not-so-exciting chefs at institutional food giants like Aramark. That means on opening day at Comerica Park, you'll want to fill up for the long, debaucherous haul outside of the stadium. Of course, standing in long lines for a sad sausage in the opening day party vortex isn't much better than eating stadium fare. Fortunately, we have the QLine, which will easily and comfortably cart you to and from the madness around Comerica Park. And you, savvy reader with a sophisticated palate, are at an advantage, because you know that it'll be way easier and cheaper to park up Woodward and take the QLine to the stadium instead of squeezing into one of Mr. I's overpriced lots — and the QLine runs by dozens of interesting eateries. No sad sausage for you. Here's a list of the restaurants we feel are among the best, and worth a visit on opening day.
Rock City Eatery
4216 Woodward Ave., Detroit; 313-265-3729; rockcityeatery.com
There are few chefs who consistently work at the level of Rock City's Nikita Sanches, who created one of the city's most interesting vibes, and his always solid dishes are inspired by a range of cuisines. That means you'll find everything on the menu from the basic but delicious mac and cheese (cavatappi and aged cheddar cheese sauce in a baked parmesan cheese bowl) to Korean hot pot (slow roasted pork, shrimp, homemade kimchi, noodles, rice cake, and spicy beef stock) to chicken enchiladas (grilled corn salsa, black bean sauce, lime crema, radishes, avocado, cilantro) to a finer half-pound cheeseburger and lamb burger. On the beer side, Rock City holds one of the area's best selections, with everything from the standards to hard-to-find beer nerd bottles. The full bar also offers a range of craft cocktails like the Devil is Dead (Bushmills Red Bush Irish Whiskey, Applejack, lemon, and house-made ginger and cinnamon grenadine). Rock City is closed for lunch, so make this a post-game stop.
The Block
3919 Woodward Ave., Detroit; 313-832-0892; theblockdet.com
If you're looking for pregame finger foods, there's hardly a better option than the Block's chicken wings. These are large, meaty bones that are among Detroit's best, and come tossed in Buffalo, barbecue, or sweet chili sauces. Korean-style sticky ribs made with peanuts, scallions, and apple slaw is another solid option, as are chicken quesadillas for the simpler palates in the opening-day gang. Beyond that, the Block developed an interesting burger roster and offers sandwiches like the buttermilk chicken (crispy fried chicken breast topped with gruyere cheese, sliced pickles, remoulade, and lettuce all on a country bun) or the salmon BLT (pan seared salmon, bacon, lettuce, tomato, and citrus aioli on cranberry walnut bread). In the booze department, find everything on draft from Jolly Pumpkin Bam Bière to PBR, and cocktails perfect for pregame priming, like the Absolut Kamikaze (Absolut, lime juice, orange liqueur, and lime juice).
HopCat
4265 Woodward Ave., Detroit; 313-769-8828; hopcat.com/detroit
One of 14 HopCat locations statewide is along the QLine, so if you must have the familiar, this is the place for you. The brewpub sits at the QLine's Canfield stop. It offers 130 taps and its kitchen cranks out the hits like crack fries and one of the city's more respectable burgers, which are priced to move at $5 during happy hour.
Chartreuse
15 E. Kirby St., Detroit; 313-818-3915; chartreusekc.com
Want to get fancy before or after the game? Here's your spot. The sophisticated Midtown space just north of the Detroit Institute of Arts trades in new American fare made with fresh, local ingredients. Yes, it seems there are quite a few restaurants employing that formula these days, but chef Doug Hewitt's Chartreuse is among the best. He doesn't post a menu online because dishes change daily based on ingredient availability, but you'll find plates like spare ribs (served with raw potato seaweed salad, togarashi, soy mirin glaze, and cilantro) or lamb poke (mango, avocado, cilantro, sea salt, sweet chili, and potato chips). Chartreuse's booze selections include a short list of craft beers, aperitifs, and cocktails anchored by chartreuse.
Grand Trunk Pub
612 Woodward Ave., Detroit; 313-961-3043; grandtrunk.pub
The restaurant offers a fine selection of burgers and well-assembled sandwiches like the Finnigan (grilled chicken breast topped with fresh mozzarella, baby spinach, and tomato-basil aioli on Golden Wheat Bakery olive bread) or the Grand Trunk Pub Reuben (Wigley's corned beef, dry rubbed turkey breast, whitefish, or veggie burger with the Poet Stout Kraut, Guggisberg Swiss, and "1000 Russians Dressing" on Golden Wheat Bakery Rye). It also holds one of the better finger food selections along the QLine with fried pickles, guacamole, and more.