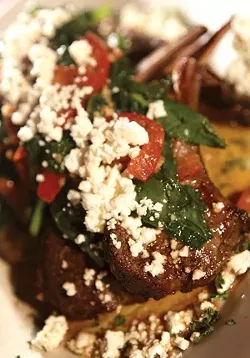 With abundant marinas and miles of Lake St. Clair shoreline, the far east side suburb of Harrison Township is a boater's paradise — but not exactly the first locale that springs to mind when considering a meal out. The area's restaurants are few and generally unremarkable, with the exception of Italian hot spot Luigi's, where you might wait as long as an hour for a table during prime dinner service hours. As devoted diners who have visited Luigi's for decades will tell you, they're drawn by much more than just "location."
Indeed, the somewhat kitschy setting of checkered tablecloth, faux grapevines and strings of small red and green lights doesn't prepare you for the quality of service. Whether you're dining in the dark and boisterous front room or the more sedate and well-lit back, you're sure to be impressed by the efficiency of the waitstaff. Children are welcomed in both dining areas with crayon-based activities and ample menu options. Starting off, they always seem to go directly for the very thin, pencil-shaped crunchy breadsticks simply as a medium for butter intake while calorie-conscious adults look on in envy.
There are also thick and soft breadsticks that are good enough to present the risk of filling you up before you order. Don't be tempted. You'll want to try one of the appetizers like rice-mozzarella-and-sausage balls baked in a breadcrumb crust and covered with tomato basil sauce (arancini). You can imagine someone's cousin Vinnie making noise about them. Other interesting starters include an Italian version of nachos and gnocchi with walnuts and gorgonzola cream sauce. It will require more than a couple meals just to explore the most attention-grabbing dishes.
Of course, Luigi's offers typical Italian fare as well: various pasta dishes, ravioli, veal or chicken done in your choice of Parmesan, marsala or picatta. The menu veers further American with steaks, chops and the ubiquitous slab of baby back ribs. The fussiest meat-and-potatoes eater won't have a problem ordering (though they'll probably still find something to gripe about ... you know the type). More enthusiastic eaters will find consolation in what appears to be a vague grounding in Sicilian cuisine.
For seafood options, you have whitefish, either broiled with white wine and lemon or prepared Siciliano. Also select from steamed mussels, Cajun crawfish, or fish and chips. A special of lobster ravioli in a deeply flavored Asiago cream sauce was pleasant eating if not particularly special. Pasta casino might have been a better choice in retrospect. The house specialty of veal sautéed a la oglio was a standout. The topping was a bright, delectable mix of roasted red peppers, capers and enough garlic to warrant a tacky vampire joke.
Before the meal, the side minestrone-style cup of soup was all the more gratifying for the bits of spicy sausage inside. The dinner salad was not completely iceberg lettuce, and was tasty enough slathered in the creamy house Caesar. One side dish that left the table nearly untouched was a pasty risotto covered with tomato basil sauce. Presumably this same risotto is also the filling for the arancini balls, where the texture works in contrast to the crisp breadcrumb crust. In any case, next time we'd order the side of linguine.
Then you have an entire faction of regulars that doesn't even bother with the menu and goes directly for Luigi's exceptional pizza. The fresh toppings on the "gourmet vegetable" specialty pizza still had bite and one diner in our party repeatedly celebrated the fact that the pepperonis on his pie had curled up into little cups filled with the rendered sausage fat. More than that, the crisp outer crust comes standard with a generous sprinkling of sesame seeds. Or choose one of the other optional crust add-ons like garlic or butter. You won't find many uneaten crusts at Luigi's.
Complement your meal with a bottle from the adequate wine list that pays just enough homage to the Old World. Beer drinkers will also find a decent range to choose from. And though we didn't test the cocktail bar, we did gaze longingly at a swell-looking frosty martini that once floated by on a platter. With both food and drinks, Luigi's just about covers everyone's taste sensibilities.
Although Harrison Township isn't on the way to anything but water and will likely never be settled by hipsters, the locals know the value of a satisfying meal at Luigi's. After dinner, neutralize some of those calories by walking the marsh trail at nearby Metro Beach Metropark. Good food then a stroll while chatting with birds is most always an evening well spent.
Todd Abrams dines for Metro Times. Send comments to [email protected].