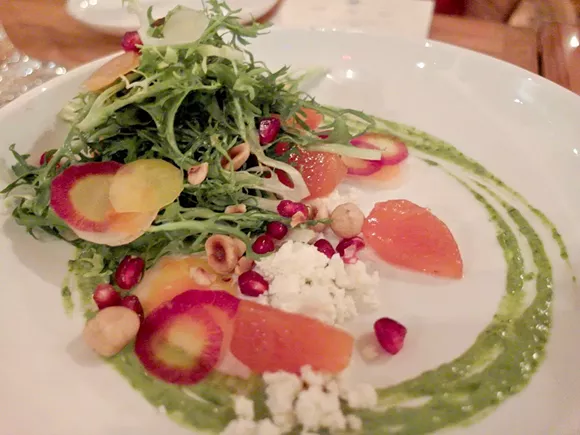 When chef Brendon Edwards took over the kitchen at Gold Cash Gold this fall, we were excited to see what he would do with the menu.
His distinct culinary style - which draws from Asian, European, and Latin American techniques - was sure to shake up the Corktown spot's Southern-influenced menu.
Indeed, when we joined a handful of fellow food writers for a media preview of the new eats this week, we were impressed with Edwards' handiwork. In particular, his take on GCG's signature dish: the pickle brined fried chicken.
Edwards made sure to appease fans of the unique take on the classic comfort food, but added his own twist, with the 1/2 chicken two ways entrée.
He gives the dark meat pieces the frying treatment, though they're more refined, thanks to a sous vide pre-cooking process. The result, thoroughly cooked, juicy morsels, to even out the crunchy skin. The other half of the equation, arguably the most succulent white meat in the city. It's butter poached, which helps to lock in its moisture. Paired with a root veggie puree and braised green beans, it's a nicely balanced dinner.
Edwards' range can be seen all over the new menu (which, we must note, is like 3-4 times longer than the previous GCG menu, formerly under chef Josh Stockton).
On the lighter side, his seasonal winter persimmon salad draws from Edwards' time in Japan and proves that cold weather food doesn't have to be gut-busting. He gives his Irish heritage a Latin American twist with his golden potatoes, by adding queso fresco, Peruvian chili, cilantro, and savory platanos fried up kind of like tostones. And his dirty rice cakes - with chicken liver, madeira sabayon, and red pepper relish - are a happy marriage of Creole and Asian technique.
Perhaps Edwards' greatest quality (and something we immediately picked up on when we first met last year as he was gearing up to open Standby) is his ability to tell a story about every dish that he plates. He's obviously detailed in describing his food to the press, but he also does this with everyone else in the restaurant - circulating around each table to make sure each party feel like he's cooking just for them.
One more note, Edwards looked rested, with a sense of calm - a stark contrast to his days at the always packed Standby. We don't know if he was just putting on a smiling face for the cameras, but seems his most recent move is for the best all the way around.
See also: Switcheroo:
Chef Brendon Edwards to replace Josh Stockton at Gold Cash Gold
See also:
Standby preview featured hints of East LA, Japan