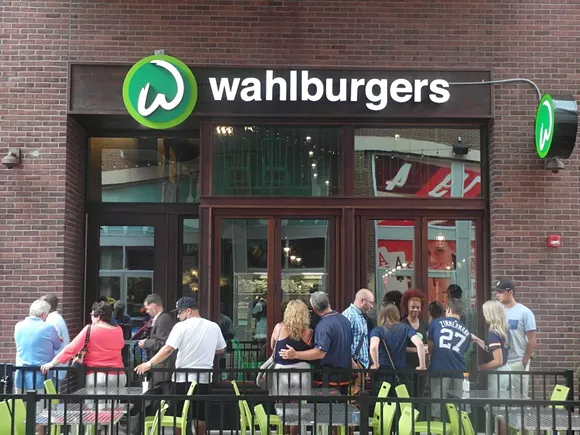 Of the handful of new casual chains that have sprung up in Detroit this summer Wahlburgers has the most star power.
With actor (and former rapper and Calvin Klein model) Mark Walhberg, brothers Donnie (former New Kids on the Block member) and Paul (a chef) as founders who also star in the A&E reality show of the same name, much hype and cameras has come along with the opening.
Indeed, the spot (at 569 Monroe) has had customers lining out the door - some for upwards of an hour - all eager for a taste of the "chef driven" menu of burgers, fries, tots, shakes, and salads.
The Greektown spot is split into two levels, with a bar on each floor. Once the crowds die down, customers will be able to place to-go orders. In its first week open we opted for a seat at the second-floor bar. The space is absolutely plastered in everything Wahlberg, from movie posters and family photos to several flatscreens that play a non-stop loop of the show.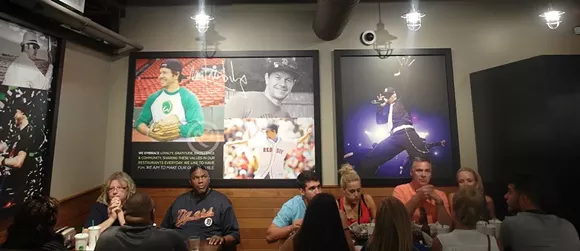 Surprisingly, despite the throngs of people, the service was courteous and our food came out promptly.
The menu is obviously heavy on its burger offerings, with 15 sandwiches and burgers to choose from. In keeping with the family-run business theme, several of the offerings are highlighted as favorites of different members if the Wahlberg clan. Recipes inspired by the family's matriarch, Alma, are also prominently on display, with items like Mom's Sloppy Joe ($8.50) and Alma's macaroni salad ($3.95-$5.95).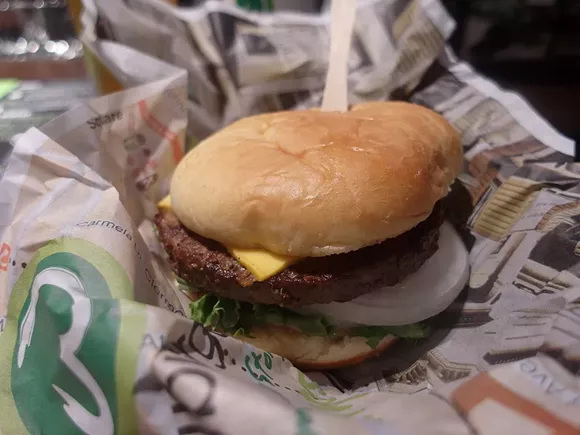 The signature "Our Burger" (Paul's Choice) is your classic burger joint fare: a third-pound patty, cooked medium (unless otherwise requested) on a simple bun, and topped with onions, lettuce, tomato, dill pickles, "government cheese" (an apparent nod to the family's working class background), and a tangy "Wahl sauce" (the chain's play on Mickey D's secret sauce). The patty looks kind of pre-formed and isn't all that interesting, but it'll hit the spot if you're looking for a little something to munch on before a game (price $7.75).
There's also "Mark's Favorite," the Thanksgiving Day Sandwich ($8.95) with a seasoned turkey burger, stuffing, mayo, an orange-cranberry sauce, and roasted butternut squash. The sammy definitely had hints of the famous holiday meal, though the patty was dry and bit bland.
Several lighter sandwich options are available, including the Jenn's chicken ($8.50) and one with a Portobello cap ($7.95). For a Wahlburger without the carbs, guests can take any burger or sandwich and have it tossed with greens in "Chopped Salad Bowl" form.
Overall if we found ourselves craving a burger, Wahlburgers would not be at the top of our list, however, we can see it being appealing as a touristy eatery in a touristy part of town.
The chain originate in 2011 in Hingham, Massachusetts, outside of Boston and has grown to include locations in Florida, Nevada, New York, Pennsylvania, and Toronto. Plans to roll out other outposts in Michigan and elsewhere are in the works.
To stand out from competitors like Five Guys (there's one just down the street) Wahlburgers is not just using its celebrity status but also attempting to exude a blue collar ethos. For that reason, it makes sense to pick Detroit as one of its newest locations.
Our one concern with that "working class organization" claim is whether Wahlburgers can live up to it and thus be a much-needed job producer for the city. The Greektown location employs about 150 jobs. Elsewhere though the chain has caught negative attention on the labor front. A recent USA Today story
says
that former employees of the Coney Island (NY) franchise filed a lawsuit alleging wage theft.
We hope the local spot can stay away from that drama and keep it a fun, if not gimmacky spot that will draw in the fans.