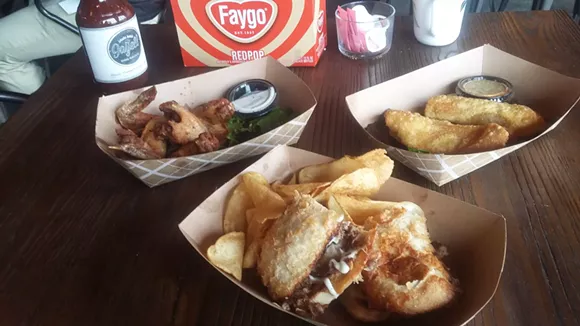 Eastern Market's Stache International has been open for business only a week, but it has already caught on as a creative alternative for lunch, with curious diners and local workers picking up to-go orders already excited about the new neighborhood offering. We swung by the place Thursday to grab a quick bite and see what it's like. What we saw was an interesting repurposing of what a century ago was a slaughterhouse into a spacious and modern lunch counter and dining room.
The menu focuses on sandwiches, fried small bites, and local coffee and pop. Guests can find a seat at one of several four-top tables, long picnic benches for larger groups, or the extended lunch counter that faces the open kitchen.
You will probably be greeted by manager Gracie Moses, who's married to co-owner, Ray. She'll set down a large bottle of water and glass and make suggestions on some of her favorites (she recommends the Firecracker Bites, which are mini spring rolls, stuffed with Gus and Grey's "Sweet Jesus" sweet jalapeno jam, mozzarella and asiago cheeses, and served with Cajun ranch "Boom" sauce).
We opted for one of the many available sandwiches, the Refined Swine, made up of a smoked pork shoulder marinated in red wine and French onion seasonings, and topped with rosemary garlic aioli, stuffed into a Dutch crunch roll. The pork came out succulent, with a hint of charred smokiness on the outside. The slightly chees,y flaky crust of the roll made for a nice bread option. We also topped it off with a Bavarian root beer barbecue sauce from local sauce maker Jayell Smoke House (we're told Jayell uses Faygo root beer in its recipe).
We also opted for a side of Wings ala Zorba, five chicken wings that are brined in a Mediterranean spice blend, and fried and then tossed in a house seasoning, and served with garlic oregano ranch sauce. The seasoning was subtle, not overpowering, offering just the right amount of spice to the chicken.
Another fun side came from the Bavarian Roll, which is actually an egg roll, filled with melted Swiss cheese, smoked ham, and dill pickle, and paired with a spicy brown mustard and Stache sauerkraut. Think of it like a deep-fried, rolled ham and Swiss sandwich.
There are also a number of vegetarian-friendly options, including the Veggie Balboa, with smoked portabella mushroom slices, grilled bell peppers and onions, melted house cheese blend, and rosemary aioli on a grilled hoagie bun.
The menu is mostly sourced by vendors at Eastern Market. Meats come from Gratiot Central Market next door, and produce options will vary on availability.
The spot is two years in the making, Ray Moses tells us. When he and partners Steve Kay, and Ross Varacalli first saw the space, it was little more than a concrete box next to the bar Thomas Magee's, and had previously housed a bike shop. The trio went to work to build out a full kitchen, but other than that tried their best to maintain the place's original feel - exposed ceilings, brick walls, and concrete floors - with soft blue and green accent walls, hanging light fixtures, and metal detailing along the front counter and bar.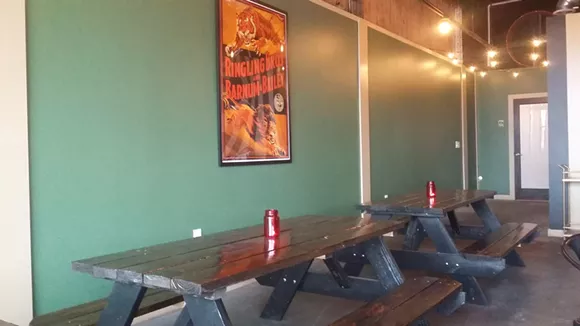 Moses says he and his partners are working on plans to run food late-night to Thomas Magee's, which currently does not have a kitchen, as well as other area bars. For now, hours are 11 a.m. to 4 p.m. Tuesday-Thursday, and 11 a.m. to 6 p.m. Friday and Saturday. Stache International is at 1416 East Fisher Freeway. To-go orders can be placed by calling 313-974-6895.