Casual dining chains have really taken a liking to Detroit this summer, adding an interesting layer to the city's growing dining scene.
Earlier this week we
chatted
with WDET's Detroit Today host Travis Wright about this phenomenon, what with the openings of several such places in the past week or so, including Calexico, Wahlburgers, and the impending downtown launch of Shake Shack.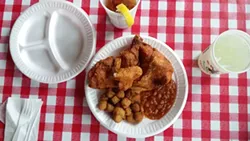 One spot that we forgot to mention to the radio personality that we've been eyeing for awhile, Gus's World Famous Fried Chicken. The Memphis-based chain soft opened on Aug. 17.
We first
reported
about Gus's back in January, a venture by restaurateur Zack Sklar (Peas & Carrots Hospitality). At the time his description of the chicken, which across the country enjoys a cult following, had us drooling to try it.
So, would our experience live up to the hype? The answer, a resounding yes. The concept is simple, as is the menu. The 3,000-square-foot space is a new build, but has an old feeling, with exposed brick and old wood paneling, with one wall covered with images of vintage Free Presses and the spot's iconic yellow and red signage. For seating, there's a long lunch counter, as well as tables that are all covered with checkered table cloths. Chairs, all mismatched, with many that appear to have come out of an old classroom.
Order by the piece or as a meal ($1.95 for a single wing to $44.95 for a 20 piece snack), choose your Southern-inspired sides like fried okra, greens, mac 'n cheese, or baked beans, and dig in. We went for a half chicken plate, which includes one of each cut of chicken in a mix of white and dark meat. With the meal ($12.10), choice of two sides and a slice of white bread.
As for the flavor, some of the best fried chicken we've had. The food is made fresh to order and your server makes it a point to mention this as it can take about 20 minutes to prepare. Gus's uses natural, hormone-free birds, evident when you take a bite. The batter, infused with hot sauce, is crispy and flavorful and locks in optimal juiciness. The tender meat itself is cooked to near perfection. Though a bottle of Louisiana Hot Sauce sits on each table, we found no need to add to the heat, a testament to the recipe.
Split between two people and throw in a lemonade and sweet tea and you're walking out paying less than $20 ($18.14 to be exact), a price that most Detroiters can get behind.
The Gus's concept was born 60 years ago, starting humbly in Mason, Tenn., with founders Napoleon "Na" Vanderbilt and his wife, Maggie, slanging chicken sandwiches from the back of a bar, according to the company website. In 1973 the couple, with the support of loyal fans, built their first brick and mortar, going by the name Maggie's Short Orders.
In 1984 their son, Vernon "Gus" Bonner, took over the family business and opened the first Gus's World Famous Hot and Spicy Fried Chicken location, using the same fiery recipe. The spot has gone on to win national accolades and now includes 16 locations.
We welcome Gus's to Detroit's increasingly competitive dining scene. The time-honored recipe, laid back, old school vibe, and value all make for the makings of a strong hold in the Motor City.
Gus's is open 11 a.m.-9 p.m. Sunday-Thursday, 11 a.m.-10 p.m. Friday-Saturday. Address is 4101 Third St.