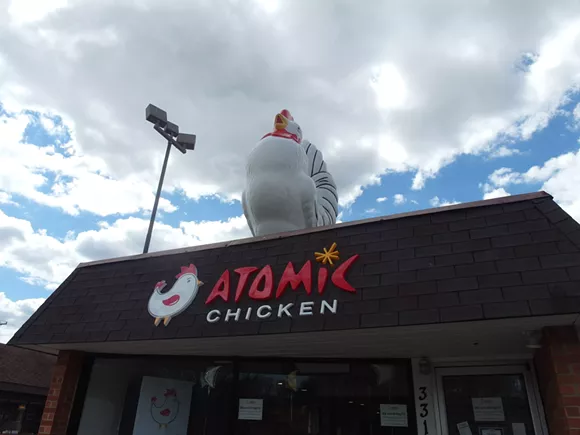 Because a bomb AF hot chicken sandwich shouldn't be that hard to come by, metro Detroit has just welcomed the first of two Atomic Chicken houses, in Clawson.
Partners chef Matthew Baldridge, Scott Moloney, and chef Greg Reyner launched the quick-service soul food spot earlier this month on Main Street in what looks like a little bright red barn with a giant chicken statue on the rooftop.
We stopped in recently to check it out. On the menu was an array of comfort foods with a twist, like chicken and waffles tikka or Karaage Japanese style, biscuits and braised beef and tomato gravy, and a gorgonzola mac n' cheese. Several specials are also on hand daily for after school, lunch, and families.
We chose the Smok'n Hot fried chicken sandwich from one of a handful available sammies. The chicken breast came out nicely breaded and crunchy on the outside and incredibly juicy inside, with a fiery house-made hot sauce, blue cheese, and pickled onions. To go along with it, we got a sweet, vinegary slaw - just what was need to balance out the heat.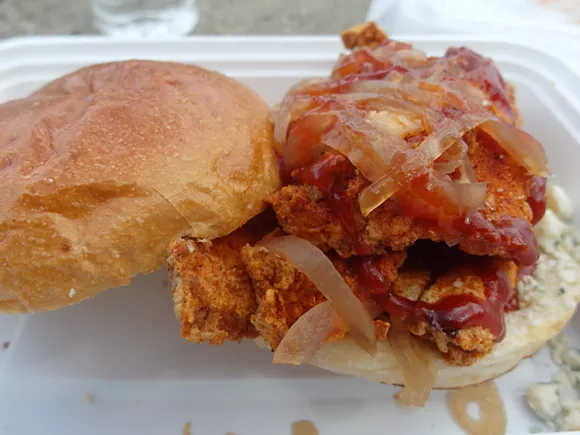 The Clawson location is, for the most part, a takeout only affair, though there are picnic tables out back that will useful for the warmer months ahead. One thing we worry about with carryout spots is how they'll hold up during transit. To-go boxes are sturdy plastic, not Styrofoam, so it would seem that some of the more substantial dishes will stand a chance on the way home.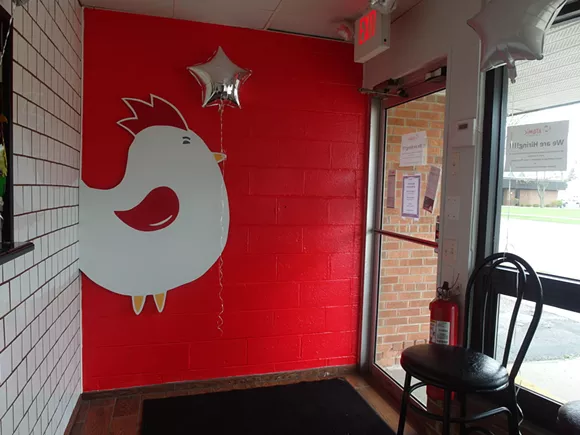 In addition to the Clawson location, the trio are also renovating a former Popeye's on Woodward and Milwaukee to make way for another Atomic Chicken. This space had ample seating when it was a chain, so we anticipate that will be similar when the new spot rolls out (sometime this year).
During the Atomic build-out, Baldridge has been pursuing another venture in Ferndale, The Conserva, an Italian-inspired establishment in a former bank building on Nine Mile Road. He and his fiancée, Janna Coumoundouros have made a splash in recent months for organizing several successful pop-up dinner parties around town.
The Clawson location is at 331 N. Main St. The New Center locale is at 6500 Woodward Ave. The Oakland County location is open 11-8 Tuesday-Thursday, 11-9 Friday-Sunday, and closed on Mondays.