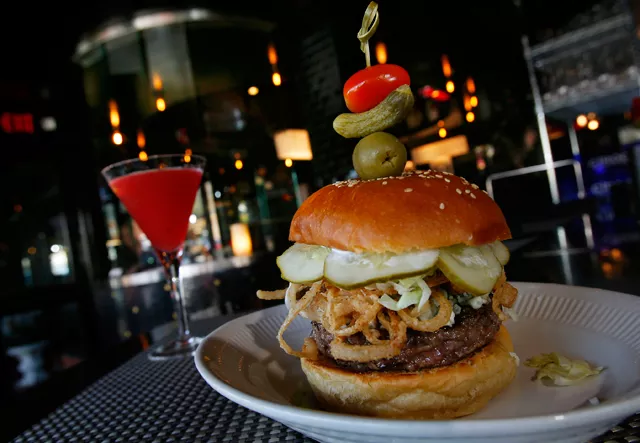 Luxe Bar & Grill
525 N. Old Woodward Ave.,
Birmingham; 248-792-6051
Checking out in advance the new Luxe Bar & Grill online, I found reviewers happy to discover a meal for less than $10 in Birmingham. True, two of the Luxe's burgers and four salads are less than $10, but most glasses of wine are in double digits and entrées range from $16 to $29. If you order more than one item, you're not likely to emerge feeling you've pulled a fast one on the management.
You will emerge well-fed, though. The Bongiovanni family (also owners of the Salvatore Scallopini chain) serves first-rate food and delicious drinks, and the place was packed both times I visited, even on a Monday evening.
It's a multigenerational crowd, with enthusiastic young drinkers in the bar area making for formidable noise levels there. The place is good-looking, with two skylights in the dining room, big windows and a wall decorated with the now-omnipresent random assortment of interesting objects, including advertising logos. (Cremo Pop? Will folks 80 years in the future find the golden arches quaint?) Outdoor seating on Old Woodward will be very popular — seven months from now.
Most dishes at the Luxe are classics (Caesar salad, burgers, club sandwich) or familiar from tens of thousands of menus (wings, chili, fried fish with fries). That description would make me stop reading, but it's misleading. The kitchen offers not so much twists on old favorites as just really, really good versions thereof.
And besides serving high-quality meals, says Joe Bongiovanni, the family's goal was to "create a craft bar." To that end they look back to some classic cocktails ($6-$15) — a Sidecar, a Pink Lady, a Pimm's Cup — and use a lot of absinthe.
I tried a Pousse Café, a layered drink consisting of five liqueurs — Curaçao (clear, from bitter citrus peel), Blue Curaçao, Maraschino (clear, flavored like the cherry of the same name), crème de menthe (green, mint) and crème de cacao (chocolate) — plus cognac and grenadine (a reddish fruit-juice syrup).
It was gorgeous, the bands of jewel-like colors resting gently atop one another — this drink is neither shaken nor stirred. The flavors I tasted were, in this order, cognac, mint, chocolate, cherries. A silly novelty, yes, but entertaining.
My companion ordered Death at Dusk, consisting of fizzy Prosecco (a Champagne substitute), absinthe (anise-flavored to the initiated, tastes like licorice if you're not), and crème de violette (yes, it supposedly tastes of violets, but I found it more like cherries). A bonus is that your server will give you the rest of the small Prosecco bottle to keep topping up with.
Wine and beer lists are also ample, the beers featuring Michigan craft brews but ranging as far as Sri Lanka, and the wines going for $28-$80 a bottle. I liked my glass of tart, bright Malbec from Argentina. Bongiovanni says he's seen people "eating a $10 burger next to a $50-$60 bottle of wine, so there are some oxymorons in there, but we like them."
About those burgers: I tried only the simplest, with Gruyère on a brioche bun, but the bacon, blue cheese and mushroom versions sound satisfying too. (The latter is on an onion roll with roasted mushrooms — heaven.) Bongiovanni will divulge nothing about his beef except to say it's "sourced extraordinarily high" and that the family worked a long time on the burger blend's proportions. They got them right. Personally, I prefer a firmer bun than a brioche — soft meat needs a crisper counterpart, IMO — but it seems generations of Americans, having been raised on Wonder Bread buns, still think squishy is the way to go. No matter, the Luxe burgers are a reason to visit.
Even more so is the Greek steak sandwich ($14), 6 ounces of tender prime skirt with sweet caramelized onions and feta sauce on an onion roll. This, my friends, is a sublime combination of flavors. The side of Greek salad is generous with dark olives, big chunks of feta and beets.
Also excellent are lamb chops, crisp and fatty, served with crunchy green beans and rice with tomato sauce, Greek-style. Ribs are a generous eight tender bones, served with mixed fries and not much barbecue sauce.
I also enjoyed greatly a fish taco starter, served correctly on corn tortillas with spicy slaw, real Mexican queso fresco and peppery hot sauce. No orange-and-white cheese sprinkles at a joint that sources extraordinarily high! The tacos can be steak or chicken as well.
An original salad is the Green Apple, in which shards of tart apple are the base, tossed with a little frisée, a lot of warm chicken, red onions and cashews. My leftovers miraculously survived to become even better the next day.
For dessert we tried chocolate fondant dressed with crème Anglaise, thick and fudgy with a crisp top, superb. Bread pudding was less interesting — a whiskey sauce would have improved matters.
(Gentle note to whoever trains the servers, who at least are consistent: "anglaise" is a French word meaning "English." It doesn't rhyme with "dangle days.")
The Luxe is open 11 a.m. till midnight (kitchen) or 1 a.m. (bar), seven days a week. No reservations — and prepare for a wait.