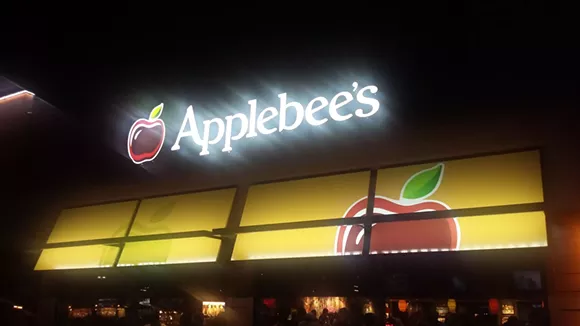 When we first caught word that Detroit would get its first Applebee's at the Gateway Marketplace on Eight Mile, we were incredulous, to say the least.
How can this glutinous corporate American chain that suggests you really don't need to choose either/or, but rather both, or three or hell, even all of the calorie-laden combinations of twice-sauced ribs, deep fried apps, or drowning-in-cheese chicken, be good for Detroit? And if these suburban-style chains increasingly start entering the city's dining scene does that serve to homogenize Detroit?
Boosters of the city's renewal would argue that Applebee's addition to the shopping center, which is anchored by another Detroit first – a Meijer superstore – is yet another telltale sign that yes sir, Detroit is finally back on track. The development means 140 more Detroiters get jobs and residents looking to score 2 for $10 app samplers no longer have to trek it passed Eight Mile in order to get their fix. The space does try to "feel" as local as a possible with a huge mural depicting metro Detroit high school sports teams and landmarks and features locally-produced libations, including an exclusively-made 8 Mile Amber by Atwater Brewing (never mind the fact that the chain and most others have avoided Detroit like the plague for the past half a century).
We tried to keep all that in mind as we hopped in an Uber and typed in the address. "Applebee's, that's the one over at Eastland Mall, right?" the driver asked. "No, this is the brand-new one in Detroit," we replied. The driver proceeded to freak the fuck out, completely ecstatic that the day had finally arrived when a big chain restaurant would dare set up shop inside the city limits. She called her other Uber friend and demanded he stop what he's doing and meet her at the restaurant.
OK, maybe Detroiters really have been craving this. We got out of the car and noted the full parking lot. And then immediately our first disappointment. The restaurant's "carside" parking spaces that encourage customers to forgo the painstaking task of climbing out of their cars and then walking with their legs the 30-some paces needed to enter the building. Forget even moving, the spots suggest, save your energy for the important job of chewing.
We couldn't even get through the door before an eager hostess greeted us profusely and asked how many would be in our party. We were seated immediately at a high top table near the bar. Both the hostess and our server gave us a tutorial on how to use the tablet on the tabletop. Once the first drink is ordered, additional beverages can be purchased at the tap of a button. Appetizers can also be bought in the same fashion, and guests can pay $1.99 for games like a trivia challenge. If paying with a card, that too can be handled with the tablet. No need to deal with awkward human interaction. That is, if you don't count the greetings of hello from every single worker who passed by us (might have had something to do with the several corporate types milling about the floor, all watching over to make sure nobody fucked up).
OK, so a warm welcoming. That's to be expected on any opening day. Drinks were promptly served, one of which included that Atwater special brew. The menu featured a few other local breweries but it was Atwater that made the cut for an Applebee's exclusive. Makes us wonder what kind of money was involved to get the Detroit beer maker to go for it. The amber was meh, it lacked any distinctive complexity that most of us beer snobs look for in a Michigan brew. It was more run-of-the-mill, hey-I'm-in-a-chain-restaurant kind of beer.
As for food, we decided to keep it light, splitting a 3 for $12 appetizer sampler because really we were more interested to see what this new Applebee's would be like. Truth be told, we had never visited an Applebee's before Monday. We were more Chili's fans back in our dumber college days. And we were simply intimidated by the saucy ribs, big 'ol burgers and queso-covered, lime glazed chicken that dominated the menu. We got the won ton chicken tacos and orders of soup, one tortilla, which tasted chock full of sodium, perhaps only a step up from the canned stuff, and the other, French onion, which was more droopy cheese than broth, onions or anything else. The tacos were surprisingly not awful, as far as processed food that comes from a bag goes. From the name of the dish, we certainly weren't expecting anything resembling Mexican street tacos. These things were just enough though, we didn't feel like we gorged ourselves and the subtle faux Asian American notes in the diced chicken cubes, cabbage and sauce tasted like a spin on what we might find in a Panda Express, though plated on a charming little tray.
What stood out to us were the number of children's plates that passed us. This spot really isn't for the discriminating hipster, who tends toward the growing number of farm-to-table dining establishments in more affluent Detroit neighborhoods. This place is for families who want more than fast food but who don't want to feel squeezed out the door before they even step in some of the more high-end spots because they didn't have enough in their pocketbooks and their 'lil rugrats get antsy when they're out in public. And many, many people have fond memories of going to chains like Applebee's. It's something familiar, no matter if you visit one in Oakland County, a small farm town out west or a strip mall in Detroit, and that's comforting to a lot of folks. For that, we can see the appeal of this development by TEAM Schostak Family Restaurants, which operates the 1,900 Applebee's outlets across the country.
Problem is, some 33 percent of Detroiters are already obese. True, several of the entrees are designed to serve the more health-conscious and denote whether they contain fewer than 600 calories. But how healthy is a meal really that came from a truck, inside a bag, that was already pre-formed and that's chock full of chemicals meant to make the dishes look like "real" food. And from the looks of opening day, customers weren't all buying into the healthy menu gimmick, they were more interested deep fried wings and just about every child's plates we saw being bussed to the tables were filled with deep orange mac 'n cheese and sad corn dogs. What's more is that as Detroit continues to experience the sting of gentrification, we have to wonder if Applebee's on Eight Mile is a precursor to a TGI Friday in the Compuware Building, a Chili's on the ground floor of Book Tower when that's eventually renovated or an Olive Garden in Corktown? We certainly hope not.