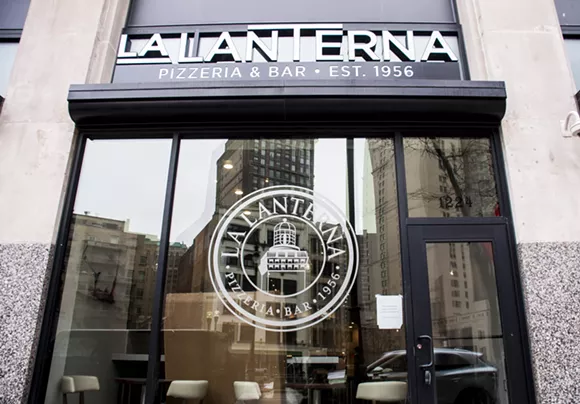 Two of Michigan's biggest culinary exports are Little Cesars and Jet's, so it's understandable if your neighborhood Hot-N-Ready purveyor is what pops to mind when someone says "pizzeria."
But that's what passes for an American pizzeria. Those that you'll find in northern Italy — of which the soon-to-open La Lanterna in downtown Detroit's Capitol Park is fashioned — are an entirely different affair.
The latter is a more sophisticated restaurant, and La Lanterna fits that description. It's an undertaking of the Barbieri family's second, third, and fourth generations, and an homage to their father, grandfather, and great grandfather, Edoardo Barbieri, who launched the venerable Da Edoardo restaurant group. He also ran the original La Lanterna in Capital Park between 1956 and 1978.
Now, 39 years later, it's set to reopen just across Capitol Park from the original location.
On a recent afternoon in La Lanterna's modern, 60-seat space in the Albert Building, the Barbieris explained their pizzeria's concept as they discussed where to hang a painting of the first Barbieri and other finishing touches.
"If you say to an American 'I'm going to a pizzeria,' they think of a Laverne and Shirley pizzeria where the pizza is pulled out of the oven, put in a box, and there you go," Edward Barbieri III tells me. "A pizzeria is a restaurant in Italy. You're going to get pasta, you're going to get a seafood salad. It's a pizzeria, but it's still a restaurant."
That means La Lanterna's simple, traditional dishes that slant toward northern Italy's Emilia-Romagna region near France will include pastas heavy on the cream and butter as opposed to tomatoes. One such entrees is chicken with mozzarella, and Parmigiano Reggiano that's baked with bechamel and bolognese sauce — "Italian comfort food," as Ann Barbieri Kolinski put it.
She also clarifies that the idea of pizza night in Emilia-Romagna is different than in Michigan. "Going out for pizza is an event in Italy, they dine, it's not just something you get in a box," she says. "It's served on a plate and you eat it with a knife and fork."
On the pizzas, which will mostly run in the $11 to $14 range, expect less sauce and cheese than an American pie, but high quality ingredients. The Barbieris are stocking Molino Caputo Tipo 00 flour, which is the finest grade of milled flour in Italy, and the gold standard for pizza dough. Cheeses include fresh buffalo mozzarella, Parmigiano Regiano, or pecorino Romano. On top, you won't find pineapple and ham, or BBQ sauce with chicken and bacon, but prosciutto, lemon zest, and artichoke hearts.
The Barbieris stress they aren't putting down American pizza, but they plan to trade in something a little more authentic.
"There's occasions when you're in Rome you can't find good, authentic northern Italian food. It's hard to come by … because with authentic Italian, less is more," Ann Says. "It's very simple food. It might be labor intensive, but it's simple."
La Lanterna's story started in Modena in northern Italy during World War II, when Edoardo Barbieri launched his culinary career as a cook in the Italian Army. He met his wife, Ann, at a POW camp dance, and, after the war, they moved to Detroit so he could work in a Ford factory. Barbieri left the line to work in Luigi's, an Italian restaurant in Detroit before opening La Lanterna.
The original version was a different concept than what you'll find in the new incarnation. Instead of serving only straight northern Italian cuisine, it worked with a little of everything — veal scaloppini, fish frys, corned beef, and other dishes from across the map, as was common in the day.
Though the restaurant initially thrived, Barbieri closed shop after the riots and the city emptied, choosing to focus on Da Edoardo in Grosse Pointe. (The tenant who had to leave Barbieri's Mack Avenue property in Grosse Pointe to make way for Da Edoardo was none other than then-upstart pizza slinger Mike Ilitch.)
With the assistance of Edward Barbieiri Jr., now 67, the business grew into the Da Edoardo family of restaurants — Da Edoardo Grosse Pointe, Da Edoardo Grand Blanc, the Foxtown Grille, and Café Nini. Now, all the immediate Barbieri family, including Alicia Toplinski and Jodi Barbieri, is involved in the group and new Lanterna, though Barbieri Jr. is the chef and makes the final decisions.
"We're grateful that he let us bring our talents to the table," Ann says.
But these are different times in Detroit, and, as we've seen,
it can be tough
for even the best old schoolers to hang, adapt, and stay relevant in an age in which many of the trendiest spots stray from the traditional and focus on fusion. But the Barbieris say they don't see an issue there. That's partly for a philosophical approach applicable to more than just restaurateur-ing: "You have to be true to what you are, and that's what we're talking about … and you can't be all things to all people. Just do you do what you do and do it well," Edward III says.
With La Lanterna, that means traditional and simple Italian food. As Ann puts it: "You won't find a deconstructed lasagna here."
Edward III echoes that, weighting what's classic over what's trendy: "I'm not going to change our lasagna, our meat sauce just for the sake of changing it. No way."
Beyond the menu, La Lantern's modern yet simple interior with a full white Calcutta marble bar, cool chairs imported from Italy, and a big pizza oven in the back is all inspired by
OOH Pasillo
, a pizzeria in Rubiera, Italy. The list of 20 wines are available by the glass and will top out at $56 per bottle (though an executive list is on the way), and includes those that pair well with Italian dishes, like Lambrusco. Craft cocktails will also have an Italian bent with Campari and Galliano, for example.
But, as with the food, the drinks and interior follow the "simple" path, which is what the Barbieri's belive in. As Edward Barbieri Jr. says his father put it: "Simple food. It will be here when you're not."
La Lanterna is located at 1224 Griswold St. in Detroit.