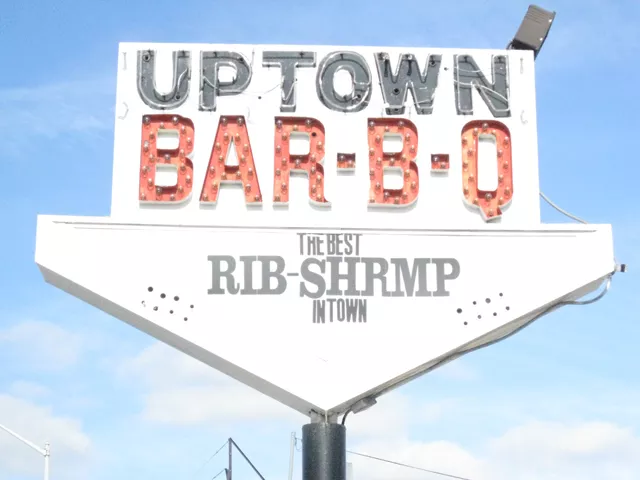 Over the last year, it seems barbecue joints have cropped up everywhere, from downtown Detroit to Royal Oak and Berkley, even out in New Baltimore. All these new restaurants prove that metro Detroiters are hungry for the smoky, sweet and savory flavors of classic barbecue — ribs, sides and all.
Of course, that's no surprise to anybody familiar with Detroit's venerable pit-style barbecues. Year after year in the city, businesses close and buildings sit vacant, but Detroit's rib palaces live a charmed life. Sure, there won't be a full menu of bad-ass beers — nor any beer at all. You won't see dazzling interiors — or even anyplace to sit and eat. But the food they slide through the Plexiglas is often of excellent quality, acing the fullness-to-price ratio with its meager cost. The sides are often nuanced and show effort, and the ribs, frankly, are sometimes out of this world.
Some 'cue mavens trace Detroit's pit-style barbecue back to Alabama, which wouldn't be a surprise. For the majority of Detroiters, the South is the "old country." Amid the South's stubborn poverty, barbecuing was an inexpensive way to bring flavor and tenderness to even the most inexpensive cuts of meat. Then there's the tendency of Detroit barbecue to be redolent of vinegar, mustard or even chile peppers, another trait of Alabama barbecue.
Of course, there's nary a "pit" involved in Southern-style pit barbecue anymore; the meat smokes and sizzles on racks, slowly smoking and cooking, its connective tissue breaking down for tender, moist ribs.
Anyway, we were so curious about these little spots, and how they've endured, that we set up a little tasting, picking up ribs and some sides from a handful of them (there are more) and bringing them to the bar to dig in.

Uptown Bar B.Q.
15700 Livernois Ave., Detroit
313-862-7427; uptownbbq.com
This rib joint between the Lodge Expressway and the University of Detroit Mercy has been in business since August 1989. It's owned by proprietor Nathaniel Fanning, and its staff includes some of his family. Fanning, whose childhood home is nearby, has had a longstanding interest in barbecue. He created his own secret sauce at a young age, and doesn't compare his creations to any other kind of 'cue, preferring to call it home-cooked, authentic barbecue.
Uptown has a small parking lot and a small area inside where your order can be placed through a hole in the Plexiglas that seals in the cooking area. It can be a bit of a challenge to yell your order, then swivel your head to hear the response, but it works. A slab of ribs is a deal, as Uptown charges $15.67 for a trimmed slab drizzled with sauce. It's not just ribs: Shrimp is another specialty, and their soul food dinners pair meat orders (slabs, short ends, large ends, beef ribs and more) with sides. If you buy the sides separately, they are $2.95 each. Service is fast and easy.
The ribs are excellent, full of pit-cooked smoky flavor, with the short ends a bit crispy but not overdone, just like the perfect backyard barbecue. The meat won't fall off the bones, but tears away when you bite, leaving you with just enough meat bits on the bone for good gnawing. Fanning's sauce works well with the meat, sweet and mild, not hot — and so good you'll likely end up sucking the bones clean.
What also sets Uptown apart are its quality soul food sides. Though the corn muffin was a bit granular and wanted butter, and the peach cobbler was perhaps too redolent of cinnamon, the rest of the sides were awesome. The black-eyed peas were rich and gumbo-like, spicy and peppery, with bits of celery and shredded pork. The mac 'n' cheese wasn't just cheesy, but with a surprising and welcome sweetness. The collards were firm, not mushy, a little salty but also tangy, with chunks of potato and carrot. Even the baked beans had something unusual to them, perhaps a bit of mustard powder to help them get attention.
With such high quality ribs and sides, it hardly comes as a surprise that Fanning intends to open another location by April 1, at 18901 Joy Rd. in Detroit.
Uptown is open 11 a.m.-midnight Sunday-Thursday, 11 a.m.-2:30 a.m. Friday-Saturday.

Vicki's Bar-B-Q
3845 W. Warren Ave., Detroit; 313-894-9906
Vicki's small storefront is a block-and-a-half east of West Grand Boulevard, easily identifiable by its marquee sign, with its tall, skinny, illuminated "V" for all to see. Inside, since the Plexiglas doesn't meet the ceiling, you'll be able to order from the cooks just by raising your voice a bit. The menu is short. They serve shrimp and ribs. The sides are perfunctory, including small servings of forgettable coleslaw, potato salad and baked beans.
But then there are those ribs! As much as we enjoyed the ribs from Uptown, Vicki's were even better. We asked for two slabs, one hot, one mild. It's worth watching the cook cut the slabs artfully. With a knife, she cleaved each rib, leaving a fringe of meat to hold it all together. Using a pair of tongs, she folded it in half, dunked it in the sauce completely, then popped it into a polystyrene tray and sealed it up airtight with plastic wrap. For the hot ribs, the only difference was the application of hot powder to the top and bottom of the ribs, as well as one more generous pour of hot sauce on top for good measure. A sign advises that you may tip the cooks for this graceful operation, and we recommend it.
The sauce and ribs create a nearly perfect package. The meat is perfectly cooked, not too fatty, not too crispy; the sauce imparts a sweetness but doesn't overwhelm the meat's smoky flavors. Everyone in our group raved over the quality. Leaving a little room for something possibly more excellent, we gave it four-and-a-half stars. They're a bit expensive, costing $19.62 a slab, but with quality like this, who'd argue over pennies. What's more, slabs come with four pieces of white bread and a serving of the one side at Vicki's that's worth ordering: Little wax-paper bags of fresh-fried fries. There'll likely be so much sauce left over you'll be able to dunk your fries in it.
Vicki's is open 4 p.m.-midnight Wednesdays, Thursdays and Sundays, 2 p.m.-2 a.m. Fridays and Saturdays; closed Mondays and Tuesdays.

Parks Old-Style Bar-B-Q
7444 Beaubien St., Detroit; 313-873-7444
Tucked away from East Grand Boulevard on the edge of New Center and the old North End, Parks Old-Style is in an old diner between Custer and Horton streets, on the east side of Beaubien. The former diner's seats and tables remain, although they're also cordoned off by the Plexiglas as if in a museum — which caused some chuckles.
Parks' trimmed ribs, $19.90 a slab, stand out because of their flavor. The vinegar is strong enough to hit not just your nose but your eyes as well if you get close enough. But if you can get past that, you'll find subtler flavors, including mustard and perhaps cayenne. Some of us found that this vinegar sauce works best on the small end of the slab, where you can gnaw on the crunchy cracklings. One of our group, already familiar with Parks, suggested giving it a warm-up in an oven to release some of the vinegar. One thing is sure: If you object to vinegar sauces, you may simply want to bathe Parks' slabs in some sweeter sauce to tamp down on the acidity.
If the response to the ribs was mixed, the reaction to Parks' sides was enthusiastic. Parks may not have greens, black-eyed peas or cornbread, but they have baked beans, peach cobbler that's sweet but not overpowering, and a very cheesy mac 'n' cheese. But best of all was Parks' coleslaw; instead of the customary paper cup of slaw doled out from a GFS tub, Parks' slaw shines: Appealing to look at, speckled with celery seed, full of flavor, and with a slightly al dente consistency to the cabbage.
Parks is open 11 a.m.-10 p.m. Tuesday-Thursday, 11 a.m.-midnight Friday-Saturday, and 2-10 p.m. Sundays; closed Mondays.