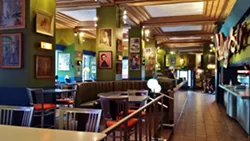 The Zenith Tiki bar and spot popular for brunch in New Center is calling it quits, just over a year after restaurateurs Robert and Melissa Jasper opened the expansive emporium of food and drink. Situated in the ill-suited Fisher Building, with little foot traffic or interest from folks in the immediate area, the couple, who moved to Detroit from Cambridge, Mass. to launch the restaurant, struggled to get their footing from the start.
"Unfortunately the circus is packing-up," the husband and wife said in a Facebook post over the weekend. "Thank-you to everyone who supported us and the unbelievable passion and love we've received from so many of you about this kooky place of ours."
Six months in business, Melissa Jasper had said that the couple were offered the opulent 16,000-square-foot space inside the Fisher rent-free (Full disclosure: I wrote a piece on their travails for Eater Detroit back in 2014). But that deal fell short and promises that foot traffic from nearby office workers looking for lunch and happy hour options weren't enough to sustain the spot during the Fisher Theater off-season. On top of that, the Jaspers languished for their first five months because their liquor license request lagged in getting approved.

It's a sad lesson that all is not well in all of Detroit's food scene. While some areas in the city's core are emerging as culinary destinations, New Center is not generally part of that lexicon. The neighborhood could have promise though, with the M-1 rail line on its way, its proximity to hungry professionals who work at Wayne State, DMC, Henry Ford and other major institutions and staples like New Center Eatery's chicken and waffles and the the popular Cafe con Leche, which recently expanded to the Boulevard.

The Jaspers say they'll do one last Tiki brunch on Sunday and plan to remain in their home in Boston Edison.