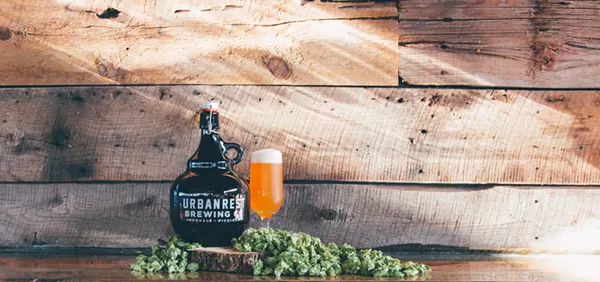 The anticipated opening of Urbanrest Brewing Co. - a new brewery on Woodward Heights just east of Hilton Road in Ferndale - happens today when it unlocks its doors at 4 p.m.
As we
previously wrote
, head brewer/co-owner Zach Typinski has been winning awards in homebrewing competitions for several years, and appears to know his stuff.
Urbanrest focuses on open fermented Belgian- and American-style ales with a balance of fresh hops and hints of fruit to develop a unique flavor character. Typinski says he makes simple but complex beers in that he's "not trying to throw 25 different ingredients in, but instead getting the complexities from the yeasts, malts, and hops and their interplay."
Six beers will be on tap at the outset, and though Typinski says he isn't yet ready to reveal which, his medal-winning yellow hopped saison will be among them. As it goes with Urbanrest, the ale merges fruity and fresh hop characters, and is a "lighter, refreshing" brew.
Read our full story on the brewery
here
.