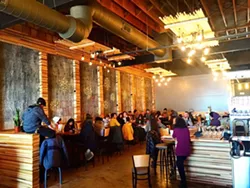 Vegetarians, your options keep growing in the local food scene, with the addition of GreenSpace Café, an ambititious, non-GMO gourmet vegan restaurant and bar, to open tomorrow. A ribbon-cutting ceremony will take place at 11 a.m., with doors opening to the public at 5 p.m. Founded by cardiologist Dr. Joel Kahn and his son, Daniel Kahn, all menu items are plant-based and the cocktails are made with raw juices.
GreenSpace held a preview event Friday to showcase some of the small plates and appetizers to be featured in the restaurant.
Deadline Detroit's Allan Lengel reports
that the menu will feature innovative items like Korean taquitos, with mung bean and rice, tortilla roll with house-made Koren gochujank marinated tofu, kimchee and picked avocado; teriyaki mushrooms, made with cremini mushrooms grilled and glazed with house made teriyaki; and Mediterranean Bruschetta made with roasted garlic hummus and quinoa tabouli crostinis and pickle radish.
The concept for GreenSpace has some serious science backing it up. Joel Kahn is a plant-based cardiologist, who's written two books that focus on holistic heart health. Acting as a consultant is George Vutetakis, the founding chef at long-time vegetarian establishment, Inn Seasons restaurant in Royal Oak, and taking the lead in the kitchen is Chef Steve Weller, who also worked at Inn Season.