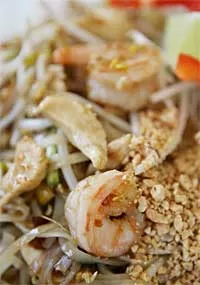 Are you a man or a mouse? At a Thai restaurant, your fellow diners will sit in judgment. The level of heat you ask for is not just a personal preference but an index of your toughness, nay, of your authenticity. When a regular at Pi's Thai Cuisine insists on "mild" or even "none," one of the four friendly cooks behind the counter is likely to chide, "Baby, baby." The other night, a lady told the cooks defensively as she put in her order, "I like spicy; it's my husband and grandson. ..."
A regular with artistic talent has provided an illustration of Pi's spice levels, a drawing that hangs on the wall of this tiny spot in Hazel Park (three two-person tables; two stools). The "mild" level shows a guy with a mild smile. At "medium," he looks concerned. The "hot" guy's tongue is hanging out; sweat drips from his jowls. And at "extra hot," our cartoon friend's eyes are bugging out as flames roar from his mouth.
I won't say that Pi's heat levels are higher than those of other Thai establishments, but I will say, risking my readers' sneers, that his "medium" was too hot for me and for my manly companion.
Yes, Americans' tastes are blander than those of much of the world, but Thai food has been around for a long time, and we're learning. It's interesting that on a night when the pizza place next door is as empty as my wallet, Pi's will be serving a line of carryout customers nearly out the door. If they aren't all ready for southeast Asian spice levels, at least the citizens of Hazel Park are ready for something a little different.
As you approach Pi's, the smells of citrus, ginger, garlic and chilies waft out onto the sidewalk. Inside, the vapors can make you cough; I was glad I wasn't wearing my contacts. There's a cluttered counter, a TV, some tattered menus. An affable worker named Woody wears a cap from the Hard Rock Café Bangkok. Directly behind the counter, everything that goes on in the crowded kitchen is right under the orderer's nose. Under glass on the little tables, placemats proclaim "Fit to Be Thai."
I have to say that I can't agree with the rave review that Pi's garnered in a certain metropolitan daily. Thai food should be lighter and less of a blend. The bean sprouts in pad Thai, for example, should be crisper, providing a contrast to the warm, slick noodles. Most of the dishes I sampled were too one-note, such as the pad khing that tasted solely of ginger. Still, it's a fun place because of the welcoming atmosphere imparted by Woody and the rest of Pi Chinthanond's crew. Their good-natured joshing is surely part of what brings the customers back again and again.
And prices are just as friendly. Especially at $1.69, the spring rolls are superior. The crust is light and flaky, not greasy, and the vegetable filling is light.
I also liked the contrasts in a huge plate of pad kee mao ("spicy noodle"). The wide, slippery noodles are a good foundation for the generous amounts of smoky chicken (we Americans crave our protein) and the crisp vegetables: broccoli, Chinese broccoli (yes, still crisp, not limp), pea pods, and red and green peppers.
In gang gai (red curry chicken), the fire of the red chili paste was only slightly alleviated by the sweet blandness of the coconut milk. Tom yum, the only soup on the menu, is chock-full of chicken and mushrooms, but I was disappointed, again, to taste just one exotic flavor. The best tom yum is hot and sour but also allows you to distinguish the scallions, the lemon grass, the galangal (a rhizome similar in taste to ginger).
I would have liked to try the catfish dishes or roasted duck, but they were out on two Saturday evenings. Pi says that Americans don't like duck skin, an assertion that I found shocking but had to accept as truthful.
Would I make another trip to Hazel Park for Pi's? Probably not. But if it were on the way home on a night I needed carryout, I could well go for the Thai version of comfort food, at appropriate heat levels.
The Hazel Park Pi's has been open since 1990. A branch opened at 37180 Dequindre Rd., Sterling Heights, six years ago.
No credit cards, no booze. Call ahead 15 or 20 minutes to place your order. Open 11 a.m.-8:45 p.m. Monday through Friday and noon-8:45 p.m. Saturday. I heard Woody adamantly refuse as a customer begged him to open seven days.
Jane Slaughter dines for Metro Times. Send comments to [email protected].