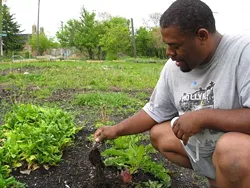 Several years ago, another Food Issue found us talking to Mark Covington, a Detroiter who found a new purpose in his Georgia Street Community Garden. In early 2008, Covington began clearing out rubbish from three vacant lots around his home near Harper and Gratiot avenues. He became inspired to turn it into a community garden, and by the time we caught up with him, it comprised five lots, with a garden of row crops, piles of slow compost, and a path lined with wood chips, as well as a fruit orchard with apples, plums, cherries, peaches and pears, as well as raspberries and strawberries. Under his stewardship, the land had gone from being so organically inert it didn't even have earthworms to being a verdant urban oasis. Given the success of the project, Covington was inspired to add an educational component, using the garden as a way to mentor students and converting an old corner store into a community center.
And it just kept growing, evidently. When we called him the other day, we could hear a rooster crowing and hens clucking in the background.
"Yes," he said over his cell phone, chuckling that a few of the fowl were in a rut, and the cock was frantically trying to get through some chicken wire to get at his harem.
More than chickens (45 of them, in all), the farm now has goats too, as well as three turkeys and two ducks; the fruit orchard has grown, the community center now has a kitchen and hosts community meetings, holiday dinners and an annual back-to-school supply giveaway. The effort now encompasses 13 lots, both vacant and occupied, including a house across the street he purchased to rehab so the collective's computer lab could be expanded. In a remarkable coincidence, when they cleared out a few overgrown lots, they found two existing pear trees and one apple tree, likely planted by homeowners. Those homeowners are long gone, as are the houses they occupied, but with care and pruning, the trees bore fruit once more this year.
Asked how the "community" aspect of the project is going, he says it's mixed, but encouraging. "A lot of people like what we're doing," he says, "but the hardest part is getting people to work in garden.
"We have different families move in and out. Somebody will move in for year and take part in it. Somebody else will come in and do something on and off each season. We probably have four or five individuals or families that engaged in garden weeding. Everybody wants to pick, but as far as weeding and helping plant, that's a smaller number.
"It's always a work in progress," he says, and you can hear his ever-present smile over the line.
Michael Jackman is managing editor of Metro Times. Send comments to [email protected].