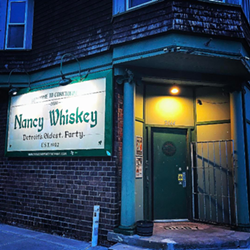 The Office of the Inspector General is investigating the owner of the historic Nancy Whiskey bar in North Corktown over allegations of money laundering, the
Freep reports
.
Eva Reyes, who owns the 115-year-old dive bar and also works for the federal government in the Department Of Justice, received a letter on Aug. 25 that informed her that a subpoena was being issued for her bank records "to investigate allegations of your misconduct, including money laundering and false statements in connection with your ownership interest in the Nancy Whiskey Pub."
The
Freep
reports that Reyes and her attorney are fighting the subpoena and say that the "request is a violation of their privacy rights and that there's no legitimate reason for requesting them."
The
Freep also reports
that Le Petit Zinc shuttered on Sunday, but plans to reopen at a yet-to-be-determined date. Owner Karima Sorel says a landlord dispute is behind the sudden closure. Interestingly, her mother is the landlord.
"We apologize for the short notice, we were caught off guard by the landlord's unwillingness to work with us," Sorel said in a statement to the Freep. "We were quite disappointed we were unable to reach an arrangement with our building's ownership in spite of all our efforts. However, we will reopen soon in a new location."
Sorel is now based in Paris but may reopen Le Petit Zinc in Corktown with another partner.