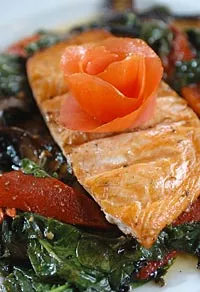 We have wonderful Middle Eastern food in metro Detroit, so there has to be a very good reason to spend more or travel further. What the Phoenicia offers is an upscale atmosphere with crisp white linen on the tables and a menu that features extras like organic chicken.
We remember the Phoenicia from the early '70s when it was located in Highland Park and so were we. The windowless storefront was distinguished with a pleasant mural in earthy colors. Inside, it was informal and the food was great; I recall that it still seemed like a stretch for our meager budget, but we always thought it was well worth it.
When we recently went to Phoenicia in Birmingham, our fellow diners were a well-heeled group, many of whom were greeted warmly, and even by name, by proprietor Sameer Eid. A dashing figure with a silvery handlebar mustache, Eid built his reputation in the restaurant community over three decades.
Lots of your favorites are on the menu — hummus, baba ghanoush, stuffed grape leaves, falafel, shish kabob and shish kafta. But the menu wavers from the straight and narrow; I've never seen baby back ribs, for example, on a Middle Eastern menu. Nor buffalo mozzarella with balsamic vinegar. One night Chilean sea bass was a special.
I'm always happy when a restaurant goes in new directions, but I'm not sure why anyone would prefer to pay prices well above the going rate. Our dinner with one appetizer, a bowl of soup, two entrées and two desserts, but no alcohol (there is a full bar and a fine wine list) came to $72 plus tip.
One of the best things we had was an appetizer of homemade veal/lamb sausages ($10). Served in a glass dish shaped like a little boat, the cute, thumb-sized sausages were sprinkled with pine nuts and bathing in pomegranate juice and olive oil. The flavors of the richly seasoned sausage and pomegranate bounced off each other in an exciting way.
Another interesting appetizer, bastorma ($10), is a cured beef, sliced paper-thin and placed in pinwheel formation atop spinach. The meat was wonderful, like prosciutto but with the milder taste of beef. This is a dish that would be more enjoyable as part of a mixed platter, otherwise the dry meat with the undressed spinach loses its charm, even if you eat it with (dry) pita.
Chicken and rice soup ($5) was welcome on a blustery night, filled with big chunks of carrots, celery and chicken. A salad comes with your entrée, though if you want a Middle Eastern salad like fattoush or tabbouleh, you have to order it separately.
A combination entrée of stuffed grape leaves, stuffed cabbage and baked kibbe was $24 and included four grape leaves, two cabbages — each shaped like a cigar — and modest piece of kibbe. Again, it seemed that there was too little attention to the whole. If I order a $24 entrée, I expect it to feel like a whole dinner; a serving of pilaf and/or an interesting sauce and/or a side of a Middle Eastern salad like cucumbers with yogurt would have made a big difference.
My co-diner ordered hummus with ground lamb and pine nuts. The hummus was silky smooth, as good as any I've had, and it went nicely with the meat, but I would have preferred if the ratio of hummus to meat (2:1) had been reversed. On another evening, he ordered the lamb shank, which is a guy type of dish with those big bones extruding in all directions. The lamb is cooked in a tomato sauce until it is so tender that the meat falls from the bones as the fork approaches.
My choice of mnazaly (eggplant sautéed with onions, chick peas and carrots in a tomato sauce) was not available (on a previous trip, they were out of sausage) so I settled for mjadara ($12), a classic dish of lentils with cracked wheat. Again, the presentation was monotonous and very dry.
Other interesting things on the menu include sweetbreads, frog legs and morels (this as an appetizer). For dessert there is only rice pudding or baklava (and they were out of baklava one night), another disappointment when the cuisine features so many wonderful fruits and puddings.
Elissa Karg dines for Metro Times. E-mail [email protected].