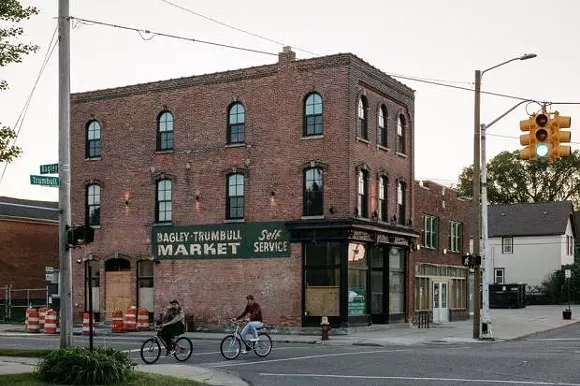 Corktown has for years now become a foodie haven for its array of old school dive bars, gourmet burgers, sticky ribs, craft cocktails, and inspired Thai cuisine.
Lacking though has been much in terms of more practical food options (i.e. groceries).
Sure, there's Honey Bee Market not too far, but with a population of about
13,000
(and plenty more on the way with new housing to come alongside the former Tigers Stadium site), there's certainly growing demand for more fresh food options.
That's a void that the Farmer's Hand food market (1701 Trumbull Ste. D) hopes to fill when it opens its doors later this month. On hand, produce, meats, baked goods, and housewares sourced by local farms and producers, as well as a café and prepared meals.
What sets Farmer's Hand apart from other small grocers is its business model, which emphasizes sharing profits with the very producers who source the food.
Co-owners Kiki Louya and Rohani Foulkes will contribute 70 cents of every dollar sold to the farmers and food operators, a practice that they say is in stark contrast to the 17 cents for every dollar ratio at large scale retailers like Whole Foods, Kroger, or Meijer.
The food will also come from more than 100 small and mid-sized Michigan farmers, many based in and around Detroit.
What's more, the market is run by women of color, marking a welcome step toward greater diversity in the Detroit food business landscape.
Farmer's Hand will hold a grand opening celebration at noon, Sept. 30, featuring free samples from some of the vendors, wine tasting, and a portion of proceeds sold that day going to Gleaner's Community Food Bank.