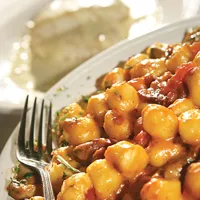 This is the kind of place that makes you wish you came with a vast Italian family, to sit at a long, long table and get rowdy with. Carafes of wine and drinks with names like Slapa-U-Face and Sicilian Sling ought to help.
Despite a few jarring notes, this is the real deal — house-made pasta, fresh sauces, traditional dishes at reasonable prices; you can imagine somebody's mama in the kitchen. The Rugiero family has been serving the neighborhood since 1964.
You'll start dinner with a big basket of warm and wonderful pillow-shaped, slightly salty garlic rolls, made from pizza dough and brushed with butter, garlic and parsley; a spokesman says, "We live from that bread." Some especially olive-y olive oil, for dipping, comes with them. For antipasti, you can try a traditional Caprese salad (fresh mozzarella, tomatoes, basil) spruced up with roasted peppers, or add prosciutto, salami, Asiago and provolone. If polenta topped with Italian sausage and meat sauce is an appetizer, then I'm my grandfather's horse — but all the portions here are designed for someone who's training for an eating contest.
We tried calamari appetizers two ways: steaks with a sharp, velvety lemon sauce and fried baby squid. The latter are best with just a squirt of lemon; the honey-mustard sauce and "cocktail sauce" supplied are a couple of the false notes sprinkled throughout the menu. (Others are fish and chips, wing dings and the ranch dressing offered with the bread. What is it with the ubiquity of "ranch dressing"? Has it ever been served on an actual ranch? Can't Americans go out to dinner just once without the possibility of wings?)
Entrées come with soup or salad, of course, and a side dish of spaghetti marinara. The minestrone is the best soup, rich and made with a beef broth, although pasta fagioli (beans) is good and hearty, and chicken pastina tastes homemade, if a little watery the night we were there. The house vinaigrette, on a romaine salad, is crisp and tart (and so popular it's sold separately, at $2.95 for 14 oz.), but ask for it on the side or your salad may come soaked.
The side spaghetti indicates what Roman Village is about: The pasta is appropriately al dente, and the simple, fresh-tasting marinara subjects tomatoes to just so much handling and no more. (Meat sauce is also an option.)
The menu is much too long to do justice to — there are calzone, panini and pizza as well as 53 entrées, including veal, stuffed pastas and seafood. We tried a creditable chicken parmigiana and a linguine primavera. The latter would feel like a light dish (if it weren't so huge) — it's not soaked in a cheesy sauce but is mostly al dente vegetables — carrots, broccoli, cauliflower, squash — and a tad of very fresh, slightly spicy tomato sauce.
Highest praise, though, must go to spaghetti carbonara "alla Bocelli," osso buco and gnocchi Rita. The Rugieros brag that Italian tenor Andrea Bocelli himself once prepared the carbonara in the Roman Village kitchen. It is done just right: again, no thick and creamy sauce; instead, you can actually taste the egg because the pasta has been allowed to cook it, in the pot or in the bowl, just moments before you dig in.
Osso buco (veal shank) is braised with oil, wine, stock, tomatoes, carrots and celery to produce a rich stew; the veal is fork-tender and it's all served over a slab of polenta that soaks up the lush juices. I kept making "happy noises" throughout this meal. Gnocchi Rita (Rita is the mamma of the family) is served with pancetta and mushrooms in a tomatoes-and-cream sauce. The faint taste of potato is a bonus that brings this luxurious-tasting dish down to earth.
Other possibilities range from linguine arrabbiata to linguine with shrimp, scallops and whitefish through veal chops, veal piccata and sautéed cod (baccala). And yes, you can add meatballs to any of the pasta dishes.
On Wednesday nights, those who order two dinners can get a bottle of wine at half-price, which would mean about $11 to $28. Ordering at the low end, we found our Chilean cabernet mighty earthy, as was the Napa cabernet offered as the featured glass another night. Several house reds are $4 a glass.
The other special deal is a free cannoli on your birthday.
The Dearborn location is the Rugieros' original, but they now run four restaurants, the newest, in Canton, just opened this summer. The other three are all called Antonio's Cucina Italiana, in Canton (2220 N. Canton Center Rd.; 734-981-9800), in Dearborn Heights (26356 Ford Rd.; 313-278-6000); and in Farmington Hills (37646 W. 12 Mile Rd.; 248-994-4000). For more information see antoniosrestaurants.com
Jane Slaughter dines for Metro Times. Send comments to [email protected].