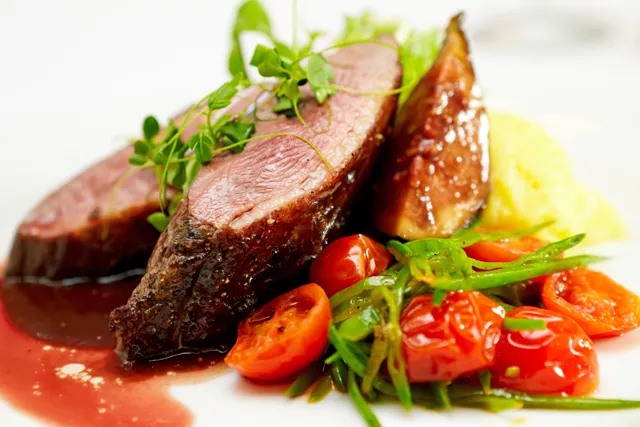 What do we mean by "seasonal dining"? Well, this time of year, it means instead of leaner cuts of meat grilled for an instant, we can dig into heartier, fattier cuts that are cooked long and slow. We trade the lighter breasts of chicken for a crackling cut of duck. And not only do we anticipate fall foods, but our mouths begin to water for seasonal beers, including spiced pumpkin ales and other liquid delights. But it's not just for beer drinkers and meat eaters: There's evidence that even vegans can benefit from switching things up in the colder months, cooking their veggies and wilting their salads to ease digestion and avoid straining the system. With all this in mind, we put together a list of places that pay attention to what time of year it is. And we hope this shortlist helps keep us all in the swing of the season.
Assaggi 330 W. Nine Mile Rd., Ferndale; 248-584-3499: Assaggi's diners have long known that the restaurant starts switching things up in the fall, given its knack for incorporating fresh seasonal produce. Diners can expect the new menu to include butternut squash, more braised meats, short ribs, and Bolognese pasta sauce, veal cheeks, switching out basils for sages and going for a more comforting effect. Though it won't be on the menu, you can often expect osso buco on special. And fall's wild mushroom blends should include shiitakes and creminis. Co-owner Josie Rotondo-Knapp says, "It's that time of year when people want to eat a little bit heartier, so you'll see more meats on the menu."
Atlas Global Bistro 3111 Woodward, Detroit; 313-831-2241: There's bound to be a breakfast item on the Sunday brunch menu at Atlas for any taste bud palate to go bonkers over. Such options include grilled-veggie benedict with eggplant, zucchini and Portobello mushrooms or their "C3" (Cass Corridor Cakes) which are made from a vanilla bean patter. Their lunch, dinner and dessert menus are transitioning to a fall theme, but with desserts including ginger carrot cake and lavender vanilla crème brûlée plan on bringing an empty stomach and an appetite to feast like royalty.
Detroit Beer Co. 1529 Broadway, Detroit; 313-962-1529: Oh, sure, the classic menu at DBC doesn't change very much, but the beers do rotate throughout the year. We expect their brewmaster Kevin Rodger has prepared enough pumpkin ale for the season, a spiced amber ale featuring an autumn snap all its own, or perhaps their black IPA. If you're lucky enough to walk in while they're brewing a batch of that spiced pumpkin ale, though, just follow your nose. Late fall and early winter will also have further rewards, such as a Russian imperial stout.
Due Venti 220 S. Main St., Clawson; 248-228-0220: Husband and wife chefs David and Nicole Seals present a Northern Italian cuisine seasonal experience. There's as much cultural history packed in the fine establishment as there is a wide array of food with a bit of France, Switzerland and Austria — Italy's border countries — thrown into the mix. The late grandmother to Chef Nicole contributed the beautiful paintings that fill the interior and exterior of the restaurant. They offer up everything from ice cream, fresh pastas, homemade bread, house smoked fish and poultry.
Eagle Tavern inside Greenfield Village at the Henry Ford, 20900 Oakwood Blvd., Dearborn; 313-982-6001: When food writer Michael Pollan suggested that we should eat as our grandparents did, he probably meant it slightly less literally than they do at Eagle Tavern. There, in a historic 1831 stagecoach stop, you'll find 19th century meals that do seasonal the old-fashioned way, before the advent of the 3,000-mile salad. And it's all presented with classic recipes, and dished out by costumed, accented servers.
Forest Grill 735 Forest Ave., Birmingham; 248-258-9400: The intimate, American-styled bistro tucked away in Birmingham's Triangle district sums their eating experience up by the phrase "cooking what nature provides." While that may seem quite broad, almost romantic, their seasonal-changing menu is concise, varied and less expensive now. They now offer a three-course "stimulus" deal; $15 for lunch, $30 for dinner. Vegetarians rejoice as their entrées include a drool-inducing Parisan Gnocchi of wild mushrooms and seasonal market vegetables.
Grand Trunk Pub 612 Woodward Ave., Detroit; 313 961-3043: There's been a buzz building about the newly renamed (formerly Foran's) pub on Woodward Avenue in downtown Detroit — and with good reason: The food is good, the ambience is one-of-a-kind and the beer selection kills. Michigan seasonal brews now on tap include Bell's October, Octoberfest, Auburn Strawberry, Short's Nobel Chaos, and La Parcela Pumpkin Ale (with Arcadia Jaw Jacker on the way). And though there isn't a specific fall menu, many of the regular selections are hearty, including shepherd's pie and Jameson meatloaf, as well as Friday's special, lobster bisque, and the irregularly appearing but worth-it pork chops with stuffing and applesauce.
Inn Season Café 500 E. Fourth St., Royal Oak; 248-547-7916: Frequent winner of Metro Times' Best Vegetarian honors and a pioneering institution that dates back to 1981. Amber Poupore, Inn Season's general manager, says bringing local food to the table is vital to their mission. "We have reached out to so many local food providers. We're at the farmers' market five days a week. We buy into a CSA and have it delivered to us. We're using cornmeals from Michigan. We're using tofu from soybeans grown in Michigan. The local economy supports us and, if we continue to support that, we're just going to continue to expand." All this ensures that you're eating seasonal ingredients picked at the peak of freshness, and that the meals are season-appropriate, especially their specials, which ingeniously use whatever the bounty of the week is.
Modern Food & Spirits 1535 Cass Lake Rd., Keego Harbor; 248-681-4231: To be sure, Keego Harbor is a schlep for most of us, but it is well worth the time and gas to dine at Modern Food and Spirits, across from Cass Lake. The Modern is an informal little spot with generous portions and reasonable prices — most dinners are under $20, including an unusually imaginative array of comes-with soups and salads — and a menu full of little culinary surprises from around the world. That said, this time of year their menus often feature meaty mains that should fit well with the weather.
The RAW Café 4160 Woodward Ave., Detroit; 313-778-9774: After three years as a gourmet raw food delivery service, RAW Café recently set up shop at the corner of Willis and Woodward. Their menu has an array of options including pizza, burgers, wraps, raw juices, pasta dishes and desserts. Besides the "guilt-free" dining, the Café has classes and books to help educate the healthy-nutrition bound individual.
Red Pepper Deli 116 W. Main St., Northville; 248-773-7672: Before she opened the Red Pepper Deli a few years ago, Carolyn Simon had no idea there were so many raw food enthusiasts around. There are. They make up three-quarters of her clientele, and they instruct her on everything from recipes to the science of raw-foodism. But the way Simon does it, raw dishes are scrumptious. Your own cooking — excuse me, dish preparation — might be improved too if you distributed cashews as generously as she does, in everything from salads to pie crust.
SaltWater inside the MGM Grand Casino, 1777 Third St., Detroit; 1-877-888-2121: The opulent interior, themes with the washing of waves, the rippling of water and the blue of the sea, helps set the stage for the contemporary seafood of Michael Mina's SaltWater. The quality ingredients include seasonal produce, giving a taste of autumn to the selections.
Toast Birmingham 203 Pierce St., Birmingham; 248-258-6278: The menu is a mix of such firm favorites as burgers and mac-and-cheese (with Gruyére, of course) and less-common options, such as duck pie and venison sausage. The menu is mostly American, with a few ringers such as carnitas and forbidden rice, originally Chinese. Top of the line are a pair of over-the-top burgers. "The Joint" is Piedmontese beef stuffed with blue cheese and topped with basil aioli, tomato jam and skinny crisp onions. It's pungent and mellow at the same time. "Burger Madame" comprises smoked Gouda, romesco (a Catalan sauce) and a fried egg, served on toast. Open 7-2 a.m. Monday-Friday, 8-2 a.m. Saturday, and 8-4 p.m. Sunday.
Wolfgang Puck Grille inside the MGM Grand Casino, 1777 Third St., Detroit; 1-877-888-2121: Lest we forget amid the glitz and overpowering design of this casino restaurant, Puck was one of the celebrity chefs who helped popularize a modern American bar-and-grill cuisine that used fresh, seasonal, all-natural and organic ingredients. How seasonal and comforting is the fare? Fall-time ingredients have included wild field mushrooms, zucchini puree, honey-glazed carrots, garlic potato puree, and even a veal wienerschnitzel with warm potato salad, arugula and pumpkin seed oil.
Woodbridge Pub 5169 Trumbull St., Detroit; 313-833-2701: It has only been about a year since the already-successful Woodbridge Pub announced its kitchen was going seasonal. With their new fall menu, introduced a few weeks ago, the seasonal cycle has come full circle. And the selections sound rich and creative. The lunch menu includes seasonal salsa & chips, a mushroom scampi that bathes autumnal wild mushrooms in a rich beurre blanc sauce with melted Parmesan and baguette-style bread crumbs. The dinner menu offers a filling pasta, orecchiette, little ear-shaped discs served with sun-dried tomatoes and spices, and "Trumbull pie," a meat pastry of Black Forest ham, roasted potato, peas, apple, onion and Pinconning cheddar. Of course, the cucurbita family makes appearances on both menus: Lunch has with a butternut squash soup, and dinner has an "autumn strata," a comfort food-type casserole in which pumpkin polenta is mixed with kidney beans, red onion, pepitas and jicama slaw. Seasonal sides include fresh brussels sprouts hearty roasted yams and assimilable wilted kale. And for those who love Woodbridge's burgers, including their vegan black-bean version, rejoice: They're all still available.
Special thanks to editorial intern Ryan Felton for his assistance compiling this column.
See any errors or inaccuracies? Let us know! Call 313-202-8043 or e-mail [email protected]