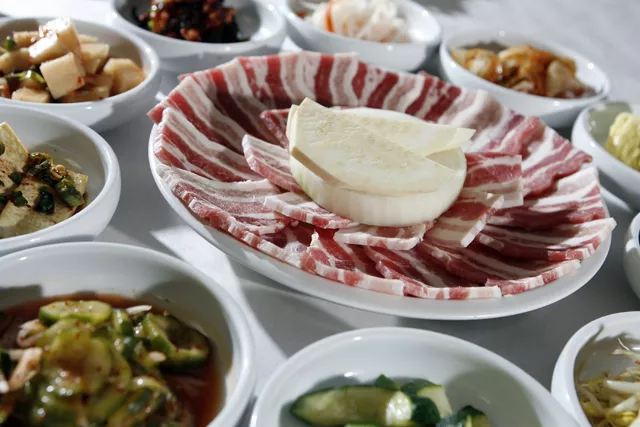 Korea Palace
34744 Dequindre, Sterling Heights
586-978-0500
Handicap accessible
Prices: $9-$25
Occasionally, stereotypes ring true — like kimchi being served with Korean breakfasts, lunches and dinners. The spicy fermented cabbage dish is a staple of the cuisine, so it was an inviting, welcome sign that the kimchi at Sterling Heights' Korea Palace was as deliciously tangy as what one often finds in Seoul.
Situated next to an income tax service in a modest strip mall — the same as countless others that line the area's thoroughfares — Korea Palace isn't necessarily easy to spot. But once inside, the air of Korea is all about.
The wood-trimmed, simple, warm decor is similar to plenty of Asian restaurants around town, though specific menu items and prices are affixed to the walls in hangul, the written characters that represent the Korean language. The staff promptly greets all of the customers, most of whom are Korean, and presents them with the exhaustive, four-page menus.
Once they've ordered, guests are given banchan, an assortment of small plates of food. These vegetable-based bites are intended to be shared and, at Korea Palace, rotate among several options. Naturally, kimchi is always included. But one might also receive fermented bean sprouts, pickled daikon radish, zucchini, fruit and a host of other options. Included in the meal's cost, these are always promptly refilled and remain at the table throughout the meal.
Most of the appetizers are actually commonly found as street food in South Korea, all generally prepared as one would find them across the Pacific.
Haemul paejon, a potato pancake with shrimp, scallops, octopus and scallions, is pan-fried and served to customers in six wedges the size of small pizza slices ($13.95). Korea Palace offers generous platters of both fried and steamed pork dumplings for $9.95, all served with a sweetened, soy sauce-based condiment. And for a treat that is arguably the most unusual to Western palates, try ddukbokki ($9.95), cylindrical, gummy cakes made from rice flour. In Seoul, they're commonly bought from street vendors; here, they're served with noodles, vegetables, and a moderately spicy sauce on a large platter fit to share.
There are about 50 main dishes from which to choose, each generous with regard to portion size. Indeed, across several trips, everyone in our party left with at least one small takeout container of leftovers.
Broths and noodles are quite common in Korean cuisine, and they encompass a significant portion of the menu at Korea Palace. Among the most recognizable dishes to Americans may be kimchi jjigae ($9.95), a stew traditionally made from aging kimchi, tofu, and fish or pork. Here, pork is the protein of preference, though there's a distinct tomato flavor to the broth. While the addition of tomato paste isn't always unexpected, it's ostensibly applied with a heavy hand here — a somewhat jarring flavor.
Conversely, the jjambbong ($9.95) is exceptionally well balanced. Noodles and an assortment of seafood, including a few mussels, are served in a red broth with a long, lasting, spicy finish.
The two buckwheat noodle dishes are served only during the summer — mul naeng myun ($9.95) and bbim naeng myun ($10.95), both topped with beef, kimchi and egg. The former is served in a comparatively mild broth, the latter in a spicy sauce.
For those not in the mood to slurp noodles or spoon up bowls of broth, there are plenty of other entrée choices. They're a bit pricier — up to $19.95 — but the quantity of food and focus on fish justifies the heftier cost. Pork is the other dominant meat, but this section of the menu is astonishingly diverse: breaded chicken or beef, roasted mackerel, steamed pork belly, braised fish head and daikon radish. The combinations are seemingly endless.
If you don't mind chewier seafood, try the nakji bokkeum ($14.95). Sizable and spicy, this stir-fry features octopus but also a variety of vegetables, such as cabbage and green onion. Even the weightiest Korean food won't leave anyone feeling too full for terribly long, but those looking for something a bit lighter may want to consider agujjim ($19.95), a portion of monkfish steamed with bean sprouts and dressed with a spicy sauce.
Barbecue is certainly among the more well-known subsets of Korean cuisine here in the United States. Korea Palace offers several options for the grill-loving carnivore, all around $15. The traditional raw beef or pork prepared via tabletop grill is certainly available, but patrons without the desire for any pageantry or who are in a rush should try the bulgogi, a sweetened beef preparation only grilled at the table when ordered by multiple people.
Finally, in addition to the cadre of huge single-person dishes, Korea Palace offers hot pots for two or more people, available for 30 to 35 dollars each. Many of these feature the same ingredients showcased elsewhere on the menu, but curious diners may be intrigued by black goat with mushrooms, or sliced beef, cow intestine and tripe in a spicy broth.
Dessert isn't as important in Korea as it seems to be in the United States, so don't expect to see sweets. But the waitstaff brings a distinctly Asian set of tiny, drinkable yogurts to customers alongside the bill — a lovely final touch to the typically delicious, always authentic experience waiting to be had at Korea Palace.
Open 11 a.m.-10:30 p.m. Monday-Friday, 11:30 a.m.-10:30 p.m. Saturday, 11:30 a.m.-10 p.m. Sunday.