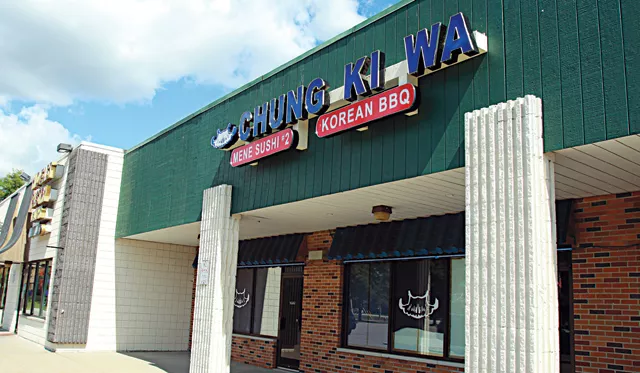 Chung Ki Wa
2101 15 Mile Rd.,
Sterling Heights
586-264-4488
Handicap accessible
Prices: $10-$30
Open 11:30 a.m.-10 p.m. Monday-Thursday,
11:30 a.m.-10:30 p.m. Friday-Saturday,
noon-10 p.m. Sunday
Some of the best bites to be found in metro Detroit are tucked into our countless nondescript strip malls, mostly dotting aging thoroughfares in Sterling Heights and Madison Heights. Thai, Vietnamese and Filipino are all well represented. As is Korean cuisine.
Among the best places for Korean is Chung Ki Wa, which carries an address on 15 Mile but is most easily found from Dequindre. Situated among Middle Eastern, Italian and Indian restaurants and markets, it's a part of what is practically the most heavily asphalted ethnic food court in all the land.
The interior has clearly been remodeled in the past year or so — Seoul Garden occupied the space before Chung Ki Wa opened — and with two sizable dining areas, there's plenty of room. Choose a barbecue table up front if you're interested in eating galbi or any of the other dishes cooked in front of you.
As with any Korean restaurant, the banchan, a variety of appetizing small plates, arrive almost immediately and vary from day to day. Among those that seem to appear most frequently are the ubiquitous kimchi, bean sprouts, and pickled radish. A boiled egg ostensibly simmered in a soy mixture was new to me and, more importantly, quite delicious.
Possibly the only thing to arrive before the side dishes is a giant bottle of beer, if you're so inclined. Chung Ki Wa carries both Japanese brews and O.B. Lager, one of the four or five most common brands in Korea and, compared to some of the Korean alternatives, pretty poundable.
Japanese food makes an appearance here and there. Sushi is among the offerings, which isn't altogether uncommon in Korean restaurants in the United States. It's acceptable but hardly worth consideration: The rice is somewhat chewy, and while the fish is good, some of the fillings are mediocre. The real attraction here is the Korean cuisine, which is outstanding.
Among traditional dishes optimal for sharing, listed on the menu under "Chef's Special," is a personal favorite — seafood pajeon ($10.95). Essentially a fried pancake laced with green onion, Chung Ki Wa does it well; the exterior is perfectly crisp, the interior quite delicate. Our party also quite liked the ros pyeon chae ($16.95), beef tenderloin that is seared and thinly shaved, becoming the world's best wrap for raw veggies and served with a savory, spicy dipping sauce.
You might also consider the chap chae ($10.95), a beef and veggie stir-fry with vermicelli-style noodles, or yook hwoe ($12.95), a tasty, aggressively seasoned beef tartar.
Main dishes are divided into soups, fish, rice, and barbecue. The soups all have wonderful flavor. And as is generally the case in Korea, many of the broths feature heat. It's nothing overwhelming for devotees of spicy cuisine, but the potency compounds with time, so tread lightly. As one would expect, they offer kimchi jigae ($9.95), a pork and kimchi stew, and it's very well prepared. If you're feeling a bit more adventurous, order a bowl of al tang ($14.45), a stew of cabbage, tofu, noodles, and large fish egg sacks, presumably from pollack. As I understand it, flash frozen or substandard eggs will break apart upon cooking. They're whole at Chung Ki Wa, so one assumes they're using fresh product. Not interested in either of those? There's another eight or nine soups to peruse.
Our party wasn't able to sample any of the fish dishes, but they offer an extensive array of broiled seafood as well as a braised cod ($18.95) with daikon radish and spicy sauce.
The Japanese influences reappear in the rice portion of the menu in the form of salmon, beef, or chicken teriyaki. But if you're visiting for Korean, try one of the ever-popular bibimbap preparations, rice, vegetables, and egg layered together beautifully. Meat, veggie, or seafood options are all available ($10.95) served in a sizzling stone pot with hot sauce on the side for mixing into the bowl.
The barbecue portion of the menu is extensive, with all the traditional meats available for tabletop cooking. Arguably the most widely recognized option for beef is galbi, a mildly sweet, marinated shortrib. Chung Ki Wa also offers a similar cut without marinade as well as thinly sliced brisket, tripe and pork belly among others.
Parties looking to try lots of dishes should order one of the barbeque combos, pre-selected menus of items brought to the table in sequence along with a bottle of soju, the rice-based Korean wine that's a bit stronger than sake but shy of a full-fledged liqueur.
"Combo A," which costs $60 and is designed for two people, presents an impressive challenge — a small salad; the seared tenderloin wraps; ge ran jim, an egg and water dish that resembles a soufflé; a tofu-based kimchi stew; and several types of barbecued meat. There are larger combos for three, four, and five people that range from $90 to $170.
Service is fast and impeccable, and some of the waitstaff will be quick to engage in conversation — perhaps about the food or the differences between Korean and Western cuisine. Everyone we encountered was polite and friendly.
Eating Korean cuisine is just about always fun. It's a communal experience, the culture has mastered pickling and spice, and the variety is interminably interesting. But quality counts, and Chung Ki Wa is second to none.