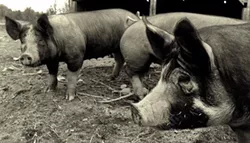 For those of you who go out of your way to ensure that the meat you consume has been raised humanely then this popup dinner could be for you. Republic house butcher and charcutier Larissa Popa is hosting a nose-to-tail Berkshire pork dinner, known as Farmer Butcher Chef, at Parks and Rec in support of Melo Farms on Dec. 10.
The Yale-based farm is known in the local restaurant scene for its grass-fed animals and high quality and is used by at meaty restaurants including Roast. The husband and wife duo behind the farm, Lynn and Melody Nye, say their tractor has been out of operation since last winter and need $15,000 to get a new/used one. That's where Popa, a supporter of the couple, came in to help raise the funds.
"We need to help local farmers that raise ethically raised meats because we need real meat. The animals need to have lived a good life. Now I can tell when breaking down an animal if it was stressed or bruised. I'm tired of seeing that," says Popa.
Popa's background in butchery goes way back, influenced by her Eastern European-American upbringing. She says a pork dish was always simmering on the stove, and her father would scold her for stealing ham hocks out of head cheese. She later went on to study whole hog butchery and charcuterie in France and has participated in Grrls Meat Camp, an annual gathering of professional women butchers, farmers, chefs, writers, teachers, and artists.
Popa and Melody Nye grew close after the meat camp and that inspired Popa to want to take her career in a new direction by learning the ins and outs of pig farming.
For the five-course dinner, Popa will showcase her butchery skills and introduce diners to the concept of nose-to-tail eating, which means nothing goes to waste. The dinner takes place 6 p.m., Dec. 10, at Parks and Rec, 1942 Grand River Ave. in the GAR Building. Tickets are $55 and can be purchased by calling 586-552-9518 or by
clicking here.
And here's the menu:
1st course: Crispy Melo Farms Jowl Bacon, mixed greens, poached farm egg, warm bacon fat apple cider vinaigrette, pomegranate
2nd course: Roasted root vegetable potage, Melo Farms smoked ham hocks, ginger cream, cider honey, crispy leeks
3rd course: Melo Farms Berkshire Pork Country Pate, "cranberry" Cumberland sauce, toasted brioche, pickled mustard seeds
4th course: Melo Farms pork tenderloin, apple chestnut studded, foraged mushroom duxelles, root vegetable gratin, charred cipollini cream, cider gastric, pork jus
5th course: Pistachio chiffon cake, beet ice cream, poached pear, fig jam, Melo Farms lard icing, apple chips, chocolate dirt