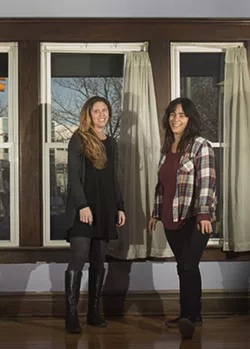 Electric Eye, a new coffee shop that plans to rotate beans from small roasters on a monthly basis, opens on Ann Arbor's north side on Monday.
Owner Keelan Ferraiuolo - who has over 20 years of experience as a barista and in the coffee trade - and partner Rachel Pell will use the featured grounds across the board for espresso, cold brew, drips, and pour overs. Bags will also be available for retail sale.
Ferraiuolo says Electric Eye won't repeat beans in its monthly rotations, but beans will sometimes be sourced from the same region. Lined up for the first month are Ypsilanti's Hyperion, Plymouth's Espresso Elevado and Ann Arbor's RoosRoast.
The coffee will be accompanied by lighter fare and baked goods - including plenty of vegan and gluten free options from Tasty Bakery - and Guernsey will provide the dairy.
The shop is in a converted home at 811 Main St. near Depot Street, and will provide a much needed, easy in-and-out option for those of us visitors entering/exiting Ann Arbor from M-14. Electric Eye's property also holds a parking lot, and it'll be even more convenient once an app that allows customers to order drinks ahead of time is ready.