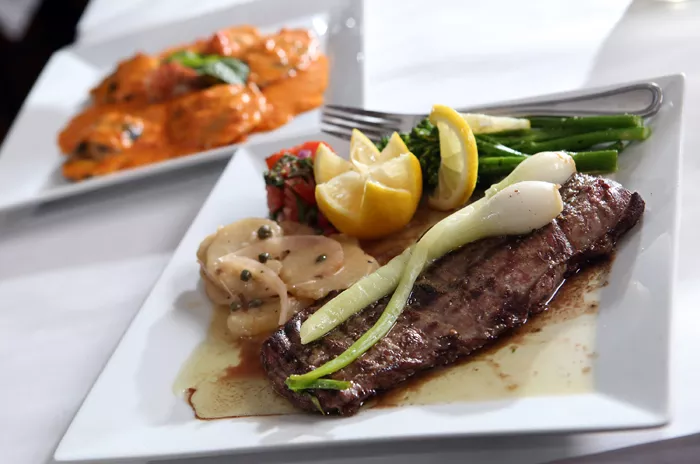 El Barzón
3710 Junction St., Detroit
313-894-2070
Handicap accessible
Mexican entrées: $18-$33
Italian entrées: $18-$30
Pastas: $15-$30
Open 11 a.m.-2:30 p.m. and 5-9 p.m. Tuesday-Thursday, 11 a.m.-2:30 p.m. and 5-10 p.m. Friday, 4 p.m.-10 p.m. Saturday, noon-9 p.m. Sunday
If you're a frequenter of Southwest side Mexican restaurants, as I am, El Barzón may give you a feeling of disconnect the first time you go. It's so much "nicer" than its counterparts — white tablecloths, fresh flowers, wine, opera on the sound system, the dessert menu on iPads — and the prices so much higher that it's almost jarring. If, on the other hand, you compare El Barzón to upscale Italian restaurants in the burbs, the prices are more than reasonable (and it's the sombreros on the walls that are out of joint).

None of this is meant by way of complaint. Owner Norberto Garita's food is sterling on both his Mexican menu and his Italian, and all the more welcome for being a bit startling.
As fans know, Garita is from Puebla, considered by natives to be a star region of Mexican cuisine. And he worked for eight years, before opening El Barzón in 2006, at tony Il Posto in Southfield, where he mastered the Italian regime.

So mole poblano and flan coexist happily with saltimbocca and tiramisu.

The evening begins Mexican, with chips and the traditional red and green salsas. The sauces are picante-hot, yes, but so much more — complex and robust, the red in particular.
We decided to go all-Italian one night and all-Mexican another, which does justice to neither long menu — the pastas alone number 23.

On Italian night, the $10 soup was zuppetta, a tomato broth with lots of spinach and firm shrimp, just a bit arrabiata (spicy). We cleaned our bowls.

Fish ravioli came beautifully plated with cherry tomatoes, shrimp and scallops in a light cream sauce, just "fishy" enough. Saltimbocca, though a little tough for veal, came with plenty of sage and a perfect sweetish sauce (it's braised in white wine), also sopping-worthy. On the side were gratin potatoes and flawless spinach. All felt as if Garita had given the kitchen (some of whom came with him from Il Posto) strict instructions to neglect no detail.

Tiramisu was generous but a bit bland.

A week later we started with lentil soup that was possibly the best I've had anywhere — even in Dearborn — rich with chicken broth. That was followed by excellent fish and pork tacos, "double bagged" as tacos need to be. The fish had been fried and both tacos were smothered in cilantro and red onion. Goat was missing that night; our server said Garita gets it locally so that it's very fresh and shreds it himself.

I went for the Puebla specialty, mole poblano, on airline chicken. The menu says the sauce is "made with chile seco [dried], tomatillo, anis, bread, banana, chocolate, etc." Maybe it's the etc. that makes it so memorable and intricate; I thought I could taste plums and cinnamon. Garita does his native state proud here. The side of creamy black beans and rice was another instance of lavishing attention on even the humblest ingredients.

Cecina is a pounded-thin steak ($13) served with either onions and jalapeños or tomato-avocado-arugula. We got ours half-and-half, and I must say that although the more-Italian combo was terrific, the jalapeños defeated me. Tread carefully or take the opportunity to display machismo.
A very dense flan with smoky sauce was an excellent antidote.

Garita offers both house-made pasta (ravioli, fettucine, pappardelle, strozzapretti) and dried, with a different list of sauces for each. Pennette alla vodka, spaghetti allo scoglio (seafood), gnocchi with four cheeses, risotto with porcini are just some of the more tempting options.

The usual preparations of veal are offered and a good list of seafood, including halibut and fish stew with black-squid-ink linguini. Mexican dishes include pipian (a green mole), barbecued goat, pozole and enchiladas.

The servers at El Barzón are attentive, noticing, for example, when you could use more bread so as not to waste a drop of precious mole. And this incident defines gracious service: On the snowiest night of the year, with "no driving" warnings everywhere, I had a reservation for 7 p.m. The restaurant called to ask if I could come sooner.

Our party was the only one in the place — and only the second customers all day. The staff would have been perfectly within their rights to just cancel the reservation and close. And yet they kept thanking us for coming.

The crowd at El Barzón does not look like the neighborhood, and I felt a little sad that Garita's eminently successful formula has priced out the locals. Prices on the website are out of date; for mole poblano, it's no longer $13 but $21; tacos are $3-$5. You can still get a decent and generous pour of Cabernet or Malbec for $7.

Although the two styles of cooking are mostly separate now, there's talk of experimenting with fusion. Viva and bravo!