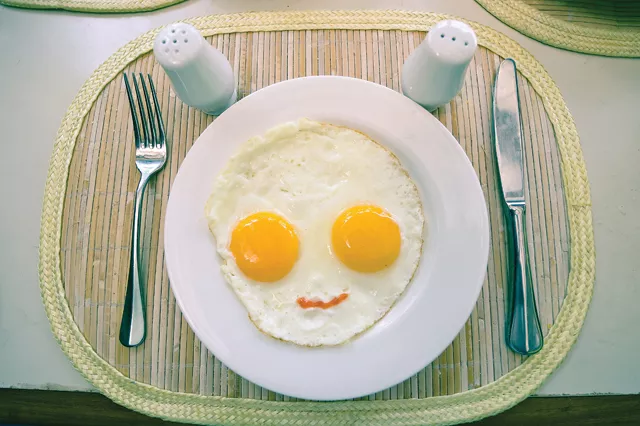 $=$5-$10; $$=$10-$25; $$$=$25-$50; $$$$=$50+
Angelo's 1100 E. Catherine St., Ann Arbor; 734-761-8996; angelosa2.com; $: Plenty of stuff for egg-heads to try here, including eggs Benedict, Florentine, lox Benedict and a standard three-egg breakfast plate with bacon, sausage, ham, breakfast potatoes and homemade toast for $7.75. Omelets include their standard (comes stuffed with your choice of four items), the lox omelet, the farmer's (green pepper, onion, ham, potato), Mexican (chili with beef, cheddar, onion, sour cream and salsa), Greek (spinach and feta), broccoli-and-cheddar, Western (green pepper, onion and ham) and plain. There are also plenty of extras to add on, and no standard omelet costs more than $9.25. All breads are from Angelo's own bakery, adding a touch of integrity to your breakfast. If you're looking for a good home-cooked meal, this family-owned and -run restaurant will make you want them to adopt you.
Berkley Bistro & Café 1999 Coolidge Rd., Berkley; 248-691-4333; berkleybistro.com; $$: Formerly the Berkley Breakfast Cafe, it's still very much a spot for a good breakfast. The fragrance of cinnamon fills the air as patrons patiently await Sunday brunch. Long past noon, customers are asking for coffee refills as they mop up the last of their "international scrambles" or "breakfasts of champions." In any event, this is the spot for a no-holds-barred breakfast prepared the old-fashioned way. That would include four-egg omelets made with Italian sausage, sausage gravy, or chili and cheddar cheese. It would include French toast stuffed with strawberries and mango-infused cream cheese. Befitting the portion sizes, prices are fairly hefty for breakfast, though not out of line with other, more refined establishments. The long menu runs the gamut from such traditional dishes as Eggs Florentine and Benedict, through five kinds of French toast to omelets, frittatas and "scrambles" made with everything from crab, asparagus, portobellos or roasted tomato sauce to chorizo or "gyro meat." The Bistro & Café offers a unique combination of upscale food and reservations with a laid-back atmosphere and free Wi-Fi for the hungry blogger.
Beverly Hills Grill 31471 Southfield Rd., Beverly Hills; 248-642-2355; beverlyhillsgrill.com; $: For Sunday brunch, be prepared to wait at the bar for as long as a mimosa or two. But once you get your seat, you can choose from a half-dozen scrambles, omelets and frittatas, from the humble vegetable scramble (mushrooms, leeks, tomatoes, spinach and garlic-herb chevre; can be made with egg whites) to the lobster Cobb omelet (smoked bacon, avocado, tomato, onion and blue cheese). Or go with comforting dishes in which egg is a bit player, such as huevos rancheros, with vegetarian black-bean chili, salsa, whole-wheat tortilla, cholula sour cream, jack cheese and a fried egg. You can always go simple, with two eggs, a choice of meat, skillet potatoes with bacon and scallions, and an English muffin for $8. The grill is great for a Saturday lunch too. With only 80 available seats so much personal attention is given you won't know if you're a suburbanite in Beverly Hills, Mich., or a celebrity in Beverly Hills, Calif.
Breakfast Club 30600 John R, Madison Heights; 248-307-9090; 38467 W. 10 Mile Rd., Farmington Hills; 248-473-0714; see website for Madison Heights and Commerce locations; thebreakfastclubrestaurant.com; $: This eatery is proud of its specialty breakfasts, with a third of its menu devoted to some pretty swanky egg-centric dishes. For the unadventurous egg lover the Breakfast Club menu offers "Just Your Regular Breakfast" which allows customers to order "Two Eggs Your Way" for $5.75. It gets grander from there, with eggs with steak, or atop pancakes, or even on top of layers of hash browns, caramelized onions and melted cheese. They serve quiche with a salad and fruit. There's no Benedict too imaginative for them, as they do eggs Benedict, crab cakes Benedict, smoked salmon Benedict, California Benedict, Tuscan Benedict, even a Southern Benedict (corn muffin bread topped with sausage patties, poached eggs and sausage gravy). And then there's the "Eggstravaganza!" section of the menu, with such omelets as the smoked salmon, spinach-tomato, Wild West, Farmer Connor, Virginia Ham, California, Easter, Kelly's Favorite, crab-asparagus with Hollandaise — and even a "vegetarian." Open 7 a.m.-2 p.m. (until 2:30 p.m. in Farmington Hills) all week long.
Café Marie of Ann Arbor 1759 Plymouth Rd., Ann Arbor; 734-662-2272; cafemariea2.com; $: You won't find "omelets" on the menu, as the kitchen instead serves creative "eggers," "blends," scrambles and Benedicts. Some have creative names, such as the "Eye-Opener," a blend of bacon, mushrooms and scallions, scrambled with Monterey jack and yellow cheddar; for good measure, it's topped with bacon, more scallions and tomatoes. There's even the "Surf's Up," with crabmeat, dill and cream cheese, as well as the equally appealing "Seafood Bene," with poached eggs, crabmeat, English muffin and Hollandaise sauce. Breakfast available 7 a.m.-3 p.m.
Café Muse 418 S. Washington, Royal Oak; 248-544-4749; cafemuseroyaloak.com; $$: Maybe even the word "omelet" has become tired, what with all the local spots dumping the O-word for catchier terms. But it's more than just a name change; the "scrambles" at Café Muse are alive with fresh flavors. And the upscale ingredients — such as ammoglio, crushed garlic, basil and tomatoes — make for a breakfast that impresses. The "exotic mushroom scramble" is a local favorite, rich with truffle oil and a bit of Boursin cheese. It comes with a choice of garlic-roasted fingerling potatoes or mashed sweet potatoes, and a choice of toast (rye, multigrain and sourdough, all bread from Ferndale's Strawberry Moon Bakery) with French jam on the side. Coffee is fair-trade, organic and Brazilian, and espresso is Lavazza Gold from Italy. What's more, the other dishes are likely to have the same amount of careful attention as these five-star day-starters. Breakfast is served from 7:30 a.m. to 3 p.m.
Café Zola 112 W. Washington St., Ann Arbor; 734-769-2020; cafezola.com; $$: A coffeehouse in the European tradition, Café Zola is a place for gathering, eating and enjoying coffee, espresso, hand-selected teas, and sweet and savory crepes made fresh, one at a time, and served hot and delicious. Or you can enjoy organic egg omelets, luscious house-made biscotti, Belgian waffles, market-fresh salads and sandwiches, and Turkish-inspired specialties. In true European style, there's even outdoor seating on the sidewalk. And then there's this encouraging fact: According to Café Zola, the perfect omelet is the mark of a great kitchen and a fine chef. And the results on the brunch menu are worth talking about, including the "Proven ale" (caramelized onions, sautéed mushrooms, scallions and fresh garlic), the smoked salmon omelet (Durham's Tracklements smoked salmon, fresh tarragon, scallions and a creamy mustard sauce) and the "Frittata Zola" (an Italian-style omelet served open-faced, with cubed sweet potatoes and caramelized onions, topped with challah croutons and tangy goat cheese). Eggs served till 3 p.m.
Club Bart 22728 Woodward Ave., Ferndale; 248-548-8746; $: If you've only been to Club Bart at night, when it's more a honky-tonk than a culinary destination, you're missing a whole different side of the Bart experience. The breakfast has reasonable prices and terrific food (and then there's that liquor license). And its omelets draw crowds: Most are $6-$7, and eggs Benedict is $7.95. Order a mimosa or a Bloody Mary, or what the hell, a boilermaker, with your over-easies, and life is sweet. Breakfast is from 9 a.m.-2 p.m. Monday-Friday and 8 a.m.-3 p.m. Saturday and Sunday.
Delmar Family Restaurant 1307 E. 11 Mile Rd., Royal Oak; 248-543- 2773; $: All the omelets are less than $7.25, and they're all classics. You have your spinach omelet, your mushroom omelet, even your ham-and-cheese omelet. But the choices only get grander. There's the "meat lover's," with bacon, ham, sausage and cheese. There's the Southern, with green pepper, onion, sausage and sausage gravy. But, for $6.95, you can have the Delmar omelet, which has it all. Open 8 a.m.-9 p.m. Monday-Thursday, 8 a.m.-10 p.m. Fridays, and 7 a.m.-10 p.m. Saturdays.
The Emory 22700 Woodward Ave., Ferndale; 248-546-8202; theemory.com; $$: The dishes at the Emory have a reputation for "overdelivering." This concept is most obvious on weekend mornings when you're digging into a plate of huevos rancheros: two crispy corn tortillas layered with black bean spread, a generous dose of sautéed peppers and onions, eggs sunny-side-up and topped with melted cheddar. On the side are potatoes, baked and then flash-fried crispy on the outside and sprinkled with large chunks of onion and pepper. The other side of the plate is reserved for avocado slices and mandarin orange wedges. Other Mexican-inspired breakfast options are burritos and a heaping plate of nachos. Eggs Benedict and biscuits and gravy fill out the more exotic portion of the menu. Vanilla cinnamon French toast is thick and abundant. Buttermilk pancakes are airy and light and take on maple syrup without getting soggy. Omelets are offered by region, starting in California then moving through the West, down South and finishing with asparagus and roasted red pepper.
The Fly Trap 22950 Woodward Ave., Ferndale; 248-399-5150; theflytrapferndale.com; $: When clever, talented people make your meal, the tastes will be great but the names will be creative. For "blunch," the Fly Trap serves up fun egg dishes like "green eggs and ham" or "the boot," a Mussolini-themed "rumble" of eggs, mozzarella, fresh basil, tomatoes and black olives. Omelets have such amusing names as the "BLAT+C," the "slacker especial" and the "forager." Open 8 a.m.-9 p.m. Tuesday-Friday, and 8 a.m.-5 p.m. on weekends. Closed Mondays.
Frittata 236 S. Main St., Clawson; 248-280-2552; $: Named after the omelet's Italian cousin, Frittata has creative dishes without the noisy kids or fried food odors. Their knowledgeable, enthusiastic staff serves frittatas that stimulate both the tongue and mind. Take the $7 house frittata for instance: a blend of three eggs, caramelized shallots and white wine topped with Asiago cheese and roasted potatoes — simply delicious. For a bit more zest, try the delectable honeybee frittata filled with chunks of chorizo sausage, strips of roasted poblano peppers and cactus, then topped with a salad of cilantro and fresh greens in a small tortilla bowl, with a side of creme fraiche. Foodies and vegetarians will adore a combination of chevre, sun-dried tomatoes and artichoke hearts topped with fresh greens and plated with a thick, tangy balsamic vinegar sauce. There are several more "house-built" frittatas to choose from, or you can create your own from a long list of optional ingredients. And then there's always the daily frittata special. Frittatas are $7-$12. Open 7:30 a.m.- 2:30 p.m., Tuesday-Sunday.
Gest Omelettes 39560 W. 14 Mile Rd., Newberry Square Shopping Plaza, Commerce Twp.; 248-926- 0717; 25906 Plymouth Rd., Redford; 313-937-3540; gest-omelettes.com; $: Over a decade in the omelet game means you're doing something right. Choose from omelets like the Coney Island (dogs and chili), Popeye's Favorite (with spinach) or the Greek-influenced "Opa!" Or select from the create-your-own options of 14 meats, 14 vegetables, eight cheeses, seven sauces and such extras as black olives, chili and shrimp. Open 6:30 a.m.-4 p.m. every day.
Granma's House of Pancakes 17275 E. Nine Mile Rd., Eastpointe; 586-445-6100; granmashouseofpancakes.com; $: Granma's offers 14 kinds of crepes, ranging from classic strawberry to hearty spinach-and-Monterey with hollandaise sauce. Also features five choices of blintz and multiple egg specials that come with a choice of sides. For omelet lovers there are 13 choices from the plain to the Greek or the Spartan omelet (spinach, feta, mushrooms and tomatoes). If your breakfast partners eschew the egg, they can choose from 11 varieties of pancake. Open Mon. through Sat. 7 a.m.-8:30 p.m.; open Sun. 7 a.m.-3:30 p.m.
The Ham Shop 330 Monroe St., Detroit; 313-965-0088; Once a favorite St. Antoine greasy spoon, the Ham Shop — formerly known as the "Ham Shoppe" — has spent the last couple years maintaining its reputation at its present Monroe St. location. It's ham everything at the Ham Shop: ham sandwiches, ham omelets, and on the list goes. Part of the place's reputation comes from the talk about their ham and cheese omelets, which were described before in these very pages as being "the size of a hubcap."
Harvard Grille 16624 Mack Ave., Grosse Pointe Park; 313-882-9090; $: You can create your own omelet here, piling items on until you've created a 2,000-calorie breakfast bomb. Or, you can choose from the usual omelets. One interesting choice is the Irish omelet, with corned beef (natch), green pepper, onion and Swiss cheese. All omelets come with hash browns and toast. Open 7 a.m.-8 p.m. Monday-Saturday, and 7 a.m.-4 p.m. Sundays.
Honest John's 488 Selden St., Detroit; 313-832-JOHN (5646); $: This low-key Cass Corridor bar is actually a tried-and-true veteran of the breakfast game, offering a variety of omelets with names such as "the Oink" (ham, bacon, sausage and American cheese), "the Poor Richard" (spinach, mushrooms, bacon and Swiss) and "the Goyim" (corned beef, thousand island, coleslaw and Swiss). Early in the day, you'll often get free credits on Honest John's encyclopedic jukebox, and when weather warms up, the restaurant's small patio is at your disposal. Breakfast is served until noon Monday-Friday and until 5 p.m. Saturday and Sunday.
Louie's Ham and Corned Beef 3570 Riopelle St., Detroit; 313-831-1800; louieseasternmarket.com; $: A friend is fond of saying Louie's serves omelets as big as your head—a statement more likely true for the big-headed. Their showcase omelet is the $6.75 "piggy," which has ham, bacon, sausage links, green peppers, onions and both kinds of cheese, Swiss and American. For deli-heads, there's the pastrami omelet, which will set you back $6.25. There are 24 omelets to choose from, served with toast and jam. Open 6 a.m.-7 p.m. Monday- Saturday, and 8 a.m.-4 p.m. Sunday.
Mae's 24060 Woodward Ave., Pleasant Ridge; 248-548-5355; maesdetroit.com; $$: Previously known as the durable Anna's Coffee Shoppe, it's a classic space, with knee-to-ceiling windows on the north and west walls, a wealth of natural light washes across the white counter and the vibrant aqua vinyl stools and chairs. Vintage wooden soda crates and a milkshake mixer lay amid the shelves of kitchen tools and foodstuffs. Mae's is quite clean and decent and suggestive of a fairy-tale era where young love was measured in baseball euphemisms and cigarettes weren't bad for your health. Go inexpensive with a simple fried egg and cheese sandwich for $2.50 on your choice of a half-dozen styles of bread baked at Detroit's Avalon Bakery. Go gourmet with a worthwhile eggs Benedict complete with spinach, bacon and tomatoes on baguette. Or go for the all-veggie Hippie omelet. See: Everyone is covered for breakfast.
Omelette & Waffle Café 580 Forest Ave., Plymouth; 734-454-6510; $: Don't entrust your breakfast to people who only do it part time. O&W's slogan? "Breakfast is our specialty!" Expect fluffy omelets with thick chunks of the good stuff you desire, as well as a full breakfast menu that ensures you'll receive maximum satisfaction from the "most important meal of the day."
The Original Pancake House 33703 S. Woodward Ave., Birmingham; 248-642-5775; 20273 Mack Ave., Grosse Pointe Woods; 313-884-4144; 19355 W. 10 Mile Rd., Southfield; 248-357-3399; originalpancakehouse.com; $: The OHOP bakes their omelets, which makes them extra fluffy. Expect large portions that fill up the entire plate. The "Spanish Omelet" is a specialty direct from Barcelona, filled with fresh mushrooms and smothered in a tangy sauce. A favorite is the spinach-and-cheese omelet, which comes with mushroom sherry sauce. If you are more interested in going the crepe route, try the Continental, a sour cream-filled treat that is especially delectable when smothered in generous drippings of maple syrup.
Russell Street Deli 2465 Russell St., Eastern Market, Detroit; 313-567-2900; $: On Saturdays, don't let the usual line out the door deter you — it's well worth the wait for the Deli's Saturday breakfast. Eggs get combined with fresh ingredients including avocado, smoked gouda and caramelized onions. There's a different (huge) omelet or scrambled special every Saturday, often involving double-smoked bacon; the special is posted on the Deli's website, russellstreetdeli.com, every Friday night. The menu changes consistently; such is the nature of the Deli's commitment to fresh foods. Breakfast served 7 a.m.-10:30 a.m. Monday- Friday and 8 a.m.-3 p.m. Saturday; closed Sunday.
The Steak Hut 1551 W. Lafayette St., Detroit; 313-961-0659; $: Vintage diner with live music every Sunday. Gus, the owner, makes "the" best homemade home fries and hippie hash. His "sizzle special," huge omelets and organic blueberry pancakes are great and cheap. The bands are different every Sunday morning: jug bands, keyboard & violin, steel guitars, banjos. In fact, expect an upcoming show from mandolinist Nolan Faulkner and guitarist Long Tall Lou on the morning of May 1. And, of course, you can always have an omelet with the show.
Toast 23144 Woodward Ave., Ferndale; 248-398-0444; $: Not only does their food taste marvelous—it is also beautiful to look at. Weekday egg-fests include some pretty fancy fixins along with more regular fare; it gets more lavish on the weekend. Consider the Parisian omelet, made with spinach, caramelized onion, tomatoes and goat cheese. The non-egg fare is also worth trying. For instance, the Grand Marnier French Toast is topped with almonds and brown sugar. And Toast does lunch. Try the turkey avocado sandwich, which is packed with guacamole, Swiss cheese, mayo, mustard, and sprouts, and is served on multigrain wheat bread. Open weekdays 7 a.m.-3 p.m; open weekends 8 a.m.-3 p.m.
Whistle Stop 501 S. Eton St., Birmingham; 248-647-5588; $: On weekends, you'll often see patient lines waiting outside this small, family-run breakfast and brunch place, hidden in a mostly residential, outlying section of Birmingham. The Whistle Stop's menu is full of classics: Cheese and meat omelets, giant meat-and-egg plates, and pancakes with fruit. Cinnamon French toast — sounds like a winner. The lunch items are equally traditional. Weekend breakfast specials, served all day, are a tad more adventurous.
Special thanks to editorial interns Alia Raheem and Patrick Higgins for their assistance compiling and fact-checking this column.
See any inaccuracies in these listings? Let us know. Call 313-202-8043 or e-mail to [email protected].