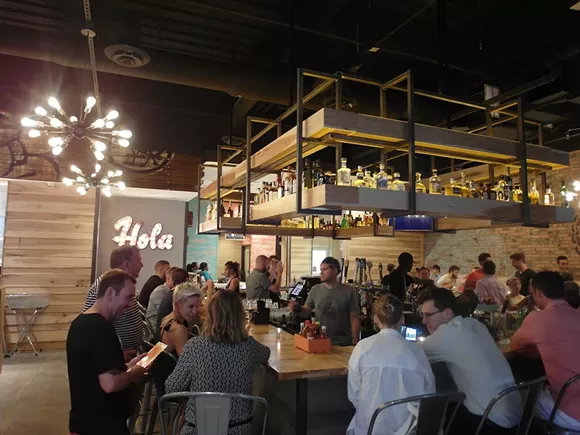 A trip over the weekend to the newly unveiled Calexico Cali-Mexican eatery hit on a sensitive subject for me. So if this comes off as a bit harsh on the NYC-based chain, I apologize. The founders, a trio of gringo brothers originally from the Mexican border town, have after all been reported saying their menu is "inspired" and that it takes liberties with the idea of a traditional taqueria.
Their concept piqued my curiosity when they announced in March their plans to launch in Detroit. The spot started off as a food cart by the Vendley brothers, who longed for the Mexican street food they left behind when moving to the east coast.
Unfortunately, the food at Calexico didn't live up to its compelling back story. It had me thinking back to those Pace Picante Sauce commercials from the '90s with the cowboys crying, "New York City?" When I've devoured tacos on the streets of Los Angeles, Tijuana, Mexico City, and elsewhere, they're often prepared on a simple grill, or al vapor (steamed) or al pastor (literally, of the pasture). Carne asada is usually made with strips of charred, tender cuts of skirt steak, nice and thin, sometimes accompanied with grilled green onions. Pork carnitas are stewed or braised to perfection. Tacos al pastor are flavorful slices of marinated pork from a spit and topped with a bit of pina slices (similar to shawarma, this style actually comes from the Lebanese influence in 1960s central Mexico). Thin corn tortillas at your typical taco truck are about the size of the palm of your hand, just big enough to hold the meat as it enters your mouth.
At Calexico, the beef was chewy cubes of hanger steak, the "Chipotle"-style pork drenched in vinegary sauce, the flavor of the pollo asado (grilled chicken) buried under lime juice and black pepper. The tortillas were rubbery. The much publicized "quesadilla rolls" here were reminiscent of those Taco Bell "Grill Stufted" burritos – essentially a burrito flattened out in a panini press. And the prices — $4.50 on average for a taco, or as much as $11 for a carne asada quesadilla — were offensive.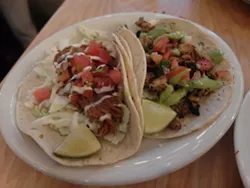 Perhaps more disappointing than the let down of my Calexico visit is the notion that the restaurant owners, their local partner Randy Dickow, or their Bedrock landlords would presume that Detroiters are too ignorant to know the difference between hyped-up fast food and authentic street food. That might have worked in New York, but in Detroit, with its sizable Latino population, their intentions — to pass off overpriced, Americanized Mexican cuisine as the real deal — come off as contrived to the point of insulting.
What's overlooked in this argument though, is a painful truth: aside from Southwest Detroit and parts of Downriver and Pontiac, finding legit Mexican or Latin American food is hard to come by, making such a farce easier to digest. This is something I think about often when I'm trying to find Mexican cuisine or groceries in metro Detroit.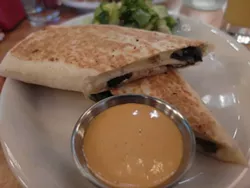 Detroit's Hispanic population, mostly of Mexican decent, has been a steady source of economic stability for decades, dating back to before the Great Depression when Diego Rivera and Frida Kahlo famously made a stop in the Motor City. While much of Detroit has experienced an exodus of population, Southwest has remained stable, with an influx of immigrant families and businesses. In fact, the U.S. Census says the population has grown by 70 percent since 1990, among the largest percentage increases of any ethnic group in the city (save for the Arab population, which is hard to quantify using Census data). And with that critical mass is a flavorful array of Mexican and Latin American food options.
Yet outside of these pockets, the influence of the Latino population is barely recognized.
Shop at any number of Detroit's Spartan supermarkets, and your Mexican food offerings are limited to a scant "Hispanic" food section, made up of cardboard-tasting, processed tortillas, Taco Bell hot sauce bottles, and Old El Paso taco shells that sit alongside the so-called Oriental and Italian offerings. Want some Tapatio or Cholula, some of the most recognizable Mexican hot sauce brands in the country? You'll have to travel to the many mercados in said barrios.
Even the selection at Whole Foods, which in other cities enjoys a robust array of Latino or Mexican food stuffs, is embarrassing. As a fan of queso fresco, for example, I've succumbed on numerous occasions to paying upward of $10 for the stuff (which I get —Whole Foods prices are almost always marked up).
Perhaps more telling was a recent experience my mom had when she traveled to Detroit to visit. She tried shopping for ingredients for enchiladas for us to cook at her Airbnb in Hamtramck. She stopped by the Whole Foods after checking out the iconic Rivera murals at the DIA and yet had trouble finding corn tortillas or even chili powder in the bulk spices section. It had me thinking, what would el Panzon or Friducha think of this atrocity? She settled for canned enchilada sauce and frozen tortillas (frozen!). She commented to me that the last time she even heard of finding such a thing in the freezer aisle was in the 1970s, when my tia moved to Minnesota for a gig as a Vista volunteer.
That the Latin food market is disproportionately under-represented in areas outside of the barrios is of no surprise. After all, we do live in one of the most segregated metropolitan regions in the country — where Asians are relegated to Oakland and Washtenaw counties, where Arab Americans tend toward Dearborn or Hamtramck, and where many African Americans are stuck in the most devastated stretches of Detroit.
Despite the statistics, Latinos live and thrive in all zip codes of metro Detroit, as do Chinese, Koreans, Indians, Bangladeshis, Palestinians, Iraqis, Syrians, African Americans, and white people. So why continue to segregate ourselves and our tastes? And why let that tradition of segregation let some hipsters from New York dictate the foods we're supposed to like?
Serena Maria Daniels is the
Metro Times
dining editor.