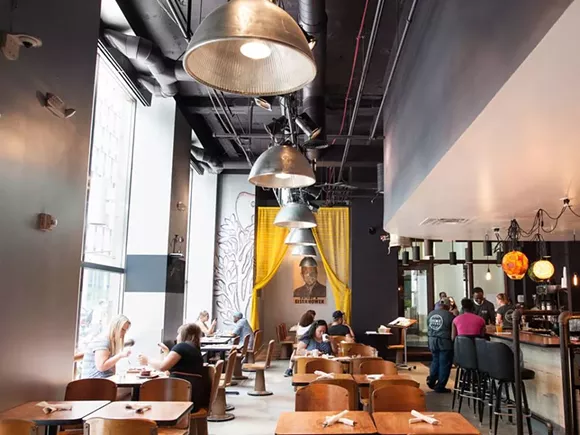 A new socially conscious enterprise coming to Detroit is seeking to both capitalize on the momentum of the city's growing food and drink scene and to promote the success of black-owned businesses.
It's a shuttle bus service called Soulcial Scene and its aim is to not just create another way for residents and professionals to get around to happy hour, but to serve as an avenue to help black-owned businesses grow. The boost in business, in turn, would create job opportunities for people of color experiencing unemployment and poverty, says founder Damion Ellis.
"We're trying to attack the unemployment issue and funnel revenue dollars to black-owned businesses, which hire black people at a much higher rate," Ellis tells us.
Ellis and supporters of his enterprise are organizing a fundraiser to help push the enterprise forward on Dec. 15 at the Dime Store restaurant downtown (719 Griswold St. Ste. 180). He's also started a $15,000 GoFundMe
campaign
, with a goal of launching the service in January.
Ellis is still working out the details, but he envisions two shuttles to drive between downtown and Midtown around the start of each month during lunch or happy hour, featuring a couple of bars or restaurants at a time, to places like The Block, Savannah Blue, and They Say (he's working on getting other businesses onboard). Riders would sign up for a membership or pay per trip, and businesses would pay to be included on the shuttle route.
Eventually, Ellis would like to see Soulcial Scene go to other urban centers like Chicago, D.C., and Atlanta. Detroit, he says, would be the pilot city.
The idea for the shuttle service came about when Ellis, like many Americans, grew fed up with the state of race relations throughout the country. Pointing to the many high profile instances of police brutality against blacks, he tells us he wanted to have an impact on his community in a meaningful way.
A finance expert by trade, the Detroit native had previously worked on Wall Street in New York and was lured back to his hometown to serve as a budget manager for a major capital project for Detroit Public Schools.
That work was in line with Ellis' desire to make change. After that, he took a job with General Motors, doing what he says was highly sophisticated work, but was not fulfilling.
Using his numbers background, Ellis points to the fact that black-owned businesses hire black employees at a 64 percent hiring rate versus 10 percent for non-black business owners.
In a city whose population is 80 percent African American and
a 15 percent unemployment rate (and the nearly 50 percent who've stopped looking for work completely),
the stakes are much higher to find solutions to such issues.
So come next year when deciding how to shuttle around all your buds for that pub crawl, Soulcial Scene will get you to happy hour and appeal to your social sensibilities.
See also:
Detroit Grown & Made dinner series shines light on black chefs and farmers
See also:
23 incredible black-owned restaurants in Detroit you should know about