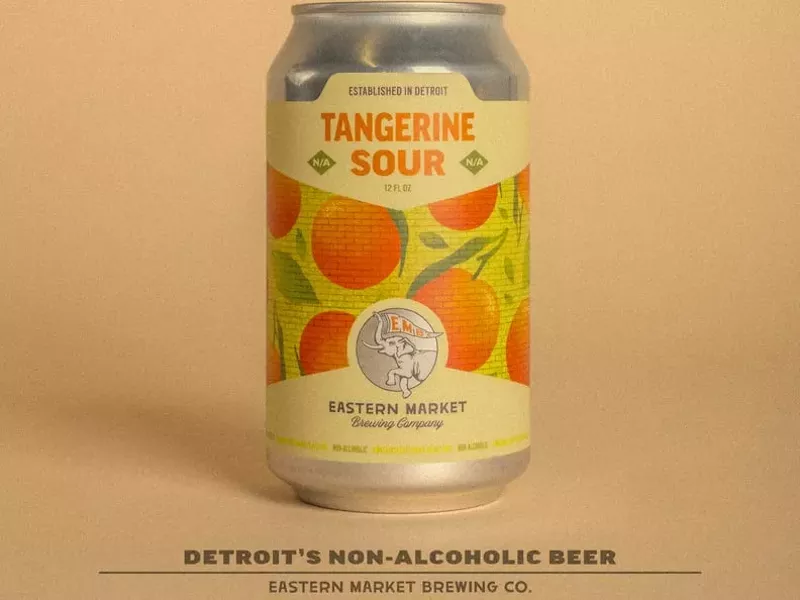 Whether you're going booze-free for dry January or just don't drink, Eastern Market Brewing Co. has something for you.
The brewery dropped two non-alcoholic gose-style sours in grapefruit and tangerine which come in 12-ounce cans. As a fellow person who doesn't drink, the alcohol-free beers are welcome news.
Its campaign for the NA beers is dubbed "Get Shit Done" since you can enjoy one without becoming completely sloshed and useless.
The cans come in four packs that are on shelves at Busch's Fresh Food Market, Total Wine, and other local retailers across metro Detroit, according to a press release. They'll also, of course, be available at the brewery's taproom in Eastern Market and sister locations Ferndale Project and Lincoln Tap.
The NA beers are a couple of years in the making. Eastern Market Brewing Co. started testing the booze-free market in 2021 in partnership with Minnesota-based ABV Technology to install a machine at its production facility called the Equalizer.
The machine can turn a normal beer into a hard seltzer or another beer with most of the same flavor but less than .5 percent alcohol by volume.
"When we began contemplating the NA market and learned about ABV Technology's machine, my first reaction was that it sounded too good to be true. We could take any of our beers, run it through the machine, and not only get an NA version of the beer, but also a hard seltzer output," Dayne Bartcht, managing partner of Eastern Market Brewing Co., said in the news release. "So we loaded up a car with kegs, drove to Minnesota, and sure enough, it worked. It was the best NA beer I've tasted."
The NA Grapefruit Gose is described as having grapefruit zest and pink Himalayan sea salt with a bright citrus flavor. For more info, see easternmarket.beer/beers.
Coming soon: Metro Times Daily newsletter. We'll send you a handful of interesting Detroit stories every morning. Subscribe now to not miss a thing.

Follow us: Google News | NewsBreak | Reddit | Instagram | Facebook | Twitter