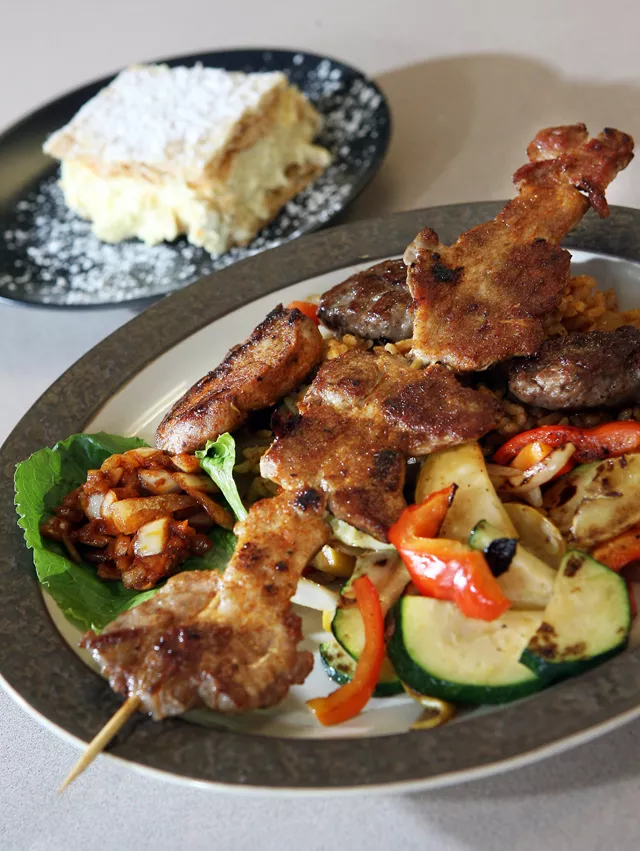 Ellie's Grill
2033 Coolidge Hwy., Berkley
248-691-4441
Handicap accessible
Entrées $9.95-$12.75
Ellie's was first recommended to me by former MT reviewer Elissa Karg, more than four years ago. She called it a "hole in the wall," according to my notes, which is not really accurate: It's a small neighborhood establishment but it's cheerful and spanking-clean. Some have called it a coney island, but no dogs are on the menu: Its claim to fame is the Hungarian, Polish and Macedonian dishes that coexist with a wide array of burgers, sandwiches, even a cheddar-filled quesadilla.
Owners Jonce and Elica Ilievski, who were born in Macedonia and do all the cooking, say their location is not so hot, "so the only way to draw customers is to have good food." Hmm ... a simple philosophy, one that more restaurateurs should adopt, whatever their site. Jonce is a veteran of Joe Muer's; the couple opened the Grill in 2003.
Ellie's serves comfort food if you come from a culture where comfort food is bland. Think of a potato pierogi and you're thinking of mashed potato wrapped in a flour-and-water dough. Not designed to excite the taste buds nor to scale the culinary heights, but intended, originally, to fill the stomachs of poor folks and, nowadays, to feed our childhood associations of carbs with mother love.
I tried Ellie's ethnic specialties rather than the breakfasts, tuna melt, or fish and chips one can find anywhere. Of the three European countries represented, the Macedonian dishes were done best and are a good deal for a meat-lover.
The meal should start with soup, just $2.45 a cup, or it comes with the entrées. Cabbage soup is hearty, of course, with beef and a little tomato: pretty bland but satisfying. Even better is green bean soup, thick and smoky with bacon.
Ordering the Macedonian mixed grill will enable you try four meats. Pleskavitsa is a beef, pork and onion patty, served close to well-done. The pork gives the patty a richer taste than a beef burger; you can also order it on a bun. Kebap is also ground pork and beef, this time in kabob form. Raznichi is pork on a skewer, and tastiest of all is pork tenderloin. This meat fest is served with excellent grilled zucchini over djuvech rice, which is cooked in a tomato-based broth.
The Polish specials are served on Wednesdays and Thursdays. I found my kielbasa casing quite tough and the stuffed cabbage with mild tomato sauce soft enough for a toothless person. Anyone with fear of fermented foods could get over it with Ellie's sauerkraut, which is mild and tender in the extreme, yet tasty and comforting. The pierogi are, well, pierogi — one sweet farmer cheese and one potato; sauerkraut filling would probably be a better choice. Some recipes say to fry the boiled pierogi with onions, but that wasn't evident here.
I had highest hopes for the Hungarian dishes and thus was most let down by the chicken paprikash, beef Stroganoff and Hungarian beef tips. How about some paprika in the chicken paprikash? No warm pink color was discernible, much less any spicy flavor to meld with the sour cream. The serving was huge however — four pieces.
The Stroganoff over noodles was worse, bland and runny, kind of sour. (Yes, I know stroganoff contains sour cream, but it should taste rich, not sour.) Beef tips were less bland but there weren't a whole lot of them. Two types of goulash are the other Hungarian choices.
Note: Jonce says requests for more spice will be honored.
It seems to me that too many dissimilar foods share the name "dumpling." A pierogi is a dumpling; so are ravioli, samosas, wontons and matzoh balls. The squiggles that Hungarians call dumplings, nokedli, which are served at Ellie's alongside the paprikash and beef tips, are really egg noodles, with no filling; they have nothing in common with the light and fluffy flour-and-baking powder Southern dumplings that are comfort food (yes, bland) where I come from. Nothing wrong with nokedli; I adore pasta, but I think it would take a Hungarian or a Bavarian to wax nostalgic over these.
Ellie and Jonce make a great Hungarian dessert called kreamish. Jonce rolls out the phyllo dough himself and Ellie whips up the vanilla mousse filling. The tall concoction is a small challenge to attack with a fork; it looks heavy but it's light, and is just sweet enough (and only $3.60).
Dessert crêpes are fine, if, yes, bland. Perhaps a bit more time spent sautéing in the butter would help. Ask for the sweet cheese rather than the apple, the flavor of which tends to disappear. House-made strudel is also on offer.
Ellie's is open Monday through Thursday from 10 a.m. to 8 p.m., Friday and Saturday 9 to 8, and Sundays just 9 to 3, providing a tiny evening respite for the hard-working cooks. Breakfast is served until 5 p.m.
Jane Slaughter dines for Metro Times. Send comments to [email protected]