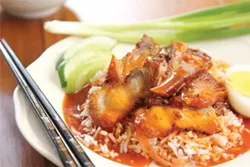 $=$5-$10; $$=$10-$25; $$$=$25-$50; $$$$=$50+
Café Sushi 1933 W. Maple Rd., Troy; 248-280-1831; cafesushitroy.com; $$$: When you walk into Café Sushi you are greeted by a sleek sushi bar topped with black tile. The focus is for those who want to try Japanese food but are scared away by raw fish — no daring is required here. The food is delicious and incorporates non-Eastern influences like French and Italian cuisine. The service is above average, and there is something for every kind of diner, timid or adventurous. 
Cherry Blossom 43588 W. Oaks Dr., Novi; 248-380-9160; cherryblossom.biz; $$: An element of beauty is part of everything from the marble-topped sushi and yakitori bars to the tatami rooms and conventional tables with settings in shades of blue, green and brown. The full range of Japanese fare offers diners an extensive choice, and service by the courteous, well-dressed staff adds to the stylish feeling of the place. Even beef teriyaki, so often a routine dish, is superb here. This is much more than a typical strip mall eatery. 
Chung's of Waterford 4187 Highland Rd., Waterford; 248-681-3200; chungrestaurant.com; $$: The suburban branch of the now-shuttered Cass Avenue restaurant has a much larger and more glamorous setting and an expanded menu accompanies the dimensions. The famous Chung egg roll filled with cabbage, shrimp, pork and bean sprouts is here, along with the Cantonese, Szechuan and Hunan dishes including stir-fried shrimp and broccoli, a vegetarian array called Buddhist Delight, Hunan scallops and General Tso's chicken. 
Eurasian Grill 4771 Haggerty Rd., West Bloomfield; 248-624-6109; eurasiangrillonline.com; $$: The idea is Asian-based, new-American cooking. It's traditional American cooking with Asian spices to give it a new flavor. Spotlight dishes include the duck Macao (marinated in spices, deep-fried, then coated with a spicy Asian sauce) and tomato soup (a thick broth with crispy sizzling rice, Chinese veggies and big chunks of chicken and shrimp). A full bar and large wine list augment the dining experience.
Gim Ling Restaurant 31402 Harper Ave., St. Clair Shores; 586-296-0070; $: Gim Ling has served dine-in and carryout at the same St. Clair Shores strip mall location for decades. Only relatively recently has it been transformed into a "Modern Asian restaurant." In this case, the term "modern" mostly serves as a stand-in for "better." New diners, as well as those with memories of a Gim Ling past, are in for quite a revelation when they dig into a dish. The locals have been spreading the word. On a typical Saturday night, you'll find a substantial line of folks waiting on carryout. Gim Ling has as robust a takeout business as we've witnessed at a Chinese restaurant. The dining room is usually at least half-capacity, and we can't help wonder how big a crowd might be drawn if they served adult libations along with the quality fare. Open 11 a.m.-10 p.m. Tuesday-Saturday, noon-10 p.m. Sundays and holidays, closed on Mondays.
Golden Chopsticks 24301 Jefferson Ave., St. Clair Shores; 586-776-7711; goldenchopsticks.biz; $$: Food quality varies widely on Golden Chopsticks' seemingly endless menu, with sizzling rice soup and non-greasy potstickers a definite yes. Familiar Chinese menu includes moo-shu pork, hunan chicken, kung pao everything, chop suey and egg foo young. Low sodium or low oil on request and a selection of vegetarian dinners.
Golden Harvest 6880 E. 12 Mile Rd., Warren; 586-751-5288; $$: Golden Harvest is quiet, and the decor is mainly soothing blue, in a former catering hall in an unlikely spot on 12 Mile Road across from the GM Tech Center. They boast a purportedly non-Americanized, "authentic" Chinese menu, which is certainly more offbeat than most diners will be used to. Golden Harvest specializes in seafood. The Hong Kong-born chef keeps live crabs, lobsters and tilapia — and, depending on the season, eel, sea bass, clams, oysters and scallops. "Assorted seafood with spicy salt (hot)" and soft-shell crabs both sport thin, pepper-flecked crusts and a satisfying crunch. Clams can be cooked in XO sauce (made from dried seafood, garlic and chilies), invented in Hong Kong. A hot pot, kept warm at your table, is a good way to enjoy an assortment of sea critters.
Golden Wall 421 W. Cross St., Ypsilanti; 734-482-7600; $: New chef and owner Bao Hua Yang offers a menu combining Vietnamese and Chinese cuisine in an ambitious list of entrées, adapted to Midwestern tastes. Generous offers of $4-$5 lunches and $6-$10 dinners elevate Golden Wall's appeal.
Gourmet Garden 2255 W. Stadium Blvd., Ann Arbor; 734-668-8389; gourmetgardenmi.com; $$: Start with a steamed vegetable dumpling, move on to the cold smoked duck plate, then try the Chinese eggplant stuffed with minced shrimp. This food isn't overly Americanized, and adventurous (and stubbornly persistent) American customers can demand a taste of genuine Chinese fare, including a few health food choices.
Hong Hua Fine Chinese Dining 27925 Orchard Lake Rd., Farmington Hills; 248-489-2280; honghuafinedining.com; $$: This Zagat-honored restaurant's decor has more of a fine-dining than a Chinese feel, elegant to look at, with its curving lines of cherry wood and tasteful paintings of flowers. That said, you'll also find authentic fare here. For a starter, the mushroom soup comes highly recommended. The Szechuan hot and sour soup is another winner, more complex and flavorful than hot, it actually seems a bit sweet. An excellent entrée is eggplant in chili sauce. The moo-shu pork is tasty if not overly interesting, slightly sweet and crisped-up by the shredded cabbage that's used. Dessert can be ice cream or mango pudding.
Inyo Restaurant & Lounge 22871 Woodward Ave., Ferndale; 248-543-9500; inyorestaurant.com; $$$: With a wide-ranging menu, striking presentations and quality cocktails, Inyo has sparked a buzz in Ferndale's dining scene. The dishes have not just flavor, but pleasing texture contrasts within a dish. The sushi menu is the standard makimono (rolls), sashimi and nigiri ranges from ordinary maki to specialties, such as the Inyo roll, which is a marriage of king crab, strawberry, Japanese cucumber and mango sauce all topped with caviar. The space sports oversized, wraparound booths and a granite horseshoe bar, with a soundtrack of easygoing nu-disco and downbeat lounge tunes. Excellent specialty cocktails.
Kabuki 28972 Orchard Lake Rd., Farmington Hills; 248-538-0664; $$: Kabuki serves a variety of Japanese and Korean specialties, including and bibimbap (a Korean dish served in a stone bowl, with rice, meat, vegetables and egg). A wide assortment of sushi and sashimi is also offered — many of the sushi rolls are the inventions of chef and owner K.J. Lee. 
Kai Garden 116 S. Main St., Ann Arbor; 734-995-1785; kaigarden.com: Kai Garden features a menu of more than 180 items. They include the standards — pork fried rice, sweet and sour chicken — as well as more interesting dishes such as catfish hot pot, rose scallops, and spicy pig ears. The steamed sole, a large flat fish, is worth the half-hour wait just to watch the show: Your waitress removes the flesh from the bones with a butter knife. It's steamed first, then sprinkled with matchsticks of ginger and scallions, and served with a rich brown special soy sauce.
Katana Nu-Asian Steakhouse 111 S. Main St., Royal Oak; 248-591-9900; $$$: Though its menu is Japanese — or perhaps "Japanese-inspired" — there's nothing subtle about Katana Steakhouse. For teppanyaki — "hibachi table cooking" — diners are seated around big cooking surfaces, each manned by an aproned and toqued Chinese chef. Each diner's selection is quickly sautéed, arranged on a plate with the vegetables and presented with three dipping sauces. In addition to the main-attraction grills, diners can also sit at regular tables and order from the small plates menu, which has more of a fusion bent. 
Kitchen Hanzo 6073 Haggerty Rd., West Bloomfield; 248-624-8666; $$: This is the type of place where Japanese salarymen go out after work — and there's a large enough clientele to keep this izakaya (pub) thriving. It serves five Japanese beers, sake and hot sochu. Expect small plates of seafood, noodles, sashimi and more. Most of Hanzo's food follows the Japanese model of graceful arrangements, complementary tastes and colors, and light but satisfying food. 
Kona Grill 30 E. Big Beaver Rd., Troy; 248-619-9060; konagrill.com; $$: For a taste of Hawaiian cuisine, which, as on the Big Island itself, is more accurately described as pan-Asian, Kona offers moderately priced fare in an attractive dining environment. Choices range from sushi, noodles and pizza to beef and seafood, featuring ahi, Maui onions, and macadamia nuts as a genuflection to the islands' culinary culture. Most of their mains cost less than $20. The small and versatile wine list has some decent buys in the 20s and 30s. 
Korea Palace 34744 Dequindre Rd., Sterling Heights; 586-978-0500; $$: Situated in a modest strip mall, Korea Palace's wood-trimmed, simple, warm decor is similar to plenty of Asian restaurants around town. The staff promptly greets all of the customers, most of whom are Korean, and presents them with the exhaustive, four-page menus. Once they've ordered, guests are given banchan, an assortment of small plates of vegetable-based bites. Most of the appetizers are actually commonly found as street food in South Korea, all generally prepared as one would find them across the Pacific. There are about 50 main dishes from which to choose, each generous with regard to portion size. Broths and noodles encompass a significant portion of the menu at Korea Palace. Other entrées focus on fish and protein: breaded chicken or beef, roasted mackerel, steamed pork belly, braised fish head and daikon radish. The combinations are seemingly endless. Korea Palace also offers barbecue options for the grill-loving carnivore, all around $15. They also have hot pots for two or more people, available for $30-$35 each.
See any inaccuracies or errors? Let us know! Call 313-202-8043 or e-mail [email protected]