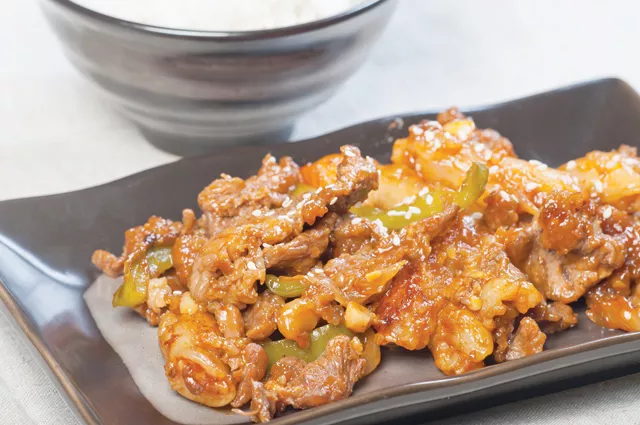 $=$5-$10; $$=$10-$25; $$$=$25-$50; $$$$=$50+
Lotus Pond 28747 Hoover Rd., Warren; 586-751-4020; $$: When it comes to Chinese for our Metro Times readers in Macomb County, they chose Lotus Pond, naming it as an exceptional choice for classic American-friendly fare. What's more, given the restaurant's generous portions, you'll have plenty of leftovers to warm up the next day — or perhaps an hour later.
Mene Sushi 6239 Orchard Lake Rd., West Bloomfield; 248-538-7081; $$: At first look, one of the most intriguing things on the menu looks like it's a $60 choice. But look again. The multi-course "Bento Box for Two" is an unbelievable bargain. The $30 tab is for both dinners. The menu is long and complex, and it includes Korean specialties, such as bimbimbap and bulgogi.
Middle Kingdom 332 S. Main St., Ann Arbor; 734-668-6638; annarbormiddlekingdom.net; $$: Middle Kingdom serves up quite a lot of the classic, Americanized fare that's like a national comfort food to diners of a certain generation. It tied in our readers' poll with Kai Garden, suggesting that Ann Arborites are sophisticated enough for the real thing, but not snooty about digging in when it comes to Cantonese-American food.
Mon Jin Lau 1515 E. Maple Rd., Troy; 248-689-2332; monjinlau.com; $$: One only needs to visit Mon Jin Lau on a Saturday night — when it is invariably bustling with vitality — to catch a glimpse of the widespread love it has garnered. This is no doubt due in part to the exhaustive "Nu Asian" menu. Try the ginger garlic eggplant (eggplant rolled with wood ear mushrooms, pesto, pine nuts, red pepper and rice noodles) or the Thai lemongrass chicken (cooked with peapods, asparagus, straw and shitake mushrooms, onion, red pepper and baby corn) or the Mongolian beef or the Maine lobster or ... you get the idea.
New Lutong Pinoy 31101 Dequindre Rd., Ste. A, Madison Heights; 248-565-8360; $$: Aiming for authentic Filipino cuisine in a full-service restaurant, much of the food at New Lutong Pinoy does not taste like generic pan-Asian. Many Filipino dishes are earthy, slow-cooked stews. This is best illustrated in the popular dish adobong — meat simmered in a tangy vinegar sauce and called the quintessential Philippine stew. Dive into the tasty deep-fried goodies from the appetizer menu, then explore the pork dishes, including pata, a mound of crispy fried pork shank with skin included, or beef cooked all different ways, including caldareta na baka, a hearty dish of tender beef chunks and vegetables in a tomato sauce and not too far off from a simple chili con carne. To wash it all down, you can't go wrong with a simple sweetened coconut juice with bits of pulp.
New Peking 29105 Ford Rd., Garden City; 734-425-2230; newpeking.us; $: Throwback little Chinese joint with a loyal local following that has kept it going for more than 20 years. We canvassed the New Peking fan club's opinions, and they all agree on dishes with plenty of garlic. One fan said he loves their garlic sauce. Another fan praised the $9.25 garlic chicken, which comes with boneless chicken chunks, green peppers, onion, diced bamboo shoots and mushrooms in a house brown sauce, calling it "more addictive than crack!" Hear that, garlic lovers? For those who shy away from the "stinking rose," there is a full line of Chinese-American classics on offer, from Mo Shu pork to Peking duck.
Noble Fish 45 E. 14 Mile Rd., Clawson; 248-585-2314; noblefish.com; $$: The insular Japanese keep things intensely focused, whether it be decor or food customs or table manners, which is what makes Noble Fish an experience. Out front are isles of packaged foodstuffs. But in back is a magnificently serene sushi bar, staffed by iron chefs of the first order: a no-nonsense, inexpensive, delicious alternative to too-Westernized sushi madness.
Pho Viet 3854 E. 13 Mile Rd., Warren; 586-558-8115: There are nearly 20 ways to order pho at Pho Viet. Most are some combination of proteins — rare beef, well-done flank, brisket, tendon, tripe, beef meatballs, or all of the above. The Bun cha gio thit nuong is wholly satisfying — a combination of rice vermicelli and vegetables under grilled pork and a crispy roll. With tall ceilings and a wide, open floor plan, the dining area feels enormous. It's quiet on weekday nights, but the lunch hour on a Sunday was busy. The service was superior.
Ronin 326 W. Fourth St., Royal Oak; 248-546-0888; roninsushi.com; $$$: In a stylish setting, bandana-clad sushi chefs vigorously chop and slice at the sushi bar, turning out first-rate sushi and sashimi. But for the sushi-shy, there's also an interesting array of other Japanese standards. Not surprisingly, the bar is well stocked
with sake, more than 20 different beers, including Kirin Ichiban, and a diverse selection of wine.
Royal Kubo 27 E. 14 Mile Rd., Clawson; 248-588-2300; $: Consistently voted "Best Place for Karaoke" by Metro Times readers, Royal Kubo is metro-Detroit's top destination for kitschy glamour. Few places really meet the challenge of a fun, alternative place to hang out with friends like the Royal Kubo. This place gets four stars simply for being something really different — a Filipino karaoke bar and restaurant. As for the Filipino fare, a good place to start is with the combo dinner.
Sakana Sushi Lounge 22914 Woodward Ave., Ferndale; 248-336-2555; sakanasushilounge.com; $$: As a "sushi lounge," Sakana aims to smooth the erratic pace of living through stylish drinks, lush electro-acoustic lounge beats and raw fish artfully prepared. Expect an assortment of cocktails, a half-dozen salads, and several lunch and dinner specials consisting of varied mixtures of nigiri sushi, sashimi and hand rolls
Sala Thai 3400 Russell St., Detroit; 313-831-1302; 2751 E. 14 Mile Rd., Sterling Heights; 586-939-5456; salathai.us; $$: A highlight of not only the Eastern Market area, but of southeast Michigan in general, Sala Thai's pad Thai has just the right levels of succulence in juice — not too dry, not too slimy. Their gaeng phanaeng has the perfect levels of coconut milk and green curry, so that the two flavors strengthen each other's clarity. And they have a pad see-ew that is drenched in the sweetest of brown sauces and a pad prik king that is a flat-out spicy wonder.
Shangri-La 6407 Orchard Lake Rd., West Bloomfield; 248-626-8585; $$: Dim sum is the Chinese equivalent of Sunday brunch; carts rolling from table to table, diners pointing to what they want, little dishes piling up on the table, all of which are later counted to calculate the bill. And don't forget Shangri-La when you are looking for a great Chinese dinner. The menu is lengthy, and runs from jellyfish to almond boneless chicken. Their mid-city location is quirkier, but with attentive servers and excellent dim sum.
Shangri-La Midtown 4710 Cass Ave., Detroit; 313-974-7669; $$: A great low-key Wayne State-area hangout, Shangri-La has a menu notable for the diversity of its Asian fare, ranging from sushi to dim sum to Americanized staples like Almond Boneless Chicken. There are also plenty of vegetarian options. The gracious Raymond Wong holds court as host, and the drinks menu is no less sophisticated (or crowd-pleasing) than the menu. Full bar.
Sharaku Sushidokoro 6159 Haggerty Rd., West Bloomfield; 248-960-1888; $$: Sharaku is the most authentic Japanese restaurant in metro Detroit. As in Japan, the decor consists of spare, blond wood and the meals are served with a minimum of pretension. For sushi, you may want to branch out and try rolls of dried squash, burdock, ume shiso (green tea) or natto (fermented soybeans). At the back of your menu, look for a long list of liquors (shochu) distilled from different grains: sweet potatoes, barley, rice, buckwheat or potatoes (the most popular). Takeout available except for noodle dishes; party platters also available (minimum $25 order).
Shogun Chinese & Japanese Bistro 18411 Hall Rd., Macomb Township, 586-228-9186, and 37750 Van Dyke, Sterling Heights, 586-268-4882; 23195 Marter Rd., St. Clair Shores; 586-350-0927; $$: The St. Clair Shores location adds American-friendly Chinese fare to the menu, but the other two have Japanese-only menus, including sushi and, that art of grilling-as-performance, teppanyaki.
Siam Spicy 29838 Woodward Ave., Royal Oak; 248-545-4305; $$: Last year, our Oakland County readers voted Siam Spicy the Best Thai Cuisine in Oakland County. It's a friendly joint specializing in providing a welcoming, comfortable atmosphere, where entrées are stir-fried or prepared in coconut milk with plenty of pepper. Curries are red or green and very flavorful. The pad Thai should be enough for two, maybe three meals. It has won Best Thai honors on and off since 1996.
Sizzling Sticks Cafe 144 Mary Alexander Ct., Northville; 248-380-9400; $$: You select the combo of ingredients, from meat to nuts, being as conservative or as innovative as you wish, and the agile young cooks create it before your eyes. Choose from pork, chicken, beef, turkey, sausage, tilapia, shrimp, calamari or tofu. Then add veggies, sauces and spices. Salad bar and desserts are standard American.
Szechuan Empire 29215 Five Mile Rd., Livonia; 734-458-7160; szechuanempire.com; $$: Feeding its Livonia neighborhood for more than 10 years, this is a busy little place, but the staff is friendly and attentive. Fiery Szechuan specialties are interspersed with milder Cantonese entrées.
Thang Long 27641 John R Rd., Madison Heights; 248-547-6763; $$: Thang Long makes a great pho. And what's not to like about a massive bowl of rich, slow-developed meat broth flavored with spices and filled with rice vermicelli noodles and beef? But we are truly into their combo vermicelli. It's a bowl of those same rice noodles with the addition of cucumber, fresh cabbage, daikon, pickle, carrot, fried garlic and mint. Instead of broth, you'll get a small bowl of garlic fish sauce dressing to pour over the works. There are several toppings to choose from. Our favorite is the shrimp crabmeat crispy roll. An uncomplicated dish is seldom so deeply satisfying.
Tuptim Thai Cuisine 4896 Washtenaw Ave., Ann Arbor; 734-528-5588; tuptim.com; $$: Since 2002, Tup Tim has built a reputation for using fresh ingredients to create authentic Thai food, including hard-to-find dishes for advanced diners. The kitchen is happy to dial down the hotness, and every other facet of the experience — atmosphere, service, prices — is designed to leave you hungry for more.
Wasabi Korean & Japanese Cuisine 15 E. Kirby St., Suite E, Detroit; 313-638-1272; wasabidetroit.com; $$: Wasabi's bibimbab is best served in a dolsot, a heated stone bowl. Your chef tops a big pile of white rice with little piles of julienned beef and vegetables, mostly cold, and a fried egg. Squeeze on the gochujang, a chili-based hot sauce, and mix it all together. It's huge and infinitely satisfying on a cold night. The other famous-to-Americans Korean dish is bulgogi, which here is marinated rib eye. The marinade includes not only sake, ginger and various fruits but Sprite! Sushi in all the usual varieties is offered, artfully done and of excellent quality. For dessert, Japanese ice cream is the best bet, especially green tea flavor.
See any mistakes? This is not supposed to be a comprehensive list by any means, but let us know what you think should have been included!