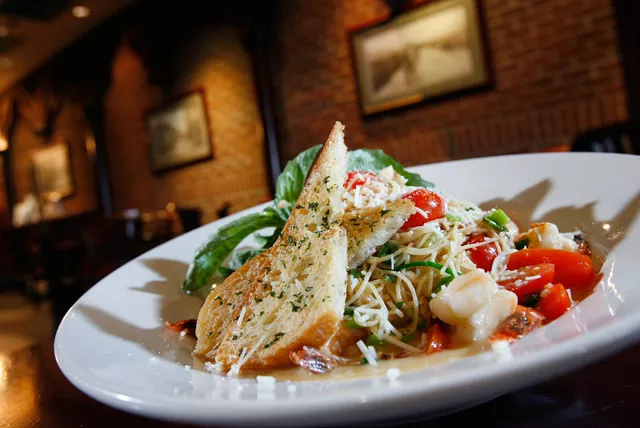 John Cowley & Sons
33338 Grand River Ave., Farmington
248-474-5941
johncowleys.com
Often lost among the dozens of strip mall restaurants labeled "bar and grille," the classic neighborhood joint is something of a dying art. The food and drink might be great, or it might be terrible — but Cliff and Norm are always there. Not everyone at John Cowley & Sons Irish Pub will know your name, but the spirit of the friendly local watering hole is alive and well on the west side.
Nestled next to an old theater with a bulb-lit marquee in downtown Farmington — a few dining companions were astounded to learn that there is such a thing as downtown Farmington — Cowley welcomes its patrons to enter both from the street and the municipal parking lot around back. A brick facade and wooden sign set it apart from the average sports bar, and the stone, iron and wood entryway suggest a certain authenticity.
Indeed, Cowley was opened by Irish immigrants decades ago, and renovated in the last 10 years by their sons, all inspired by the homeland. Components of the bar were imported from Ireland, and the squat building was inspired by Dublin's famous Temple Bar district.
The building has bar space and seating on both floors, the primary difference being the larger number of televisions and tap handles upstairs. Unlike myriad gaudy "Irish" pubs, Cowley is primarily decorated with wood accents, stone blocks, and pressed tin ceiling tiles. The bar tops supporting plenty of neighborhood elbows are all dark wood and are backed by elegant carved shelving to hold a standard assortment of basic spirits and mixers and the above-average selection of scotches and Irish whiskies.
Most of the customers during the week seem to be dining rather than just drinking, and there is a lengthy menu ranging from salads and starters to traditional Irish fare and American entrées.
Among the appetizers, the pizzas are pleasantly thin and crunchy, though the raw vegetable toppings could stand a longer stay in the oven. Chicken tenders, wings and potato skins are among the more conventional offerings, but they also serve shrimp tempura with a nice crunch and remarkably tender beef tips in demi-glace with actual blue cheese that is laudably cut from a block rather than squirted from a bottle. Each of these generous portions falls in the $7-$11 range, but appetizers are half-off at happy hour.
The most eyebrow-raising starter may be the Irish spring roll, an assemblage of corned beef, sauerkraut, cheese and Thousand Island in a crispy shell. This seemingly unnatural, cross-cultural mixture confirmed one of life's universal truths: Corned beef, cabbage and something crispy are a perfect combination. The Reuben is similarly delicious, and the restaurant also serves the Irish classic corned beef and cabbage, all of which employ good corned beef that's a far sight better than what's served in many eateries. Some of the other Irish specialties may lack flavor — the Shepherd's Pie, covered in shredded cheddar, was watery and didn't have much beef taste — but are very generously portioned.
Cowley features several burgers, including a bacon-covered patty slathered in guilt and barbeque sauce — the BBQ cheddar burger. One may be pleasantly surprised to see that the kitchen properly cooks burgers to order: Medium rare here is medium rare, not medium well or whatever overgrilled standard may be used elsewhere.
Like many other bar-restaurants, the safest bet is to stick with any of the dozen or so burgers, sandwiches and fried bites. But the entrée menu is long and, at prices from $13 to $18, worth exploring. Whiskey-glazed salmon, a loin chop with a bourbon-based sauce, and a series of pasta dishes are all flavorful options for the hungry diner.
The dessert menu is not large, but the desserts themselves are huge. Cowley offers up a peanut butter crème cake, apple cobbler, white chocolate raspberry cheesecake and a bread pudding. The latter in particular stands out for its appropriately creamy texture and for the sizable servings of whipped cream and caramel sauce.
Several beer options are on draft to accompany a meal (or facilitate a bender): Such standard Irish and English favorites as Guinness, Harp, Bass and Smithwick's have tap handles, as do Labatt, Blue Moon and rotating craft beers that can include Stone Arrogant Bastard and Bell's Two-Hearted. The mixed drinks are subpar: A mangled orange wedge and neon red cherry ruin what is supposed to be an Old Fashioned, for example. But the whiskey selection is broad: Bourbon lovers will find Knob Creek and Woodford Reserve; Irish whiskey fans can take a tipple of Redbreast 12; and scotch drinkers may choose from about a dozen single malts, including Laphroaig and Highland Park. Pours are not at all stingy, and the prices are fair: Even the venerable Lagavulin 16 requires you search out only $10.25 from your pocket.
Cowley also hosts a number of wine tastings and beer dinners upstairs. The beer events, led by Michigan beer guru Rex Halfpenny, feature more ambitious and interesting fare, exemplified by a recent menu with Jolly Pumpkin-steamed mussels and a lamb curry.
Farmington residents have long had reason to visit Crowley & Sons, but be it for the Scotch, some bread pudding, a Reuben, or a beer tasting, other metro Detroiters may want to stop in and saddle up to the bar as well.
Open 11 a.m.-midnight Monday-Wednesday, 11 a.m.-2 a.m. Thursday-Friday, noon-2 a.m. Saturdays, noon-midnight Sundays.