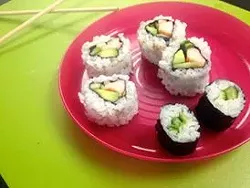 The venerable Dr. Sushi, AKA Nick George, will be taking his Japanese creations to the brunch menu later this month when he sets up shop in the popup venue Yemans Street in Hamtramck. He'll be designing a brunch menu, but with a twist, with creations like his Dr. Bagel, in which he takes a NY bagel and tops it with sansho pepper-cured gravelox, shiso cream cheese, cucumber, green onion, miso-capers for his version of a classic lox bagel; a Ikura Tamago Kake Gohan, with hot steamed japonica rice, Chinook salmon roe (bay port fish, Lake Huron), topped with raw quail egg and shiso chiffonade and served with nori; and a Kamatama Udon, with sanuki udon, gently cooked egg, dashijoyu, green onion and bonito.
The fine professor of Japanese pop-ups and impromptu catering made a name for himself as a maker of "sustainable" sushi, meaning he uses fish that's been caught in an ethical manner. He's been working hard as of late to hone his craft, through travels to Japan and years working in the local sushi biz under master makers, and wants to expand upon his culinary expertise to include other cuisine to his repertoire. Says George to us, the brunch is something he's always wanted to do.

The brunch setup is unlike Yemans Street's dinner arrangement, which requires guests to RSVP online by paying upfront. Instead, the meal is a la carte, diners only pay for what they want and reservations are not required. Prices range from $3-$12.