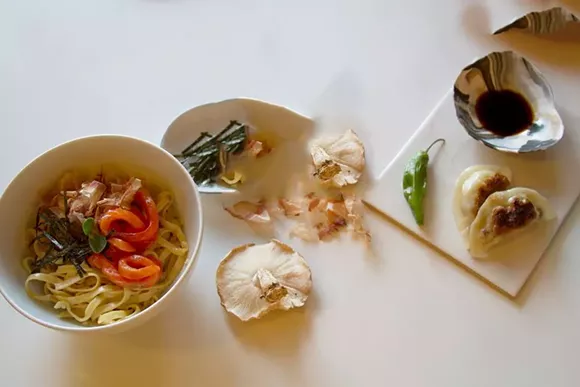 Dr. Sushi (AKA Nick George) is to be the very first chef to try out new digs above PJ's Lager House when he hosts a full-scale prix fixe dinner Nov. 19. Known as the Claddagh Loft, the Doc says of the space that it's the newest unique dining venue to hit Detroit.
Turns out the Claddagh Loft is in fact the doing of Paul "PJ" Ryder, owner of the rock 'n roll bar.
A fire in the upstairs apartment
last year destroyed the space, but Ryder wasted no time getting the unit fixed up and running as a B&B. From the looks of the place, this is a pretty sweet renovation. It's got an industrial feeling with exposed brick, a long communal dining table and quite the impressive commercial kitchen space.
Ryder tells us he's not sure whether Dr. Sushi's popup will be the first of many to come or if it's just a one-off experiment. "We're giving it a shot, I don't know if it will work," he says.
If it is a go it sounds like it has the potential to rival other popup venues like Revolver and Yemens Street in Hamtramck or Salt & Cedar in Eastern Market. Ryder says he's already been contacted by other local cooks who are also interested in using the space.
Check out the new B&B listing below:
Loft in Detroit, United States. The Claddagh loft is on Michigan Ave. upstairs from the legendary PJ's Lager House, a rock and roll bar and restaurant. It was completely remodeled in 2014. This large loft space is a great getaway for a couple but can handle more people if needed... View all listings in Detroit
As for Dr. Sushi, he says the event will be his first prix fixe dinner in two years. "In a departure from our monthly Japanese pub-style dinners at St. Cece's, we're taking this opportunity to showcase some of the finer dishes we've developed over the years, using the best local, seasonal, and sustainable ingredients we can find," he says.
The five-course dinner will lean of autumnal cooking traditions. Some of the menu items include: Kabocha no Nimono, a variety of pumpkin squash poached in lightly sweetened dashi stock; Sake Sashimi Three Ways, with wester ross sustainably-farmed salmon - raw, one-day cure, five-day cure; and Age-Dashi Tofu and Sisamo Nanbanzuke, with fried soft tofu and lake smelt (from Canada) that's lightly pickled. A cash bar will also be available with well-suited pairings for the dinner.
Tickets are on sale starting today, Oct. 20, and go for $45. For more ticket information,
click here.