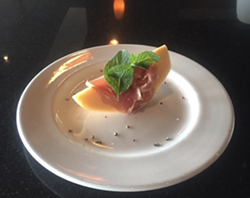 The Foxtown Grille, a high end Italian eatery that's part of the Da Edoardo family of restaurants, will close at the end of the month.
Owner Ann Barbieri Kolinski tells
Metro Times
that she couldn't come to an agreement with the Ilitch family — wh0 owns the building at 2203 Woodward Ave. — on a new lease.
Barbieri Kolinski tells us that that the Ilitches offered her a month to month lease, but she says a restaurant can't operate with that type of arrangement. New Year's Eve will be Foxtown's final night, and a special celebration is in the works.
The restaurant struggled over the last two years because sewage line back ups in the Ilitches' building forced her to shut down for a total of nine months out of 24, Barbieri Kolinski says.
Still, she tried to work out a lease with the Ilitches, but her relationship with the family isn't what it was prior to Mike Ilitch passing in February.
"It's a very unfortunate thing. I've always had a good relationship with the Ilitch family, but it's a completely different culture with Chris Ilitch. It's disheartening to think you would be good enough to be in their building for so long ... and now they will dismiss someone and not show any loyalty to a longtime tenant."
Barbieri Kolinski — who
recently opened La Lanterna in Capitol Park
with her siblings — says she's disappointed that the restaurant won't be a part of all the new excitement downtown.
"The reason we went downtown was to be a part of the rebirth. We've been here since 2001, invested time and a lot of money — and because of the two floods, lost a lot of money — and now there's no opportunity to be a part of the new downtown," she says.

While there are no plans to move Foxtown to a new spot, Barbieri Kolinski will likely start thinking about a new concept somewhere else in downtown.