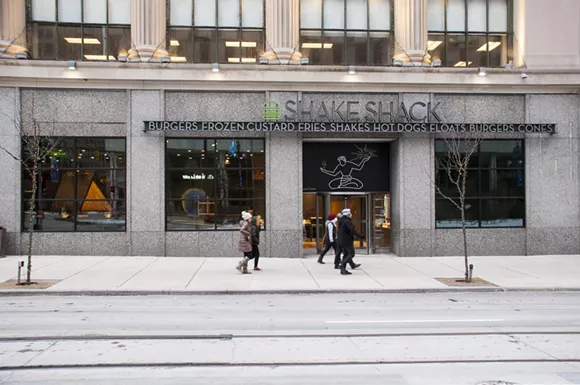 A downtown Detroit Shake Shack location on Woodward Avenue will likely open sooner than expected.
A spokeswoman for the Dan Gilbert-owned Bedrock
told The Detroit News on Friday
that the New York City burger chain will open in the First National Building by the end of the month. Bedrock manages the property.
Shake Shack fancies itself a "roadside burger stand" and heavily markets its 100-percent all-natural Angus burgers, hormone-free chicken, and crinkle cut fries.
"In addition to the Shack classics, the menu will feature location-specific frozen custard concretes," a Shake Shack rep wrote in a press release. "Guests will be able to hang out on the patio overlooking the park and sip on a selection of hand-picked wine and local craft beer."
It joins Greektown's Wahlburgers and Five Guys as options for fast casual burgers in downtown.