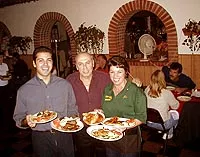 Who knew there was a whole 'nother Greektown in metro Detroit? And that it was in Ecorse, where Jefferson Avenue appears mostly as an example of what happens in the ruinous aftermath of deindustrialization?
Greektown south is tiny now, consisting of Sam and Antigone Callis's Auburn Cafe and a Greek coffeehouse across the street. Three Greek markets and the Akropol Bar have all closed down. Time was when Ecorse was full of Greek families, fleeing that country's 1948 civil war and continuing to arrive on into the '60s. They settled near where they got jobs, at Great Lakes Steel and McLouth Steel and the Rouge, Sam Callis remembers, because they didn't have cars.
The immigrants' children have moved away now, but the older generation still gathers at the coffeehouse.
To the outsider peering through the storefront window, these immigrant social clubs, from whatever country, have a certain look: all male, mostly old guys, maybe wearing caps, lots of cigarettes, little attention to decor, newspapers strewn about. Doubtless they're all different if you're an insider.
Callis says his friends come to play pinochle, kill time, read Greek newspapers and watch Greek news on TV. They also eat and drink at the Auburn Cafe and its bar, although the majority of customers are "Americans," according to Callis. At the cafe, they sit under a giant mural of a beach and another of a part of the Acropolis. Brick archways and a pretend grape arbor overhead contribute to the atmosphere, but it's basically your family bar scene.
Dinner starts with "Opa!", of course, along with warm, lightly toasted pita triangles. Skordalia, the pureed potatoes-and-garlic dip, is biting and good. This dish should be more widely known.
Lemon potatoes are also listed under appetizers, but the limp oval slices come in huge quantities and are neither lemony nor very interesting. Flaming sausage is another possibility.
Avgolemono soup tastes like a good cure for the common cold, with chicken broth and plenty of lemon. Greek salad is heavy on the feta, red onions and salt, and tomato salad is just as good. For either of these, the "mini" at $2.50 or $3 is plenty.
Both lamb and chicken gyros are nicely done, wrapped in an excellent warm, thick pita.
Antigone Callis does a good job on dishes that aren't necessarily Greek. Various seafood plates, including calamari and lobster tail, are on offer, along with steak, pork chops, lamb chops and corned beef.
Perhaps it's hard to mess up grilled salmon, but mine was great and came with feta and a grapefruit slice. Meatballs are less successful. Lamb shish kebabs are fine.
One oddity is the lack of moussaka. Callis admits that moussaka is good stuff, but says it's too time-consuming to prepare, and he has a hard time getting good help. If a good customer requests moussaka or pastitsio in advance for a big crowd, though, they'll fix it, and Antigone makes other special dishes for the holidays.
Finish off with bougatsa, which comes free with your meal. It's a flaky pastry filled with pastry cream, served warm. It's better than the rice pudding, which could use lemon.
Red and white Greek wines and retsina are a bargain at $3.50 a glass. Open seven days, plastic accepted.
Jane Slaughter dines for Metro Times. E-mail [email protected].