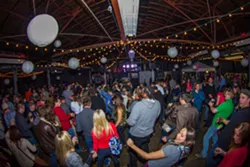 It's that time of year again! Polar Beer Club is coming to Royal Oak Farmers Market with over 100 local, regional, and national craft brews available for sampling.
The
Metro Times
and Ultimate Fun Productions event is part of the Royal Oak Beer Fest series that regularly features a slew of new and well-established craft beer brands. You'll see stuff from Axle Brewing Company, Atwater, and Motor City Brewing Works as well as New Belgium, Sierra Nevada, Magic Hat, and Perrin.
Don't expect an overly serious atmosphere. It's not that kind of beer tasting. The event is casual, fun, and relaxed. There'll be a DJ, which means plenty of dancing, plus drinking games like Giant Jenga, Hammer-Schlagen, and cornhole. This time around Detroit Bikes will be raffling off one of their Detroit manufactured bicycles and all you have to do is attend for a chance to win.
If you prefer a more intimate atmosphere, a special VIP hour takes place before doors open for general admission. VIP guests get five additional sample tickets, plus first access to limited and rare brews.
Polar Beer Club takes place on Saturday, Jan. 16. VIP doors open at 6:30 p.m. General admission starts at 7:30 p.m. VIP tickets are $65. General admission is $45. Designated driver tickets are available for $15.
For more info, click
here
.