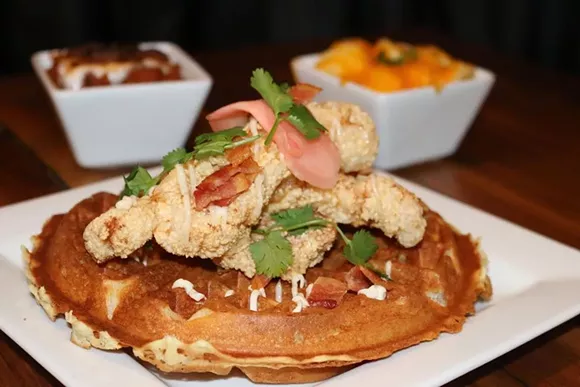 Fans of brunch know Café Muse as the premiere spot.
The Royal Oak stalwart has been known for requiring reservations during those peak hours between breakfast and lunch - a testament to its popularity.
As for dinner, while its fine dining offerings have always been critically
lauded
, it's been more of an afterthought in the minds of the public.
Co-owner Greg Reyner hopes that will change with its newly-revamped, more casual dinner concept, Dottie's (named after the mother of Reyner's business partner), a Southern-inspired menu that quietly launched Sept. 16.
On hand, a variety of chicken and waffles (including Japanese-style Karaage chicken), braised short ribs biscuits and gravy, and a bacon and grilled three cheese sandwich, among other southern comfort foods (the menu was actually originally slated for Atomic Chicken, the fast-casual spot that Reyner co-owns).
Reyner tells us the restaurant closed for a month this summer to redesign the bar area where dinner is now served. During that time, the kitchen got to test out its new lineup at the Ford Arts, Beats & Eats festival.
The changes on the menu also include lower prices, about $5-$10 lower than entrees under the previous iteration, as well as an updated cocktail menu.
"We want to capture more people on a regular basis than a special occasion," Reyner says.
The update at Café Muse is just one of many developments in Reyner's world. He and business partners Matthew Baldridge (owner of forthcoming The Conserva in Ferndale) and Scott Moloney (Treat Dreams, Woodpile BBQ Shack) are awaiting the launch of a second Atomic Chicken location in New Center just as soon as M-1
construction
ends (a first location opened earlier this year in
Clawson
).
He's also waiting to move his Geiger Eat Shop concept into a space on Kercheval in Detroit's West Village, which he says could open as soon as early 2017. While he's not come up with a final menu yet, he describes Geiger as "Café Muse on steroids." So, perhaps an epic brunch spot? We'll have to wait and see.